If you've never heard of or tried onsen before – you don't know what you're missing. An onsen is a hot natural spring where you can relax both body and mind. As Japan is situated in a volcanic area, thousands of onsens are scattered across the country in both urban and rural settings. Onsen hot spring water, depending on its mineral composition, can help people de-stress, recover from certain surgeries and control a number of conditions.
Onsens come in many shapes and sizes; there could be outdoor and indoor onsens, they could be communal or private, colourless or coloured, mixed gender or single sex. Usually, they are divided by space and separate entrances for women and men. The bathing facilities are often made from Japanese cypress hinoki or marble. Refreshing onsen is the perfect way to relax in the Japanese countryside and enjoy the amazing scenery of Japan, as well as fresh food, usually served as small-bite size snacks.
For Japanese, water has special meaning and they incorporate it to many parts of their lifestyle. You will see that many of the Japanese houses have flowing fountain or book.
Japanese onsen or 'hot springs' are a part of Japanese culture that many ends up being healthy addicted. Public baths in nature may seem like a strange concept to some nations, but once you've tried it, you will keep coming back.
It may be confusing for first-timers, hence we decided to compile a short article with a list of conduct and some tips for getting the most out of onsen experience. Enjoy!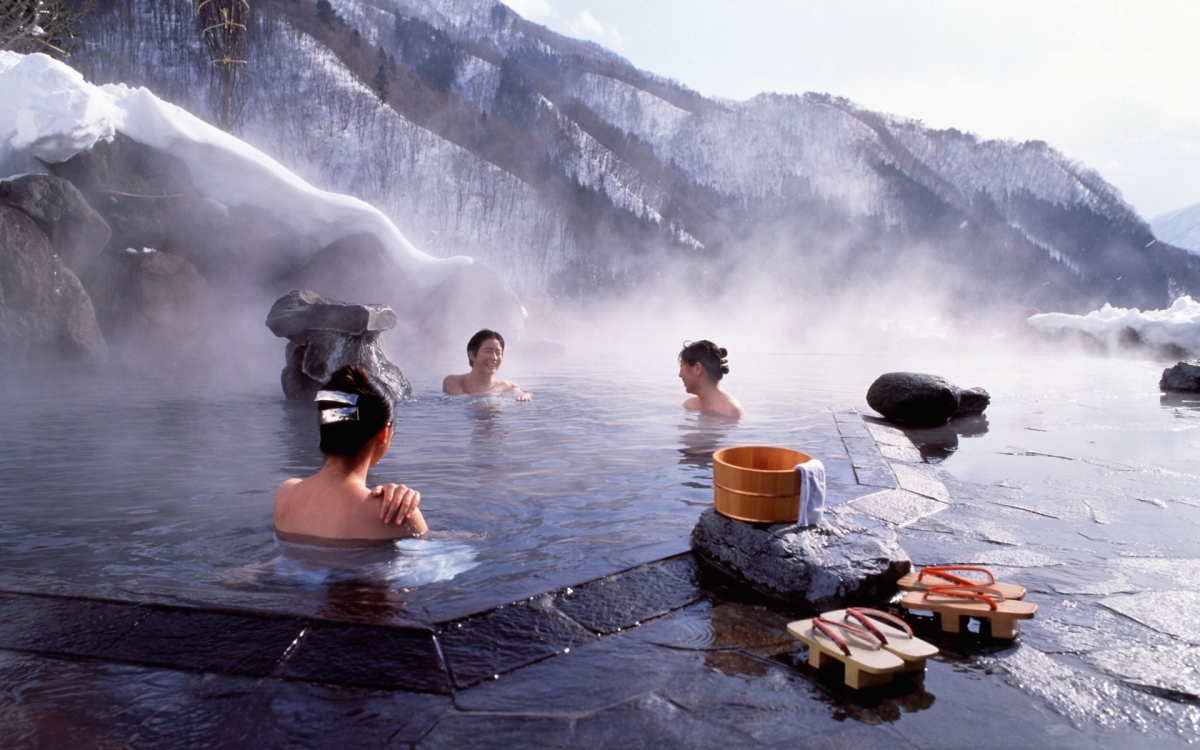 1. Enter the correct side of the door (male/female).
2. Take off ALL your clothing.
3. Bring the provided small hand towel into the onsen.
4. At the shower stall, cleanse yourself thoroughly sitting down.
5. Soak into the onsen bath and enjoy.
6. Don't worry about taking shampoo, gels and creams. Most Onsen have an impressive stock of Japanese miracle-working cosmetics – it's an experience on its own to try them there – especially if you can't read kanji 🙂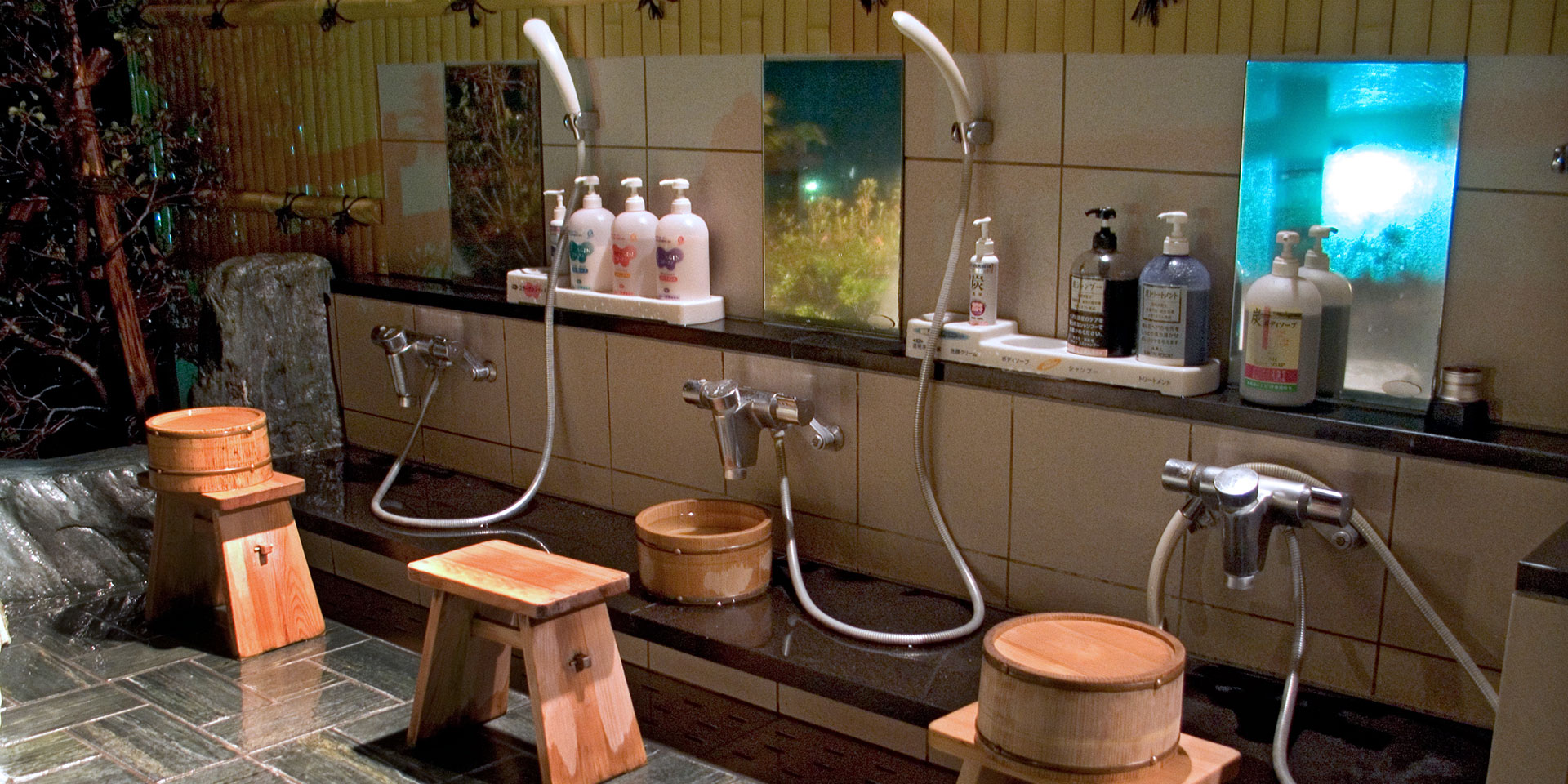 1. Swimming clothes/underwear is not allowed.
2. Rinse off all soap/shampoo before dipping into onsen bath.
3. Do not stand while taking a shower.
4. No swimming or jumping, move slowly in the bath.
5. Do not let towel or hair touch the water (tie and put up long hair).
6. Do not wrap the towel around the body and if needed, wring towel dry outside the bath.
7. Keep a low voice when talking.
8. Do not let water drip inside the changing room.
9. Use only one bath & hand towel each.
10. Relax and enjoy the views (the best onsen are situated in the mountainy area).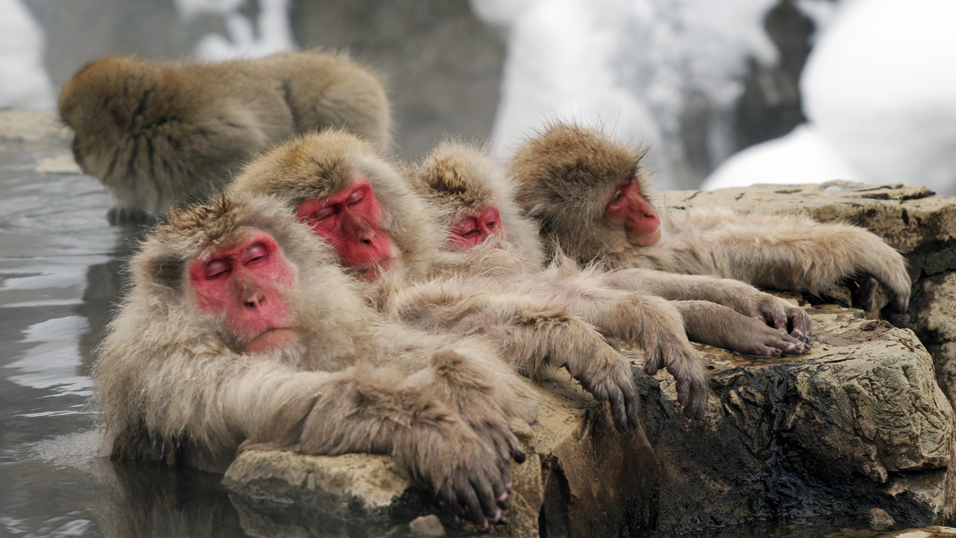 1. Soak in the onsen for 5-10mins at a time, then get out and relax.
2. If you feel light-headed, get out of the bath slowly and steady yourself.
3. Do not use onsen after heavy alcohol intake.
4. Move around the bath area slowly to avoid slipping.
5. Drink water (from a fountain or a bottle, not the bath!) in between moving baths.
6. See Jigokudani onsen which is frequented by monkeys (pic above). Jigokudani is home of the world-famous "snow monkeys", is situated in the valley of the Yokoyu River, downstream from Shiga Kogen and just upriver from Yudanaka and Shibu Onsen. Over 160 Japanese Macaque monkeys inhabit the area and enjoy hot springs.