Eggs Benedict have become a must-have for brunch! We have created the perfect eggs Benedict recipe so that you can enjoy this delicious dish from the comfort of your own home. For a proper homemade feel we are also sharing our homemade english muffins recipe.
For the homemade English muffins:
9g active dry yeast or 18g fresh yeast
139g water
139g whole milk
480g bread flour
13g granulated sugar
6g fine sea salt
28g gently melted butter, or canola oil
For the eggs Benedict:
(Makes for 4 poached eggs)
7 Large eggs
4 parma ham slices
125g Butter
3 tablespoons of white vinegar
1/2 Lemon
Optional:
1 avocado
Cherry tomatos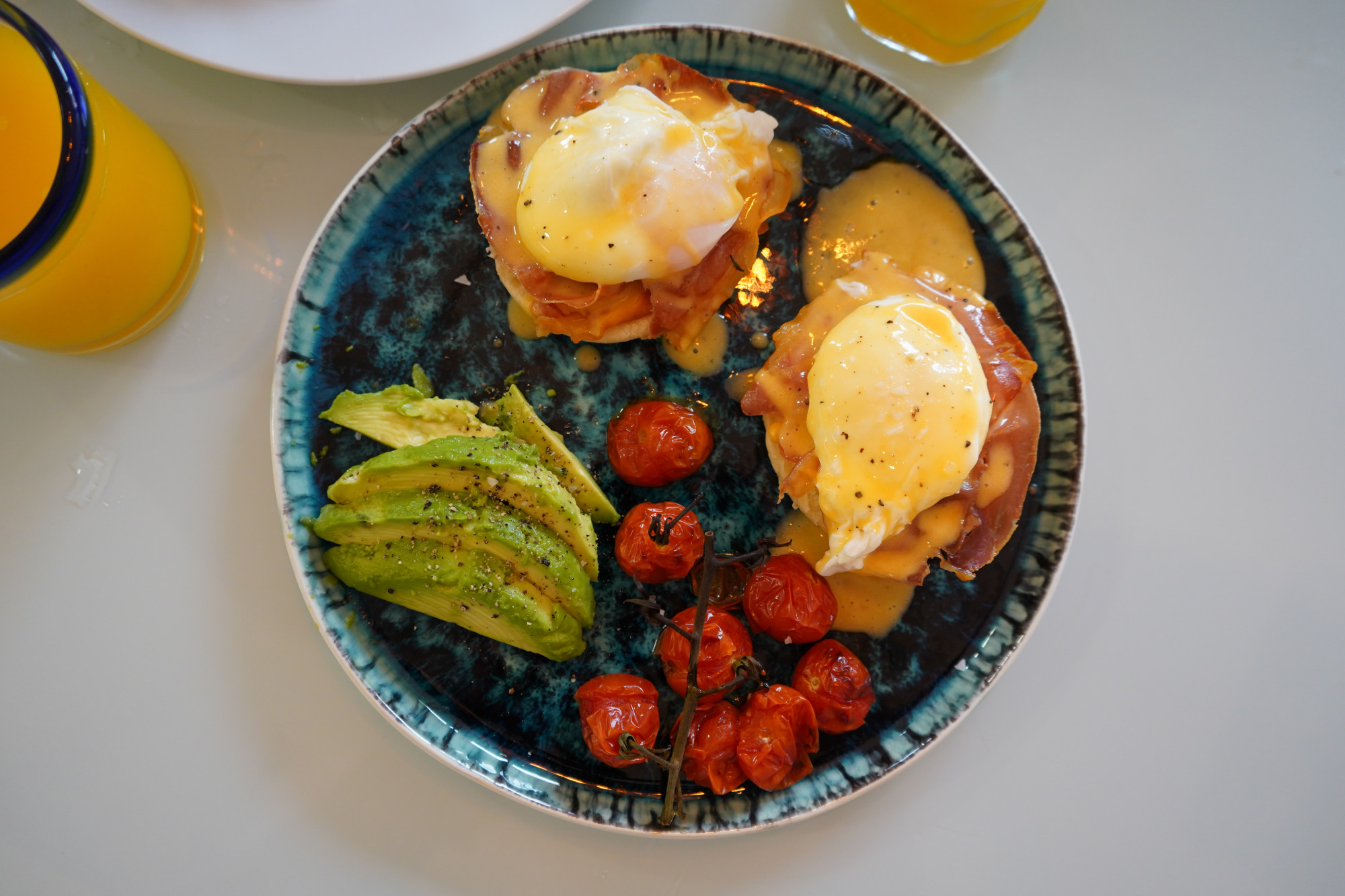 Instructions for homemade English muffins:
Pour 480g flour into a large bowl.
In a smaller bowl or glass, place 139g of whole milk and 139g of warm water. Mix in 9g of active dry yeast into the bowl.
Melt 28g of butter, you can do this is a microwave.
Pour 6g of fine sea salt and 13g of granulated sugar into the flour. Mix throughly using your hands.
Add the milk mixture to the flour and stir and bring together until you form a dough.
Pour in the melted butter to the dough and continue mixing it until it absorbs it.
Leave to raise covered for 1 hour.
Using a rolling pin, roll out your dough and cut into circular pieces. We used a circular cutter with a diameter of 9cm, but you can make these as big or as small as you like. Any scraps can be re-rolled and made into another muffin.
Once in-shape, cover with cling-film and leave to raise for 30-45 minutes until the dough circles have puffed a little bit.
To cook, grease a non-stick frying pan and set to a medium to low heat.
Use a spatula to transfer the muffin and leave at least 2cm between muffins.
Cook for around 5 minutes on each side.
Instructions for eggs Benedict:
Pour water in a deep saucepan and add 3 tablespoons of white vinegar, simmer at a low heat.
For the hollandaise sauce, melt 125g of butter. On a plate or bowl that fits over the saucepan with simmering water, place 3 egg yolks.
Using a sharp knife, slice a lemon in half and squeeze 1/2 of its juice on the egg yolks.
Place your bowl/ plate on top of your saucepan with simmering water and whisk until pale and thick. Season with salt and pepper.
Slowly whisk the melted butter bit by bit until you reach a creamy hollandaise consistency. Remove from heat.
For the poached eggs, bring your saucepan with water and vinegar to boil. Break an egg into a coffee mug and slowly drop it into the boiling water.
Cook for 2-3 minutes and remove it with a slotted spoon or spatula. Do the same thing for the other eggs.
In the meantime, put the parma ham slices onto a baking sheet and bake in the oven until crispy. You should also bake your cherry tomatoes in a baking dish at this point.
Optional: cut your avocado into thin slices and reheat your hollandaise sauce.
Toast your English muffins and slice them in half.
To plate: place a slice of parma ham over each muffin slice, then add your poached egg and pour some hollandaise sauce over them. Add your avocado slices and warm cherry tomatoes and enjoy!
Watch how to make eggs Benedict: