Japanese whetstones (also called water stones) – both natural and synthetic – are known for their quick-working qualities, not only for Japanese blades, but also for their Western equivalents. The small particles that do the cutting are loosely bound together in the stone, and so during sharpening with the whetstone, the surface particles are quickly washed out, allowing new, sharp, particles to start working on the blade. These whetstones must be lubricated only with water! Never use oil or other lubricants!
Whetstones come in a range of grits:
Less than 1000 grit is typically used to repair knives with chipped edges,
1000 to 3000 grit are used to sharpen dull knives,
4000 to 8000 grit are finishing stones and are used to refine your knife edge.
If you are using your knife to cut meat it is best to stop at between #4000 and #6000 grit as you can bend your knife edge on the muscle.
Which stone for what use?
For rough sharpening – to grind off chips in the edge or for when the blade is unusually dull – stones from #120 to #400 grain are called for. We recommend stones with a grain between #120 and #240 in this case.
For normal sharpening, stones between #700 and #2000 grain are used. We recommend stones between #700 and #1200 grain.
To take off the fine scratches and the burr left by coarser stones, and polish the surface, one can use stones starting around 2000 grain. Above that there is theoretically no upper limit, but at the same time stones above about #10000 provide no measurable practical improvement in the edge. It is also interesting to note that above #8000 grit, there is no Japanese measurement standard. With all the stones labelled as having a finer grit, one simply has to take the manufacturer's word for it.
For those who have reasonable experience with sharpening, we recommend a finish stone of 8000 grit. If one is not certain, or for beginners, stones with a grit between #3000 and #6000 will produce acceptable results.
So, in principle one needs at least three stones if one has to do significant amounts of sharpening. One to grind, one to sharpen and one to hone.
For someone who sharpens blades only occasionally, and knows that they will not need to grind out a chip in the edge of the blade, for instance, a combination stone will suffice. The size that one chooses depends mostly on a trade off between cost and speed. The bigger the stone, the faster one can work. The smaller stones work just as well, they just take a little more time.
Coarse stones number of less than #1000:
With a number less than a 1000 is primarily used for knives which are damaged. If your blade has any nicks or chips in the blade, then these stones will get rid of those for you in no time.
The above dual stones come with a coarse side for fixing nicks and chips and medium side for general sharpening.
If your knives have also completely lost their edge then these stones will also get it back for you. These whetstones are brilliant for damaged or extremely dull knives, but due to their abrasiveness they shouldn't be used for general sharpening as they don't leave the best finish on your blade edge.
Medium stones number range: #1000 to #3000
The #1000 grit stone is considered your basic, go to, sharpening stone. If your knives have lost their edge and need a good sharpen, then this is the grit you should start with.
You shouldn't use this stone often, as it will wear your knife down. The #2000 and #3000 grit stones can be used more often if you are the sort of person who likes to sharpen a bit more regularly as they are less coarse, but again, they are designed for sharpening and not maintaining your edge.Once you get into a routine, you will get to know how often you need to use your medium stone.
NOTE: A little bit of advice we were given by a Chef; a #3000 grit whetstone is ideal for a boning knife and you don't need to go any higher as refining your edge more will bend the knife on the muscle and sinew of the meat, meaning more frequent sharpening.
Finishing stones number range: #4000 to #8000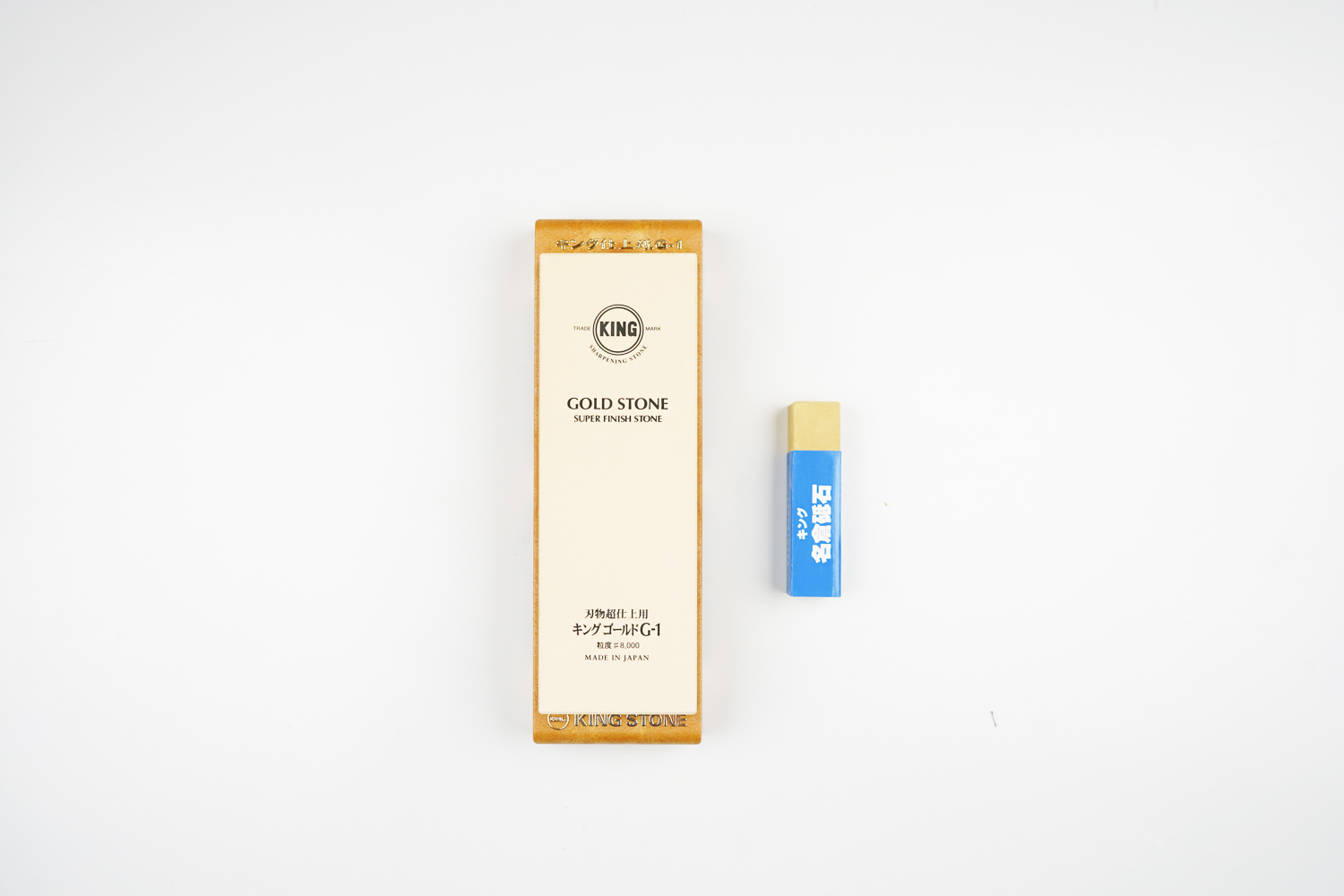 Now your #4000 and #5000 grit stones are like the bridge between your sharpening and superfine finishing stones, the latter giving you a super refined edge like this King stone:
You can actually use these stones as finishing stones in their own right however and perhaps for Western knives which typically have a cutting edge similar to a 'U' rather than a 'V' shaped edge, a #5000 grit stone may well be as far as you need to go, but if you want to go for the #6000 or #8000 super fine stones then go for it!
The only bit of advice you should follow is this: If you are using your knife to cut meat, then you can happily stop at #4000 or #6000 grit. If you are only using it for vegetables or fruit go all the way to the #8000. This is because the refinement you get from a #8000 grit stone. With its extremely fine grit size, #8000 grit honing stone is perfect for the final polishing of bevels and back sides. It gives a fine, razor-sharp edge to any tool of the knife blade.
We have a selection of whetstones on our website, spanning the whole grit range. Stones require patience to learn and skill to use, but with a little practice you will get there and it will be well worth it.
Which water stone should I choose if I'm only starting?
If you're just the beginner or an occasional user (We are guilty as charged! We usually leave this job to our partners), we suggest getting combination whetstone, something between 1000 and 6000 grit. Like this King's combination whetstone.
These two stones and an inexpensive flattener will carry you a very long way. Add other stones or stropping supplies in the future as you learn. We think most new sharpeners should stay away from stones coarser than #1000 until they develop a technique they are comfortable with unless there is a very specific project in mind.
How to take care of your sharpening stones:
Before use:
Do not soak in water finishing stones #3000 and above. If needed splash with water only.
After use:
Let the stone dry thoroughly. Returning a stone into its box while still wet or damp will result in molding and might decrease in quality.
Our selection of stones will allow both professionals and those only starting their adventure with Japanese knives to find, from among the many famous manufacturers, the ideal stone for their need. Because every manufacturer formulates their stones to emphasise a different mix of qualities, and those qualities can vary widely between the different stones, for an optimal sharpening stone set, most woodworkers need stones from several different companies. There is no correct solution for any situation: the stones must fit one's need and work style.
On the other hand, such a large selection can make it hard to choose a workable combination, and so we offer this small guide to assist you to make at least a good beginning.
For more knowledge read also our other articles: