Welcome, aspiring takoyaki masters! Get ready to embark on a hilarious adventure through the world of Japanese street food with Oishya's special recipe for homemade takoyaki. We promise you'll have a whale of a time and create mouthwatering octopus balls that will impress your friends and family. So, let's get started!
Ingredients for Takoyaki:
2 cups of takoyaki flour (or all-purpose flour, if you can't find it)
4 cups of dashi (fish stock) or chicken broth
3 eggs (because takoyaki balls need some ego-boosting)
1 cup of chopped octopus tentacles (our brave cephalopod friend)
1/2 cup of chopped green onions (they'll add a dash of sassiness)
1/4 cup of tenkasu (fried tempura batter bits)
1/4 cup of pickled ginger (for a tangy surprise)
1/4 cup of katsuobushi (bonito flakes) to dance on your takoyaki
Takoyaki sauce (or a mix of Worcestershire sauce and ketchup, recipe for homemade sauce below)
Mayonnaise (because everything tastes better with mayo, right?)
Aonori (seaweed flakes, just in case you want to summon an ocean breeze)
Instructions for Takyoaki:
Prepare your takoyaki battlefield. If you have a takoyaki pan, great! If not, grab a muffin tin and pretend it's a mini-amphitheater for the octopus circus.
In a mixing bowl, combine your takoyaki flour and dashi (or chicken broth). Stir with all your might until the batter becomes smooth like a sumo wrestler's belly.
Crack open those eggs and add them to the bowl. Whisk the eggs like you're preparing for an arm-wrestling match against Godzilla.
Now, introduce your chopped octopus tentacles, green onions, tenkasu, and pickled ginger to the party. Mix them into the batter, creating a delightful symphony of flavors.
Heat up your takoyaki pan or muffin tin until it's hotter than Mount Fuji in midsummer. If using a pan, brush each cavity with a generous amount of oil. If using a muffin tin, well, just imagine the oil and hope it understands.
Pour the batter into each cavity, filling it up to the brim. Embrace the sizzling sound, like the taiko drums of war, as the batter starts cooking.
With your takoyaki-sense tingling, use your takoyaki-turning sword (or a skewer) to flip those half-cooked balls 180 degrees. Remember, this is not a game for the faint-hearted. Be bold!
Continue rotating the balls until they form a beautiful golden crust. Channel your inner ninja and flip them with style. Spin them like plates on a Japanese game show. Let the takoyaki gods guide your hands!
Once your takoyaki balls have reached the pinnacle of crispiness, transfer them to a plate and assemble your toppings like a true artist. Drizzle them with takoyaki sauce, create a mayonnaise masterpiece, sprinkle katsuobushi like edible confetti, and finish with a dusting of aonori. Voilà!
Now, the moment you've been waiting for—take a big, bold bite and let the flavors explode in your mouth like a fireworks festival. Savor the tender octopus, the savory batter, and the medley of toppings. Celebrate your takoyaki victory!
Remember, at Oishya, we believe cooking should be an adventure full of laughter and deliciousness. So, put on your chef's hat, gather your ingredients, and let the culinary fun begin. Go forth, brave samurais, and conquer the world of takoyaki!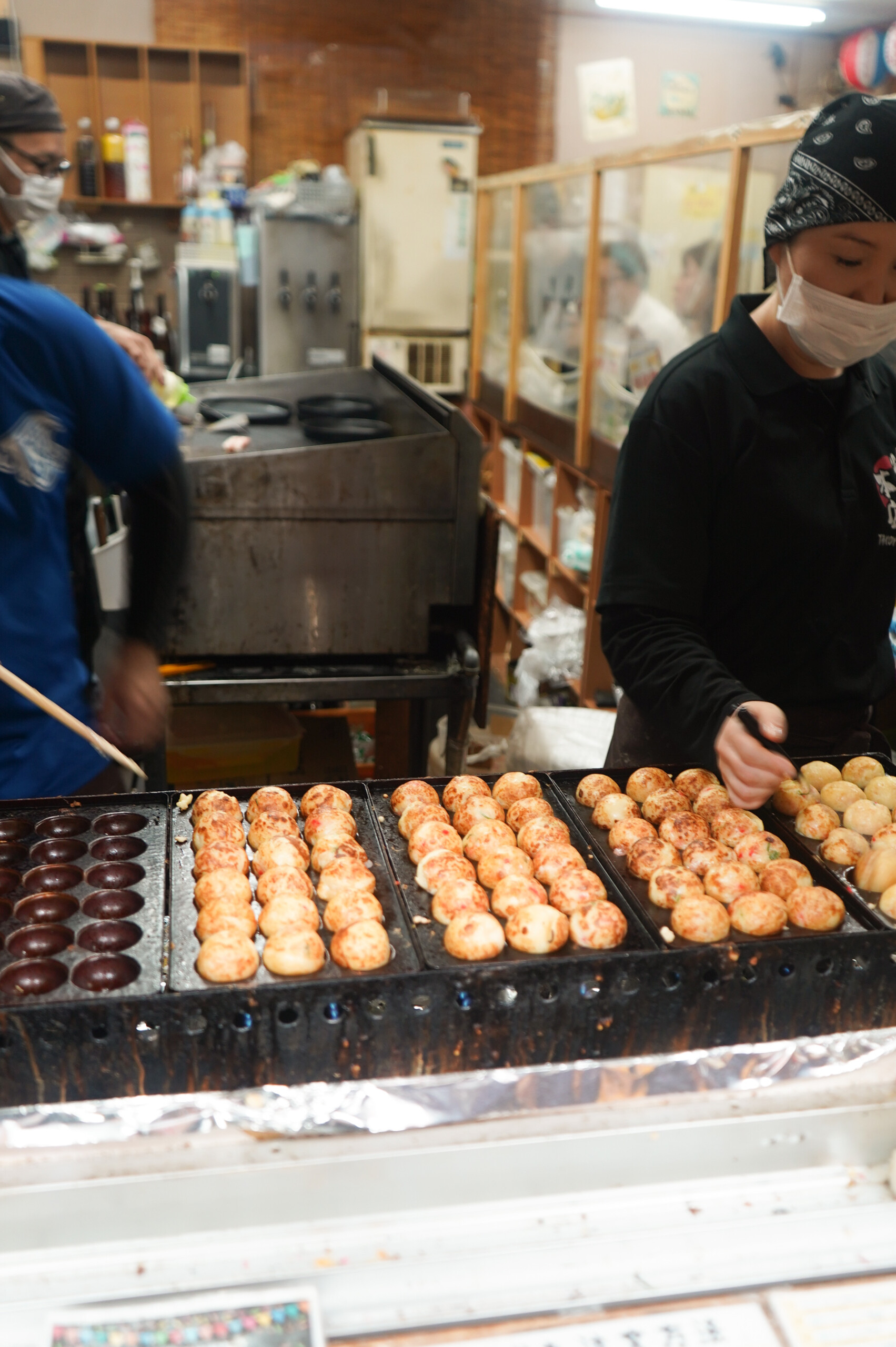 Ingredients for Takoyaki Sauce
2 cups of takoyaki flour (or plain flour, if you can't find it)
4 cups of dashi (fish stock) or chicken broth
3 eggs (because takoyaki balls need some ego-boosting)
1 cup of chopped octopus tentacles (our brave cephalopod chum)
1/2 cup of chopped spring onions (they'll add a dash of cheekiness)
1/4 cup of tenkasu (fried tempura batter bits)
1/4 cup of pickled ginger (for a tangy surprise)
1/4 cup of katsuobushi (bonito flakes) to dance on your takoyaki
Takoyaki sauce (or a mix of Worcestershire sauce and tomato ketchup)
Mayonnaise (because everything tastes better with mayo, right?)
Aonori (seaweed flakes, just in case you want to summon an ocean breeze)
Instructions (For the Fearless Samurais):
Prepare your takoyaki battleground. If you have a takoyaki pan, splendid! If not, grab a muffin tin and pretend it's a mini-amphitheatre for the octopus circus.
In a mixing bowl, combine your takoyaki flour and dashi (or chicken broth). Stir vigorously until the batter becomes smooth as a plump pudding.
Crack open those eggs and add them to the bowl. Whisk the eggs as if you're preparing for an arm-wrestling match against a jolly enormous creature.
Now, introduce your chopped octopus tentacles, spring onions, tenkasu, and pickled ginger to the party. Mix them into the batter, creating a delightful symphony of flavours.
Heat up your takoyaki pan or muffin tin until it's hotter than the summits of Mount Fuji. If using a pan, brush each cavity with a generous amount of oil. If using a muffin tin, well, just imagine the oil and hope it understands.
Pour the batter into each cavity, filling it up to the brim. Embrace the sizzling sound, like the beat of the drums in a marching band, as the batter starts cooking.
With your takoyaki-turning sword (or a skewer), flip those half-cooked balls 180 degrees. Remember, this is not a game for the faint-hearted. Be audacious!
Continue rotating the balls until they form a splendid golden crust. Channel your inner ninja and flip them with flair. Spin them like plates on a jolly Japanese game show. Let the takoyaki gods guide your hands!
Once your takoyaki balls have reached the pinnacle of crispiness, transfer them to a plate and assemble your toppings like a true artist. Drizzle them with takoyaki sauce, create a mayonnaise masterpiece, sprinkle katsuobushi like edible confetti, and finish with a dusting of aonori. Bob's your uncle!
Now, the moment you've been waiting for—take a hearty bite and let the flavours explode in your gob like a fireworks display. Savour the tender octopus, the savoury batter