The Sakai Kyuba Japanese kitchen knife set in Natural Brown includes three knives, each perfectly balanced with optimal sharpness, precision and durability:
A Chef's Knife 210mm / 8.5in  – The Gyuto  – a daily knife, a versatile all-rounder slicing knife, a typical Japanese shape, shorter than Gyuto
A Vegetable Knife 160mm / 7in – The Nakiri – thin and sharp, perfect for chopping and dicing vegetables;
A Paring Knife 150mm / 5in – The Petty – extra nimble to tackle the smaller, more intricate chores like peeling or carving.
With these three quality Japanese knives you will be able to perform any cutting task in the kitchen with ease and efficiency. The Santoku, Nakiri and Petty are the only knives you will need, a beautiful knife set that will last for generations. As unique and everlasting as the memories you will create using them. You will love using them.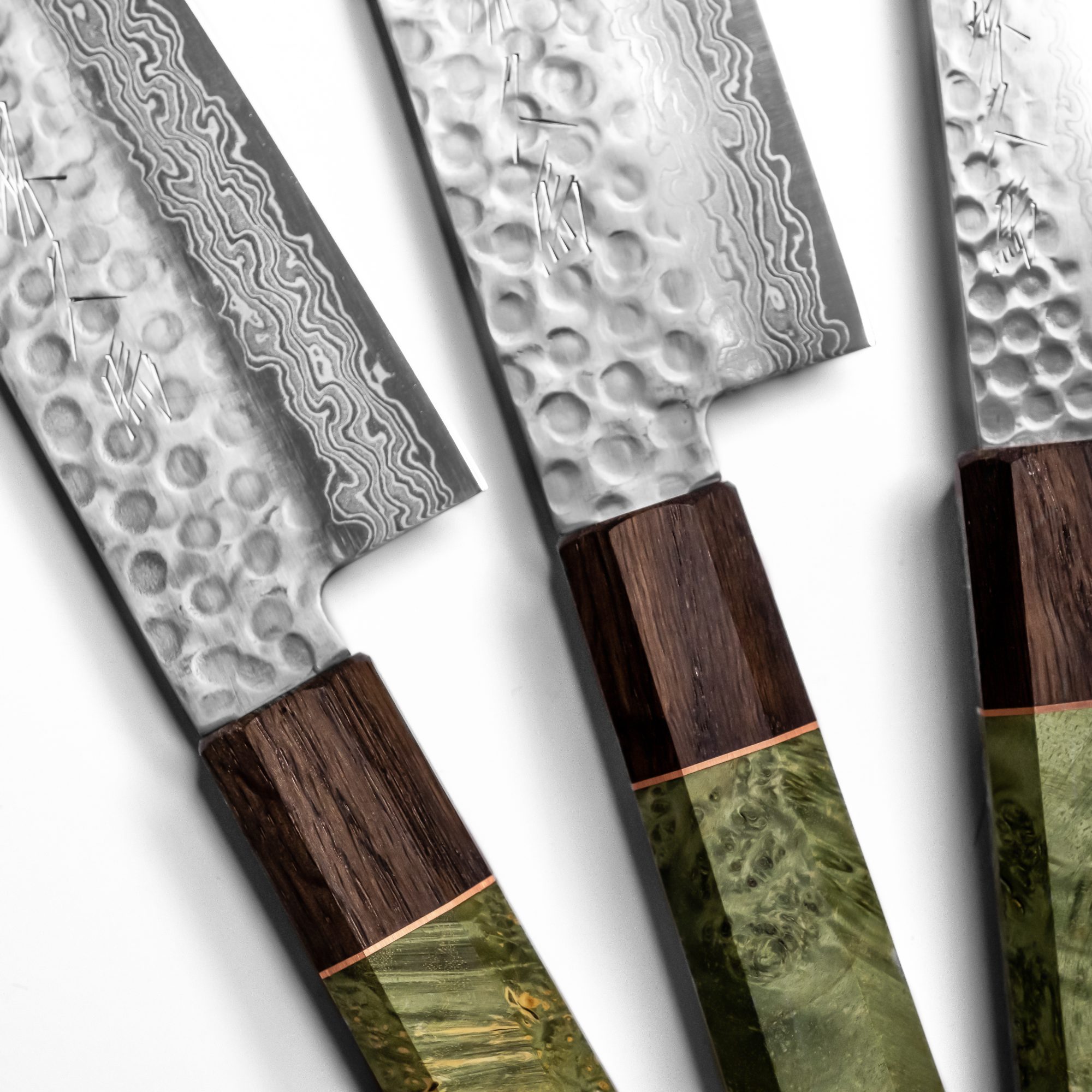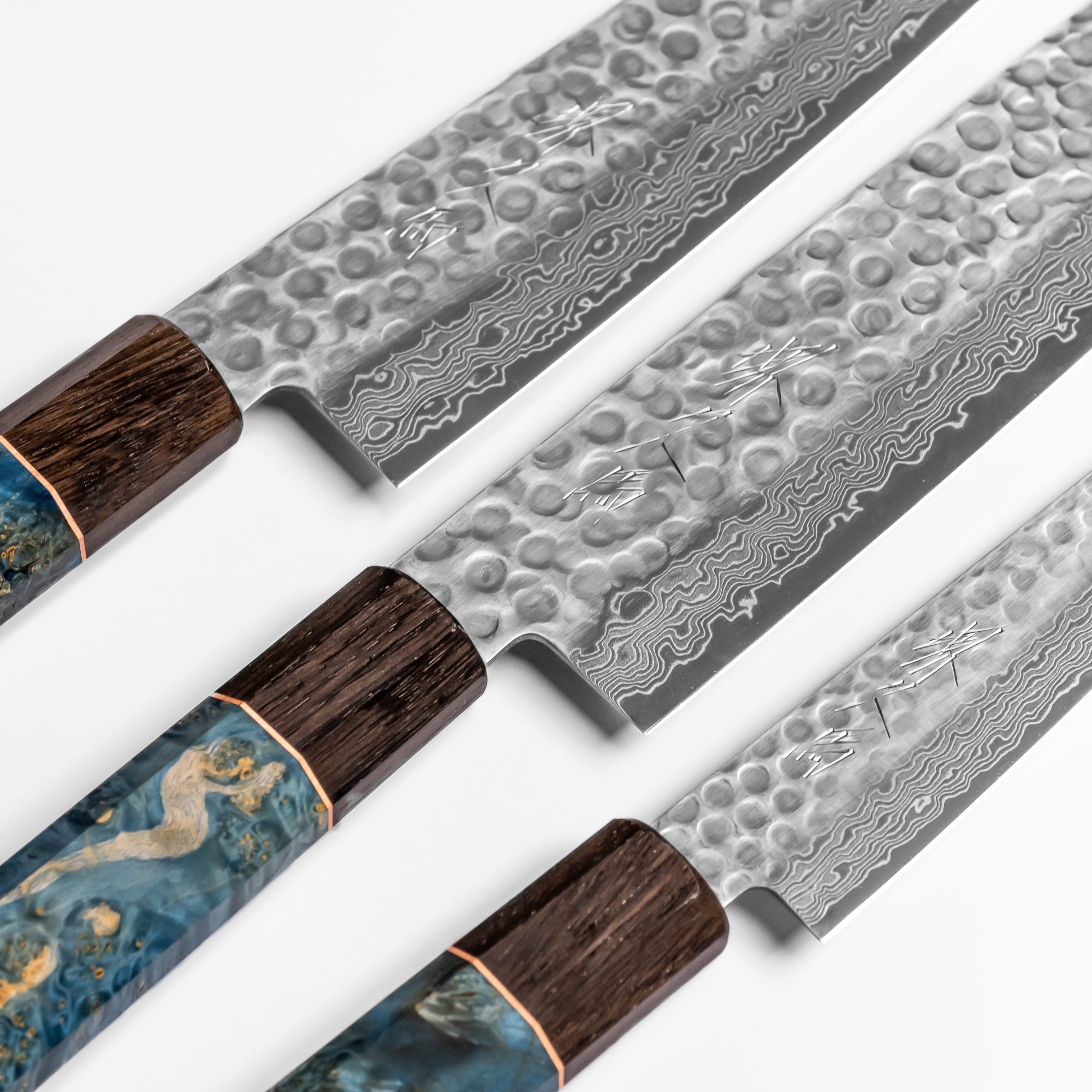 The blades in this Japanese kitchen knives set are designed to make cooking more enjoyable as cutting through produce will become an effortless task.
The blades in this Japanese kitchen knife set are handcrafted by skilled Japanese blacksmiths in Sakai, Japan with premium Japanese VG10 stainless steel. VG10 is a stainless steel with a high carbon content, making it harder than most stainless steel types. With VG10,  you get the hardness of a carbon steel but the corrosion resistance of stainless. Hence, VG10 steel offers an excellent balance between toughness, durability, and a razor sharpness.
The blades have a Rockwell Hardness rating (HRC) of 62 which means the edge stays noticeably sharper for a longer time. This means you won't have to worry about sharpening them often. They are forged with 46 layers of Damascus steel which is legendary for its plasticity, hardness and distinctive patterns. The blades will allow foods to be easily and promptly cut with precision.
The beautiful handles are made with extremely limited European maple burl dyed in an Natural Brown colour and feature a subtle copper ring under the oak bog wood kakumaki (collar of the handle). The wood has to be dried for two years before it undergoes the process of stabilisation. This ensures the wood is completely waterproof to avoid bacteria growth and is able to last generations.

The Japanese kitchen knife set's kakumaki (collar) is made with oak bog wood. A wood ranging from 2,500 to 5,000 years in age. Its age and living conditions give it a unique character and rich natural colour variation determined by its age. Giving you a knife with a rich history.

The stabilised premium-cut maple burl is shaped into an octagonal shaped ambidextrous handle to give you a firm grip on the knife. Not only are the handles aesthetically pleasing, they are also perfectly balanced, light and comfortable. This allows for maximum precision and more controlled movements during use.

Please note that no two handle colours or patterns are ever the same as the natural properties of each wood block are unique and will absorb the colour dye differently. This will give each knife a beautiful unique look.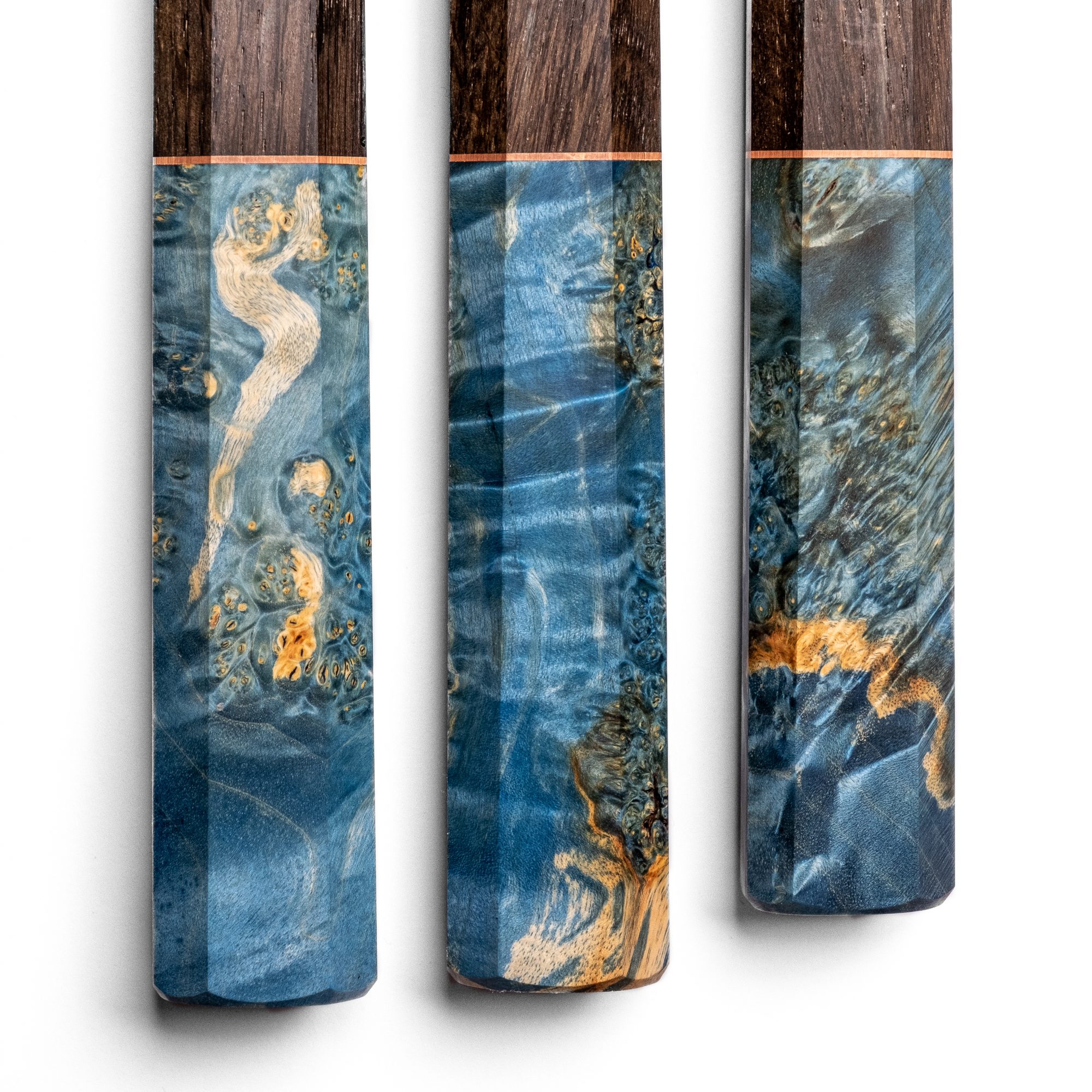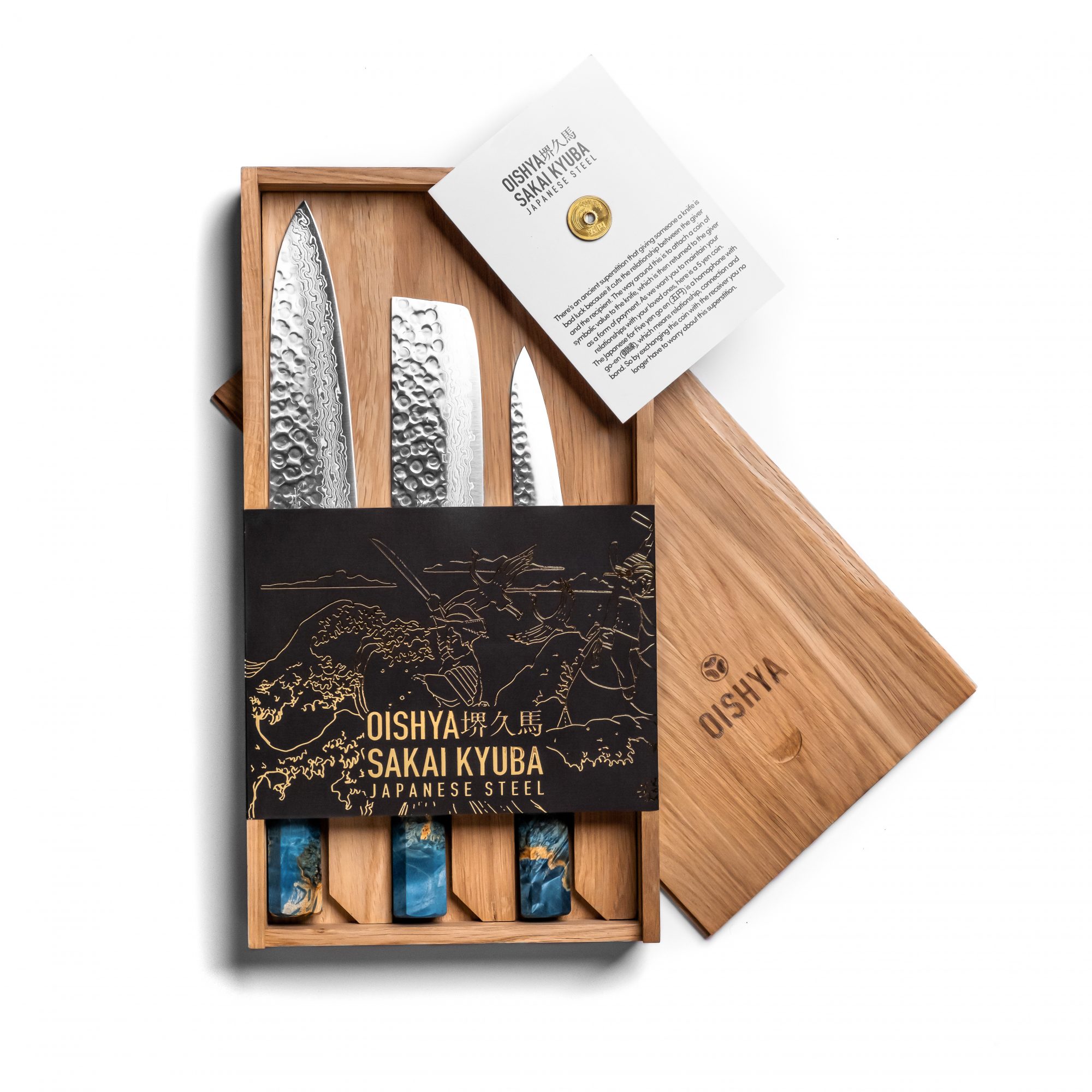 All Sakai Kyuba kitchen knives set come in a handcrafted, minimalist European Oak wooden box with a delicate waxed finish. The box is wrapped in a Oishya signature illustration strip presenting the Onna Bugeisha – Japanese female warriors.
Inside, you'll see a beautiful note with a genuine 5 Japanese yen coin for luck. There's an ancient superstition that giving someone a knife is bad luck because it cuts the relationship between the giver and the recipient. The way around this is to attach a coin of symbolic value to the knife, which is then returned to the giver as a form of payment. As we want you to maintain your relationships with your loved ones, here is a 5 yen coin. 
The Japanese for five yen go en (五円) is a homophone with go-en (御縁), which means relationship, connection and bond. So by exchanging this coin with the receiver you no longer have to worry about this superstition.