Charcuterie boards have become increasingly popular nowadays. Not only are they delicious and enjoyed by many, they also make for the perfect Instagram post. With a variety of cured meats, cheese, nuts, spreads, fruit and crackers, there is something in it for everyone to enjoy!
What Is Charcuterie?
Charcuterie is the art of preparing and assembling cured meats. When people say charcuterie boards they are mostly referring to an assortment of meats with a variety of accompaniments (crackers, cheeses, fruits and dips).
The good thing about charcuteries boards is that there are no hard rules for making the, and no end to the possibilities of variations. Each time you make one it will look different and unique (just change a few ingredients), this is why its a perfect appetiser.

Charcuterie Boards: Where To Begin?
The first thing you'll need is to find a board. This can be as big or as small as you pleased. If there is a big group of you we recommend having more than one charcuterie board so that there is enough for everyone. Bear in mind you don't have to buy a special board. You have to use a flat surface that lets you place the ingredients. We recommend using a wooden cutting board or serving tray.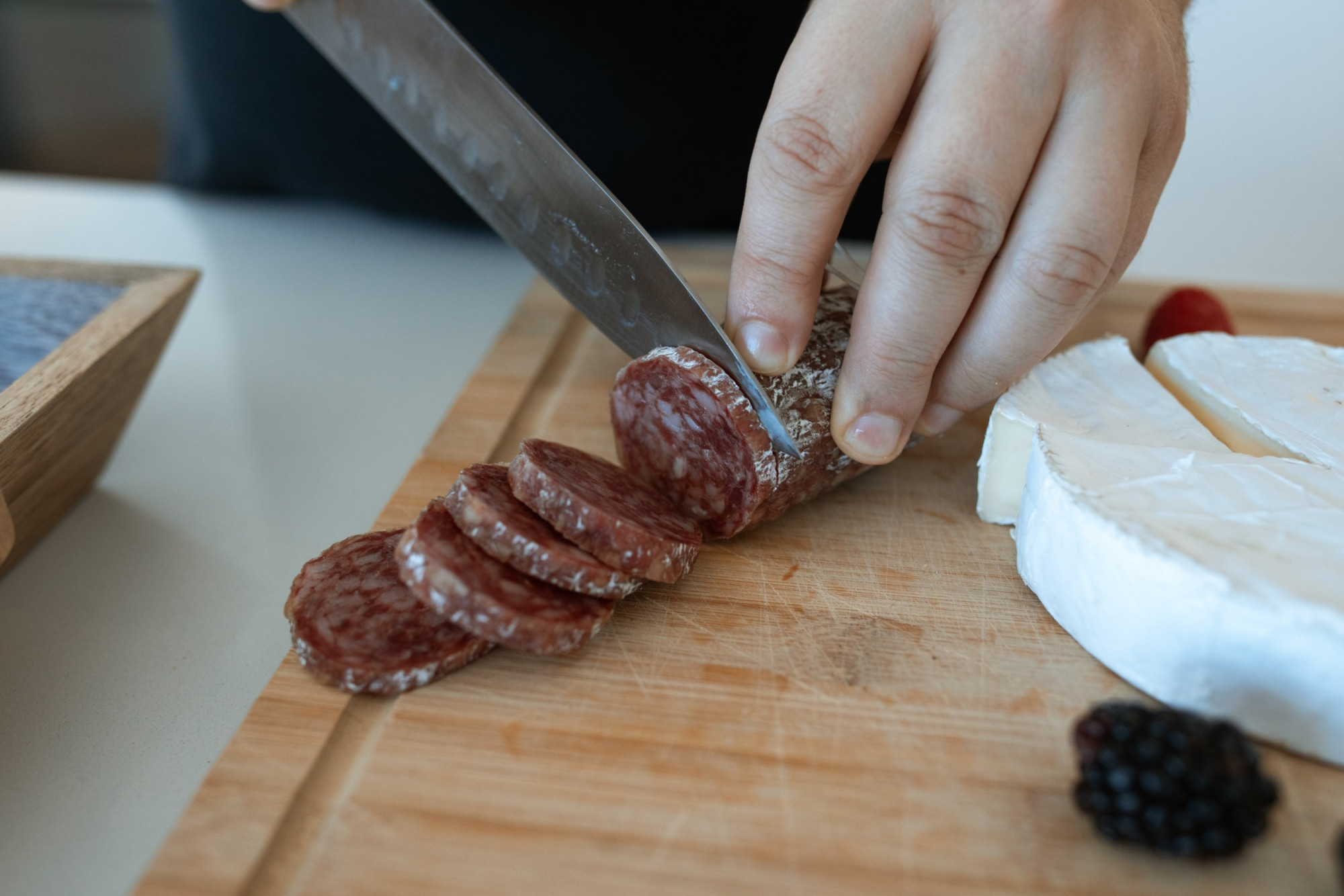 What to put on a charcuterie board?
You can put whatever you want (and have) in your board. However, they typically include the following:
Cured meats
Cheese
Olives
Nuts
Dried Fruits
Crackers
Slices of bread
Jelly or jam
Dips/ spreads

Instructions
Choose your board. This will help you estimate how much food you will need for your charcuterie board.
Select and slice your meats and cheeses. You will need a good quality sharp knife for this.
Wash your fruits and chop them.
Place all dips, olives and sauces on small bowls and plates. Then arrange these around the board.
Place your meats, cheeses, bread and crackers around the board.
Fill in gaps with fruits and nuts.
Add garnishes and serve or chill until served.
Tips
Meats and Cheeses: cut these in different shapes. Have some cheeses cubed, sliced or add them as a wedge.
Crackers and bread: have a variety of different options (3 to 4), this will allow guests to play around with different flavours. and layers.
Fruits: use fruit that is in season. Grapes and berries are great and safe choices.
Add colour: If there are too many brown foods your board will look bland. Make sure not to place too many similar colours next to each other. Think about ingredients that will make your board pop. Colour ideas include red (cherries, tomatoes, strawberries, raspberries), green (herbs, grapes, olives), etc.
Add texture: have a variety of them. Crackers provide edgy and rough surfaces, spreads and sauces look moist, nuts look dry. This both looks great and its excellent for mixing different textures and consistencies in your mouth.