Knife maintenance doesn't need to be complicated! If you want to maintain your knife so that it can serve you for years to come, remember these simple 3 rules:
Never ever put your knife in a dishwasher. Especially, when the handle is made out of wood.
Store your knives either on the magnetic knife strip, knife stand, or sheathed in the utensil drawer.
Don't slide your knife, blade down, across the cutting board to clear away what you just chopped.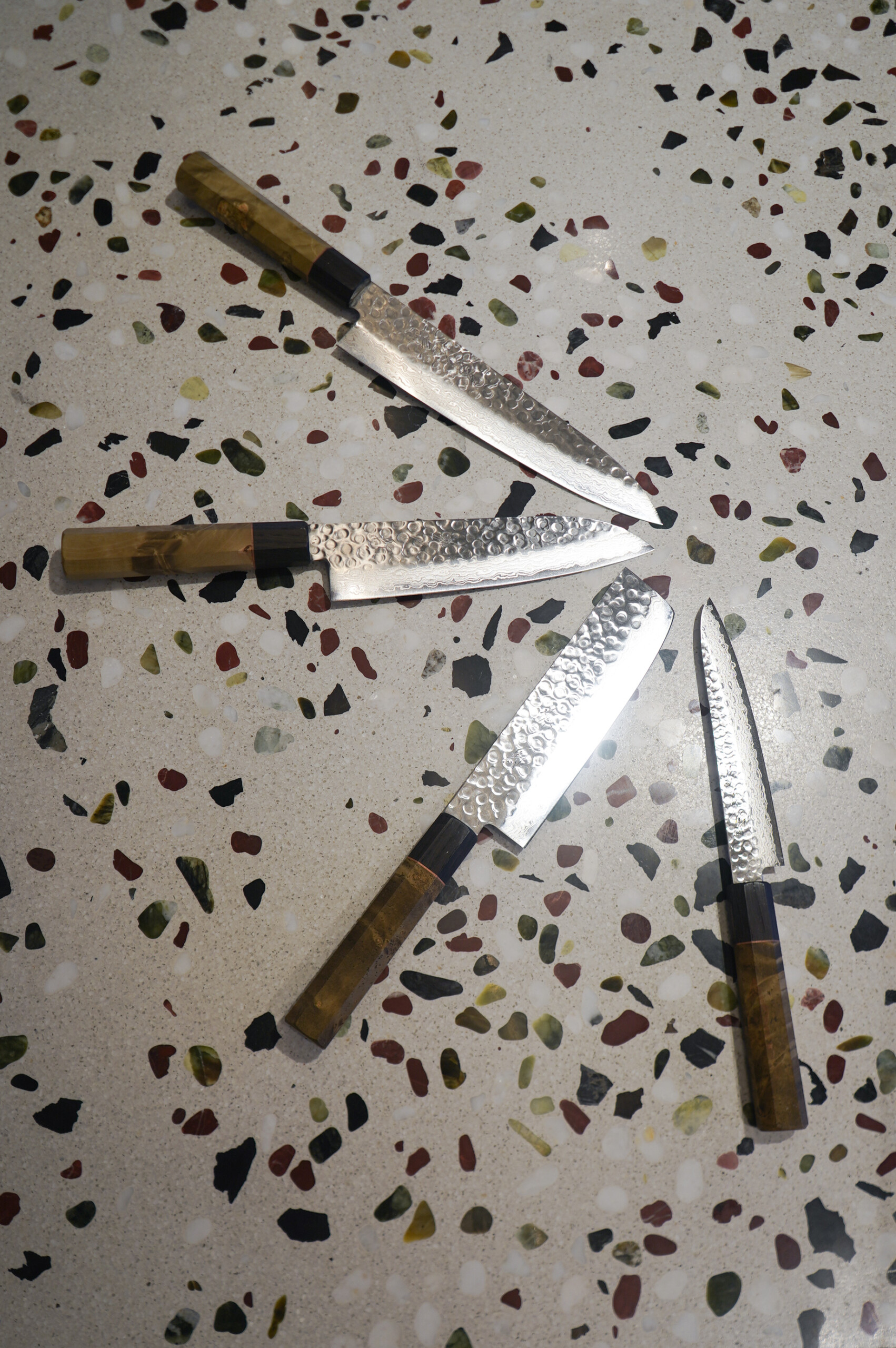 Use & Care
All knives we sell are hand made by experienced Japanese blade-makers to provide years of reliable service. Like most equipment, knives need a little love and care. Here are a few tips to help you get lasting service from your knife:
Keep your knife dry – the entire knife, not just the blade.
Keep your knife sharp. Remember, a sharp blade is safer than a dull one. Use only professional sharpening tools and whetstones.
Do not use the cutting blade as a can opener, chisel, pry bar, screwdriver or for any heavy work for which your knife was not designed. Also, don't use the back of your knife as a hammer. It may break the springs, handles or pin.
Handles made of wood can be occasionally rubbed with furniture polish or oil. Brass can be polished with household brass polish.
Avoid prolonged immersion in liquids (water, solvents, etc.). This can have a detrimental effect on not only the metal parts, but handles made of wood or other porous materials as well. Before using your knife on food items, wipe clean with alcohol, or wash with hot soapy water and rinse clean. Remember to re-clean and lubricate your knife after the food job is done.
Periodically apply a small amount of lubricant to the working parts of the knife, particularly the pivot points of a folding knife. Then apply a thin film of lubricant to the entire surface of the blade. This will help prevent surface oxidation and corrosion from moisture.
For the complete knife maintenance, sharpen your knives using high-quality sharpening tools such as natural stones or whetstones. Speaking of which..
How to take care of your sharpening stones:
Before use:
Do not soak in water finishing stones #3000 and above. If needed splash with water only.
After use:
Let the stone dry thoroughly. Returning a stone into its box while still wet or damp will result in molding and might decrease in quality.