With so many shapes, sizes, steels, finishes and handle materials it can be overwhelming knowing what to look for in a Japanese knife. Keep calm and read our helpful guide. Choosing a kitchen knife and right sharpening stones is not as hard you might think, it just seems like it because of all the choices available. We are here for you to select the best Japanese knife. The cost and the fear of getting it wrong can be stressful but since we offer 30-day money back guarantee, we are 100% sure you will love our products.
Our promise - You will fall in love with our products.
We get it – buying over the internet premium, personal goods can be very tricky – a good knife can cost a lot of money and it's often scary taking a leap and clicking "add to cart" and paying for your pricey order.
When you buy a Japanese knife, you're buying something you should be able to use for the rest of your life if you look after it.
We don't want to sound cheesy here but you are not buying a simple item, you are buying a piece of handcrafted art. We choose to work with the most talented Japanese blacksmiths (few of them are more than 65 years old!), often with generations-long blacksmith traditions. When we decide what to sell, we look at knives we'd only be happy using ourselves. That is why we don't have hundreds of ranges and why we choose not to go mainstream (we don't sell Western type knives) and we solely focus on showcasing the best Japanese knives.
We don't favour only popular brands. When we discover less known Japanese blacksmiths who produce amazing quality products we jump on the occasion to introduce them to the world. We fell in love with Japanese culture and the art of blade-making at first sight. Everything you see on Oishya's site is of a quality we love and we are proud of promoting. Rest assured that any of the knives you like the look of are of an extremely high standard and if for any reason you're not happy after your purchase, we offer a 45-day money back promise.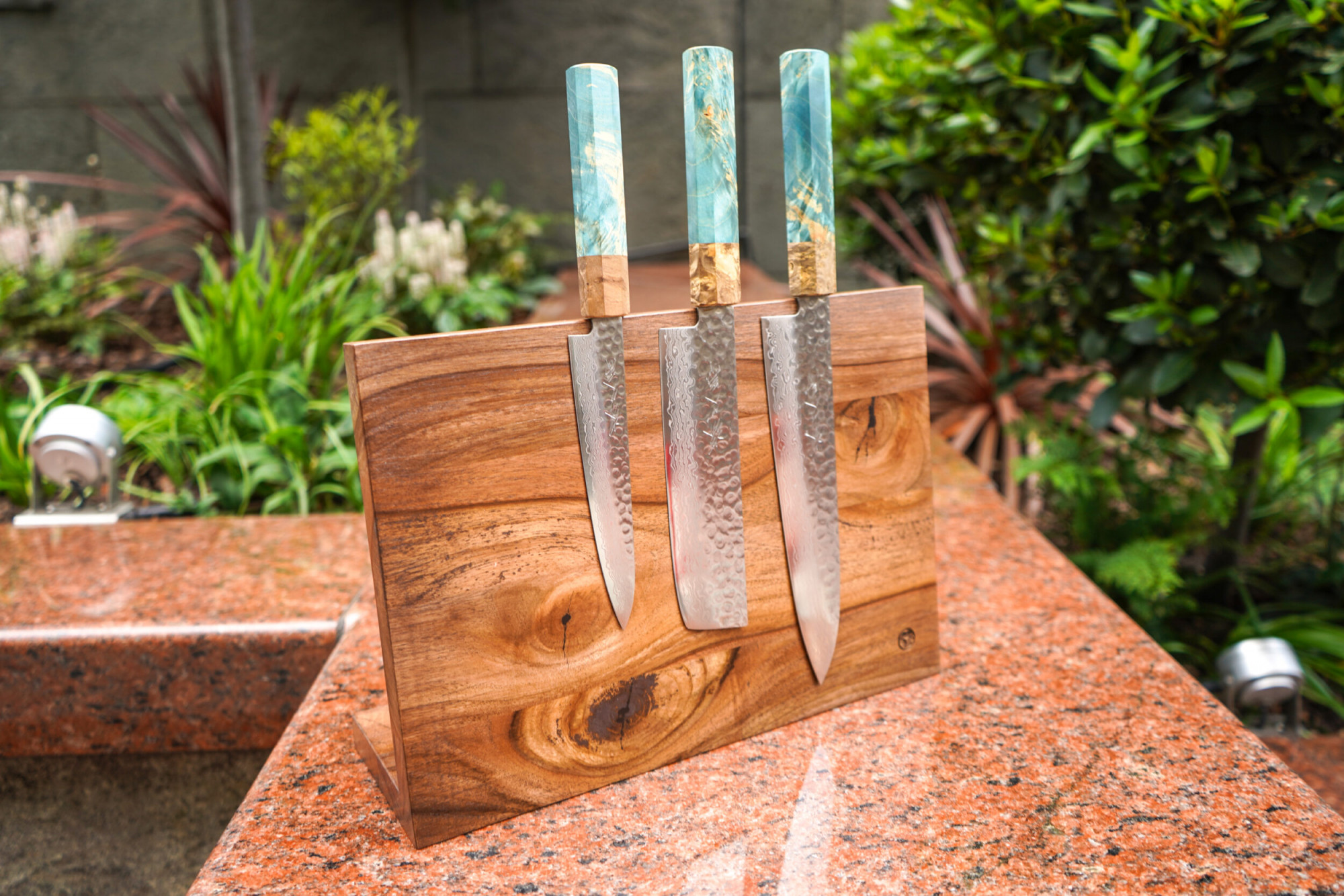 We often get asked for a recommendation and we nearly always give the same answer. If a customer doesn't have a specific shape or style in mind or they're after a general use chef's knife. Japanese guyto's knives are the closest equivalent of the chef's knife.
So many veggies to be chopped – so little time… It's worth bearing in mind that because nearly all of the knives on the site are handmade in small forges by one or two blacksmiths and as such supply is not guaranteed and when a knife has sold out it can sometimes take months to restock. Just to give you an example, one of our blacksmiths broke his wrist at the beginning of January 2016 and it took him 7 months to recover. Imagine all those pilled up orders… We truly admire the dedication of our customs who backorder their favourite knives and wait patiently to get them delivered. If you're hunting for a particular knife we have in offer, don't leave it too long to buy it because it might be gone in no time.
What knife should you choose?
What style of kitchen knife do you need? Start with one good kitchen knife and build your knife set/collection from that. We have written a guide about which knives you really need but in short, the order you should be buying are
Gyuto (Chef),
Petty/Paring,
optionally a Nakiri or Santoku (these are Japanese style of knives and pretty handy at chopping veg and meat, carving and a bread knife.).
If you are a total beginner, go for Moritaka's Gyuto 210mm:
This knife is an all rounder. It comes with a blade 210mm-240mm long, which it's not too big or small and so is usually the one knife type you'll use daily.
If you are looking for a veggie slicer, go for Nakiri 165mm or Nakiri 160mm are great choices.
They have it all – beauty, sharpness, a quality edge and hard wearing carbon steel and an excellent price tag.
Below you can see the shapes of the main types of Japanese style knives: Japanese knives styles types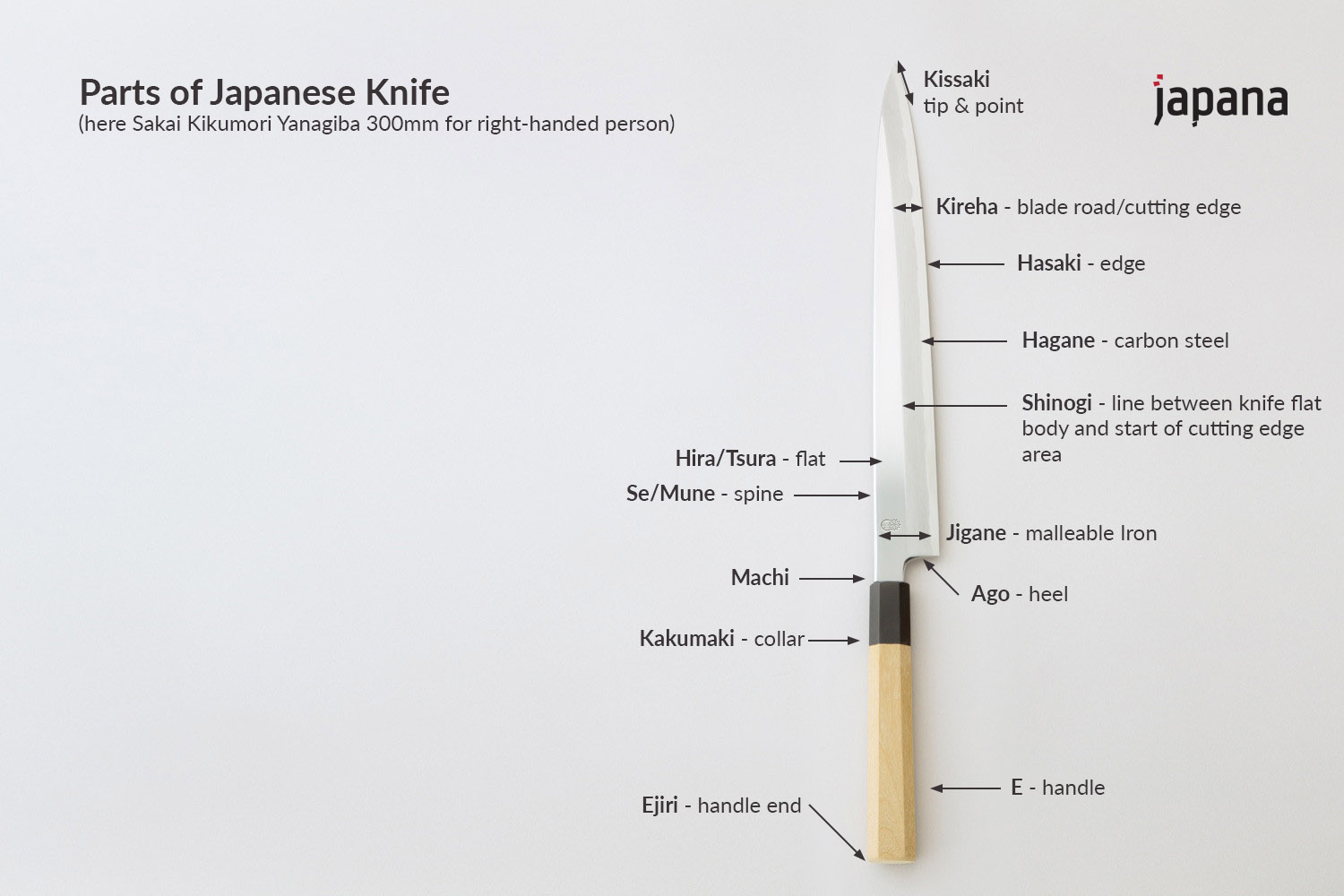 Walking from the top to the bottom of the knife
Kissaki – the tip of the blade
Kireha – blade road/the above-cutting edge
Hasaki – cutting edge
Hagane – carbon steel
Shinogi – line between knife flat body and the cutting edge start
Hira/Tsura – flat
Se/Mune – spine
Jigane – malleable iron
Machi – the transtion between the blade and the handle
Ago – the heel of the blade
Kakumaki – collar
E – handle
Ejiri – handle end
How a knife looks should be the last thing you buy a knife for (remember that knives are tools, not a trophy to be put in a frame – although, we know such cases!). We can't stress enough that we promote and work only with the most respected and talented blacksmiths who create their knives with wabi-sabi concept in mind.
Simplicity and roughness are the main drivers. Obviously, this is not to forget that Japanese blades can be true art themselves. Hence, whichever knife of ours you pick, you can feel pretty confident that it will be a great performer.
If you want a perfect combination of beauty and performance, take a look at our Kikumori and Kurosaki knives. kanenobu VG-10, R2/SG2, 400, 154CM, AUS-8 – What does that even mean? These are the steel types, R2/SG2 and VG-10, Shirogami (#1) and Aogami (#2) steels being amongst the most popular ones.
In choosing the best kitchen Japanese knife you should pay particular attention to the type of steel used in the blade. Steel is really the essence of the blade and primarily responsible for how the knife performs. Steel is essentially an alloy (i.e. a mix) of carbon and iron that is often enriched with other elements such as nickel to improve certain characteristics depending on the desired application. In the knife industry different types of steel are created by varying the types of additive elements as well as how the blade is rolled and heated (i.e. the finishing process).
Learn more about steel types: Steel qualities of kitchen knives: a cheat sheet + chart
How sharp is Japanese knife steel?
Do you remember Zorro's movies where the main character was using his spade to cut "Z" symbol in his enemy's clothes? Yes? Then think of his blade's sharpness as a poor imitation of what a quality Japanese blade can do. To help you better understand the difference, think of the times where Ikea knife "will do" and you get frustrated when the knives you have stay sharp for about 2-3 weeks of constant use. It just WON'T happen with Japanese knives.
So, don't judge all knives by your bad experiences, real kitchen knives (by this we mean authentic Japanese ones) are in a completely different league.
Once you start chopping your veggies with your a Japanese knife, you will want to chop everything you have within your reach (better tell your wife to hide all the important papers already 🙂
The ones to look for are R2/SG2, VG-10 and high carbon steels.
They take and hold an edge better and simply put, we are all lazy at heart, we don't want to keep sharpening knives every time we use them. The newer knives are made from super hard steel that simply does not blunt as fast, you can go months between sharpening your knives. Crafted like this with such painstaking care, Japanese knives are incredibly sharp and have magnificent design.
As a result, they're able to cut through soft ingredients like raw fish for sashimi without crushing the food's delicate shape.
Knife maintenance and protection
Let us make this easy. There are 3 general DON'Ts when it comes to carrying for your knife, but the most important one is this:
No kitchen knife should be put in the dish washer.
Wipe them clean, dry and store them after each use. It's that simple. When it comes to storing and protecting your knife, we are a huge fans of magnetic wooden knife racks. If you're travelling or want to store your knife in a drawer – we'd recommend
For more advice about how to take care of your knifes, check this article.
If you use a knife all day every day then you want a light knife to reduce fatigue. Light knives are a joy to use and so nimble. If you are not a professional though, then knife weight really is not an issue, you simply won't be using them long enough to get fatigued in the first place. If in doubt pick one you like the look of and that will do.
You will always find detailed knife specs like total weight, blade thickness etc. in a product's tab called Product Specifications.
This relates mostly to chef's and sushi knives. This topic is the one that probably gets the most discussion and the most disagreement. As a result we can't really give you a definitive answer. At the end of the day it comes down to personal preference. If you're in doubt for your first knife or just a good all rounder, we recommend a middle ground of a 210mm or 240mm Chef's knife (a "Santoku" or a "Gyuto" typically) which will cover 90-95% of kitchen jobs. If in doubt follow this route. However, if you are a bit more adventurous we would say it is worth trying a longer knife especially if you hold it the right way using a pinch grip.
There are two main styles to choose from. The traditional Western style we typically know or the Japanese "wa" handle. Western are the style most of us will be familiar with, full tang (where the blade goes all the way through the handle), often riveted and pretty sturdy. The Japanese "wa" handle is light weight and as a result feels like it is barely there. This is a centuries-old design and typically when combined with a half tang makes the knife feel significantly lighter and more nimble in your hand.
Still unsure? Don't be. Just email us or message us directly on the chat window. We'd love to help! All you have to do is pick the knife you like the most – and we'll help you choose the right one.
Ps. For the latest knives and offers, follow us on Instagram and Facebook 🙂