Here at Oishya, we want to ensure our knives are used safely. This is why we have come up with 4 knife safety tips we recommend you follow.
1. Keep your knives sharp
We have stated multiple times that a sharp knife is safer than a dull one. However, we are aware that sharpening a knife for the first time can appear as a daunting task. We recommend you read our blog on How to sharpen your kitchen knife, it will teach you how to do it in just 7 simple steps!
In order to sharpen your knife, you will need a good sharpening stone. We suggest a high quality whetstone: King KW-65 1000/6000 or King Gold G-1 (Inc. Nagura) #8000 Japanese Sharpening Stone.

2. Good quality and large wooden cutting board
As covered in our How to choose the best cutting board post, wood is the best material for a cutting board. Other materials will dull and ruin your knife's blade. With this in mind, you should aim to get the biggest wooden cutting board that you can fit on your kitchen counter.
Your cutting board should be bigger than your knife. A knife that is falling off the edge of the board is neither stable nor safe. It should also be big enough to avoid the food from falling off when it's being cut. This isn't safe either. This is why our Aomori Hiba Kitchen cutting board comes in three sizes.
3. Have the right knife for you (make sure it feels comfortable)
Knives are not one size fits all. What feels comfortable in one person's hand might not feel right in yours. Given that comfort is key to knife safety skills, make sure whatever knife you buy feels comfortable on your hand. Check its weight, handle grip and balance to ensure it is a perfect fit.
You may choose our Sakai Kyuba x Oishya Gyuto because you like the feel and weight of the knife and like that it can handle almost any task from meats to vegetables. Or prefer the Nakiri for its thin and straight blade, that can cut vegetables with an inimitable precision. Perhaps you have small hands and like the size of the Sakai Kyuba x Oishya Petty knife as it is very nimble and controllable. This depends fully on you, only you know what feels right in your hand!
This is why at Oishya we give you the option to return your purchase within 45 days under our money back guarantee. So if you are not completely satisfied with your purchase when you try it in your hand you can send it back and we'll give you a refund.

4. Store your knives securely after use
Although there are a plethora of knife storage options, from high-tech to high-style, at a variety of price points, ultimately the best tools ever invented are magnetic racks and blocks. Not only does it allow you to store the knives safely, but it also saves space. In a small kitchen, a wall-mounted magnetic strip takes advantage of underused spots; if you have the luxury of space, a dedicated knife stand will display the knives in an elegant and safe manner. Their pros and cons are discussed in another blog. After all, they way you store your knives is key for knife safety.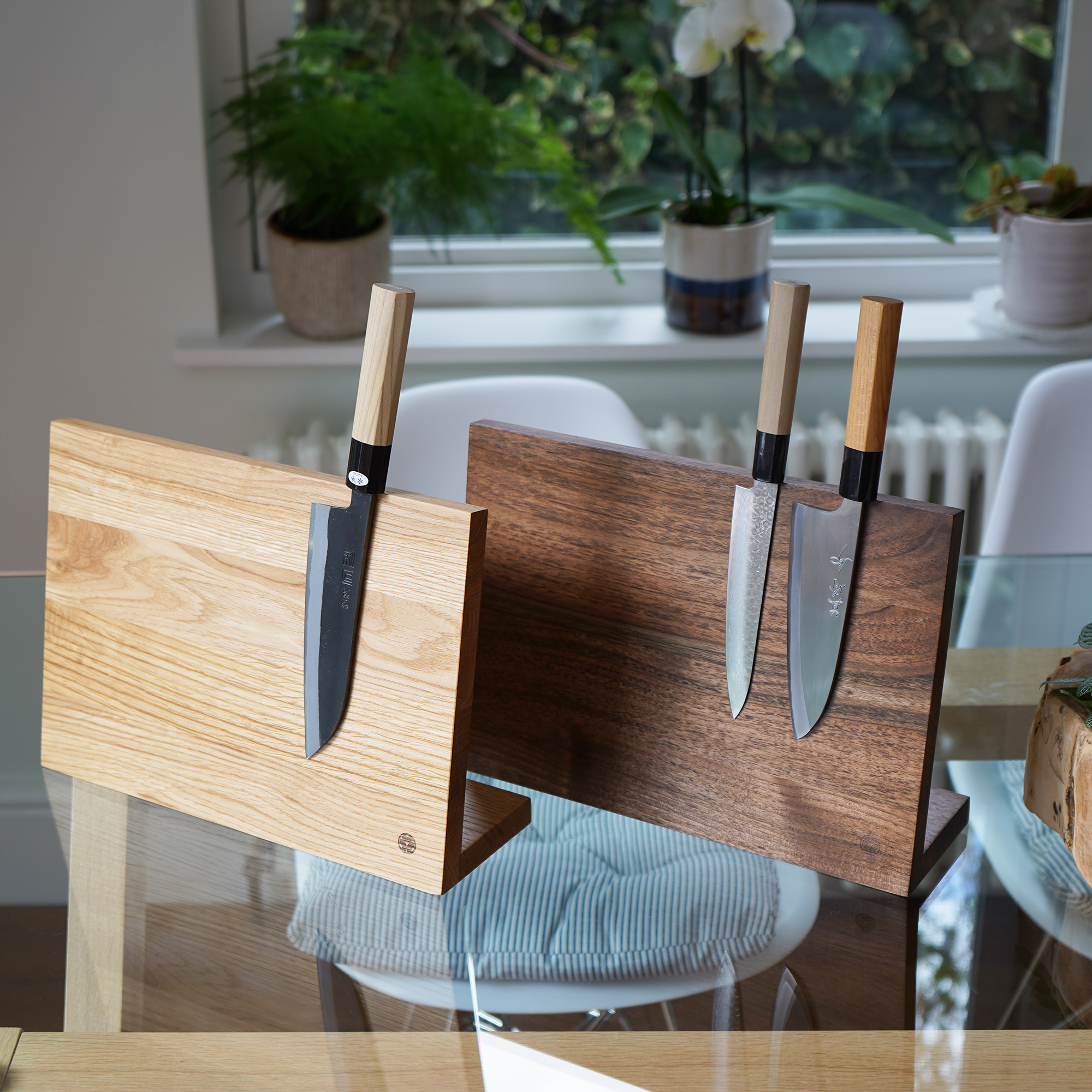 We hope these four knife safety techniques will ensure you and your family are safe in the kitchen!