Selecting the best Japanese kitchen knife for your needs
Is it your first every proper knife? If yes, then go for a gyuto, it's a multi-purpose knife. Once you feel more confident, you can compliment your set with nakiri (ideal for fruit, veggies) and petty (utility knife, a small knife for all the rest of your work). Majority of work in the kitchen will done with those 3 knifes. At this point read our guide on Japanese Kitchen Knife Types And Styles.
You can get all 3 essential knives mentioned here in the set we have prepared with Japanese master Sakai Kyuba.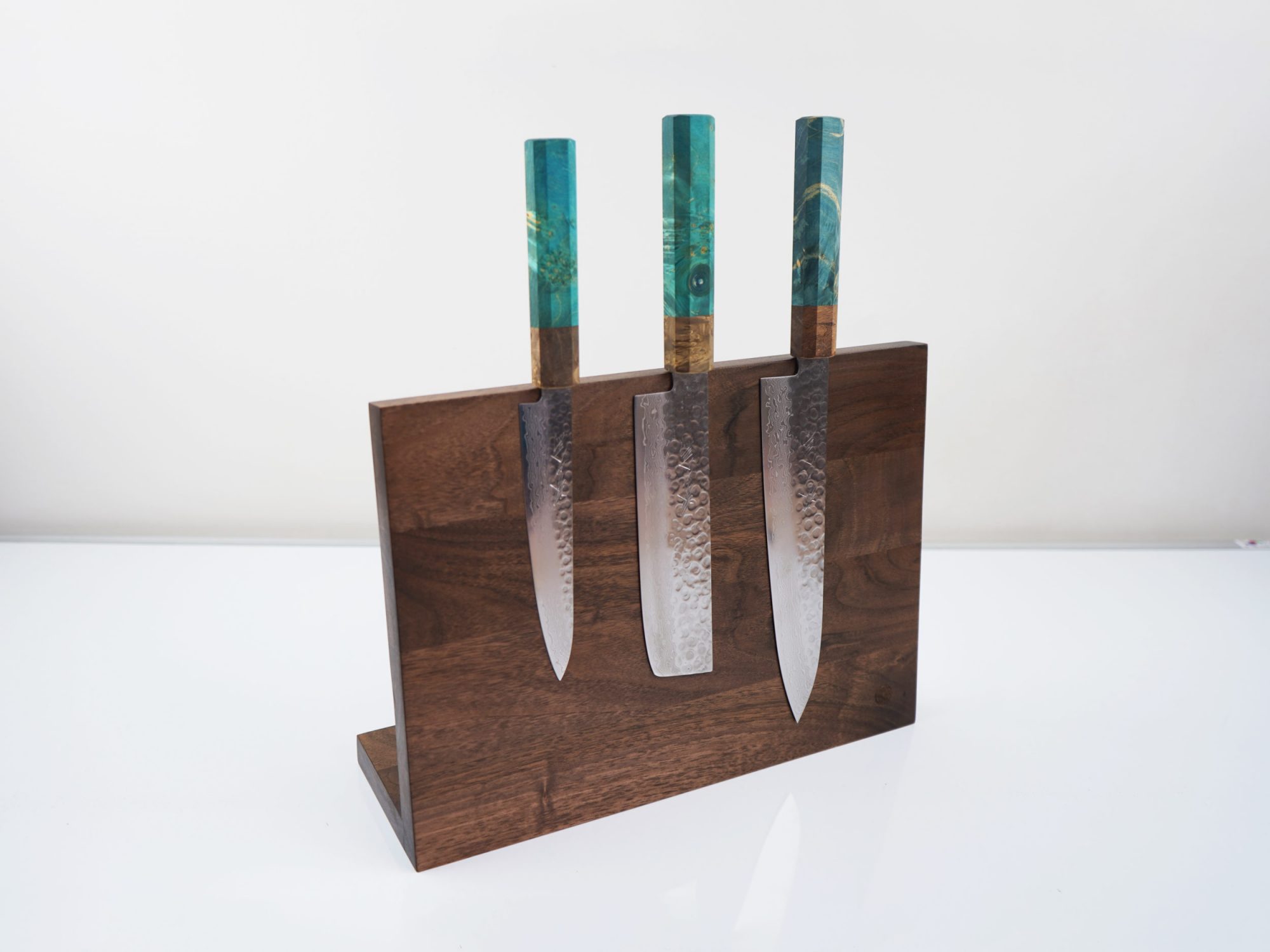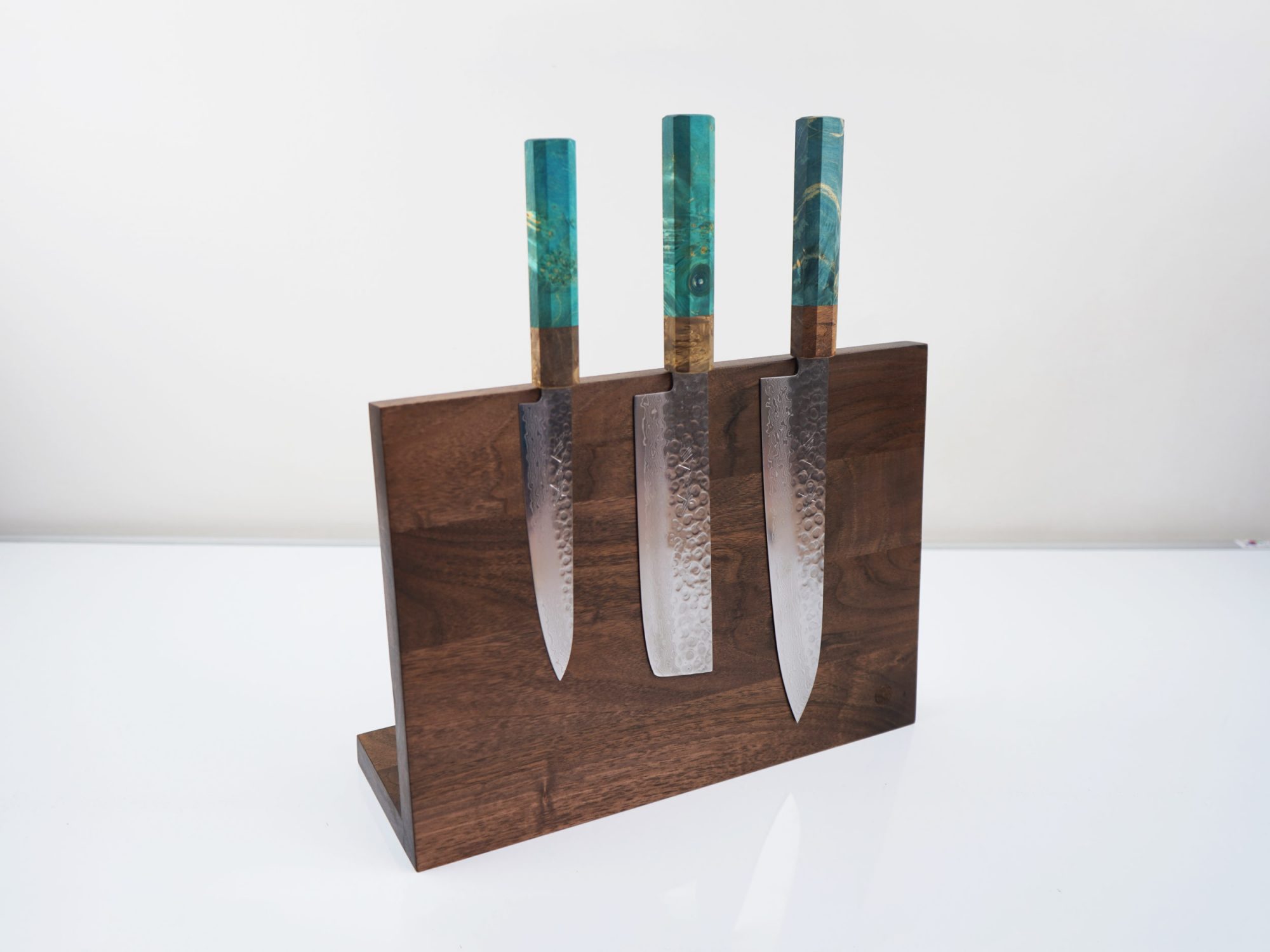 A more in depth-look at buying a Japanese knife
A knife is the most important tool in the chef's toolbox. You made the right decision to go for a Japanese Knife. We will help you to choose the best knife you will ever own.
Japanese knives are not only the best in the world. They are works of art that you can actually use.
As compared to the European-style (or Western-style knives) Japanese knives are usually thinner and are ground at a lower angle (15 degrees, as compared to the more usual 20 degrees for European knives)
The best-in-class cutting ability comes at a cost. The knives are harder and thus more fragile and must be carefully maintained. The hard steel of a Japanese kitchen knife should not be sharpened with a sharpening steel. (a ceramic sharpening rod may be used.) The best result is obtained using a Japanese whetstone by King for example.
What style of kitchen knife do you need?
Start with one good kitchen knife and build your knife set/collection from that. We have written a guide about which knives you really need but in short, the order you should be buying are:
Gyuto – chef's knife,
Petty/Paring,
optionally a Nakiri or Santoku (these are Japanese style of knives and pretty handy at chopping veg and meat, carving and a bread knife.).
If you are a total beginner, go for gyuto 210mm – we love Moritaka knives but we understand that some people prefer stainless knives. Moritaka knives have it all – beauty, sharpness, a quality edge and hard-wearing carbon steel and an excellent price tag.
Below you can see the shapes of the main types of Japanese style knives: Japanese knives styles types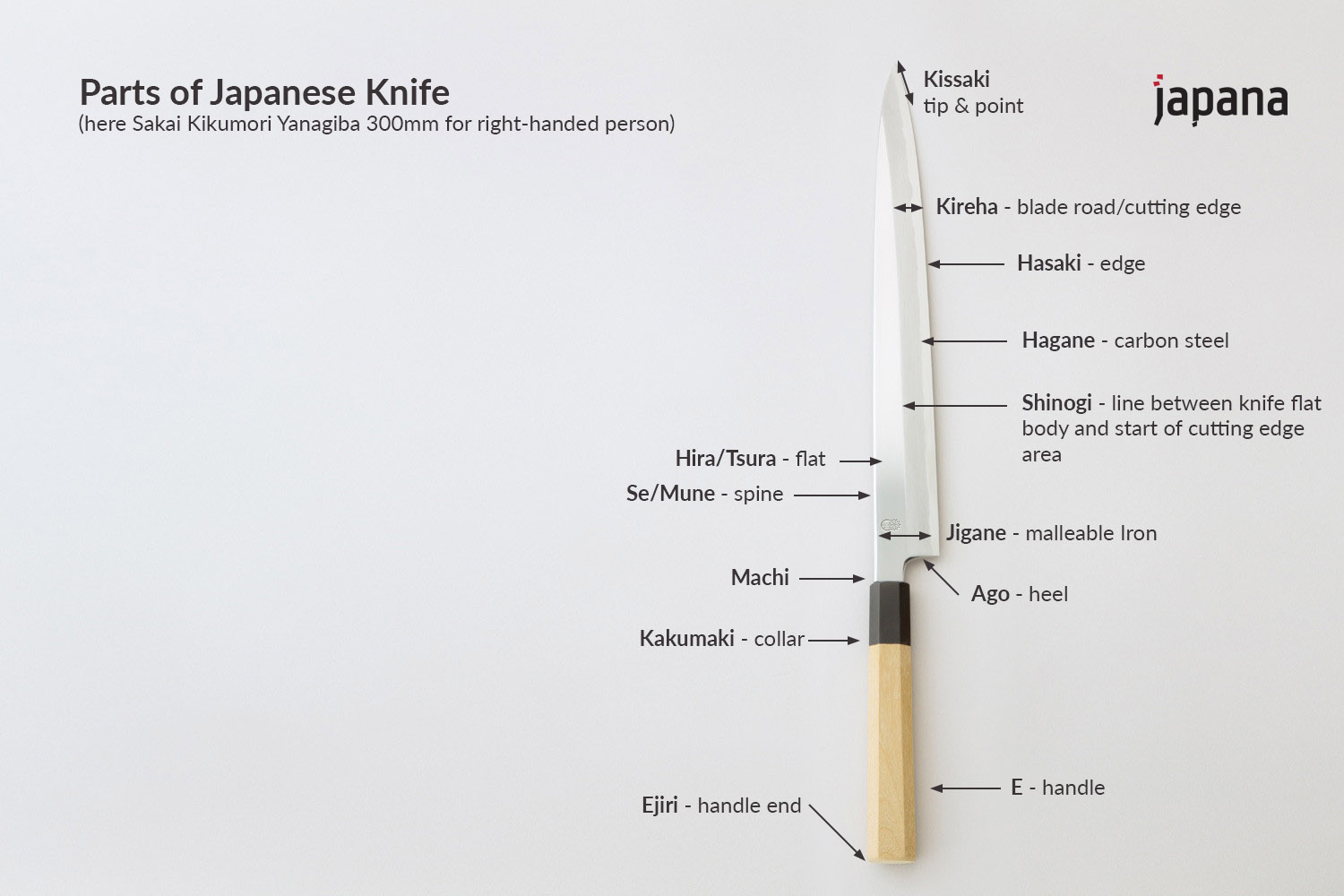 Walking from the top to the bottom of the knife
Kissaki – the tip of the blade
Kireha – blade road/the above-cutting edge
Hasaki – cutting edge
Hagane – carbon steel
Shinogi – the line between knife flat body and the cutting edge start
Hira/Tsura – flat
Se/Mune – spine
Jigane – malleable iron
Machi – the transtion between the blade and the handle
Ago – the heel of the blade
Kakumaki – collar
E – handle
Ejiri – handle end
How a knife looks should be the last thing you buy a knife for (remember that knives are tools, not a trophy to be put in a frame – although, we know such cases!). We can't stress enough that we promote and work only with the most respected and talented blacksmiths who create their knives with wabi-sabi concept in mind.
Simplicity and roughness are the main drivers. Obviously, this is not to forget that Japanese blades can be true art themselves. Hence, whichever knife of ours you pick, you can feel pretty confident that it will be a great performer.
If you want a perfect combination of beauty and performance, take a look at knives with steel of VG10, R2/SG2, 400, 154CM, AUS-8 – What does that even mean? These are the steel types, R2/SG2 and VG-10, Shirogami (#1) and Aogami (#2) steels being amongst the most popular ones.
In choosing the best kitchen Japanese knife you should pay particular attention to the type of steel used in the blade. Steel is really the essence of the blade and primarily responsible for how the knife performs. Steel is essentially an alloy (i.e. a mix) of carbon and iron that is often enriched with other elements such as nickel to improve certain characteristics depending on the desired application. In the knife industry, different types of steel are created by varying the types of additive elements as well as how the blade is rolled and heated (i.e. the finishing process).
To Learn more about steel types, here is our In-depth guide: Steel qualities of kitchen knives
How sharp is Japanese knife steel?
To help you better understand the difference, think of the times where Ikea knife "will do" and you get frustrated when the knives you have to stay sharp for about 2-3 weeks of constant use. It just WON'T happen with Japanese knives.
So, don't judge all knives by your bad experiences, real kitchen knives (by this we mean authentic Japanese ones) are in a completely different league.
Once you start chopping your veggies with your a Japanese knife, you will want to chop everything you have within your reach (better tell your partner to hide all the important papers already 🙂
The ones to look for are R2/SG2, VG-10 and high carbon steels. To learn more:
They take and hold an edge better and simply put, we are all lazy at heart, we don't want to keep sharpening knives every time we use them. The newer knives are made from super-hard steel that simply does not blunt as fast, you can go months between sharpening your knives. Crafted like this with such painstaking care, Japanese knives are incredibly sharp and have the magnificent design.
As a result, they're able to cut through soft ingredients like raw fish for sashimi without crushing the food's delicate shape.
Knife maintenance and protection
Let us make this easy. There are 3 general DON'Ts when it comes to carrying for your knife, but the most important one is this:
No kitchen knife should be put in the dish washer.
Wipe them clean, dry and store them after each use. It's that simple. When it comes to storing and protecting your knife, we are huge fans of magnetic wooden knife racks.
If you're travelling or want to store your knife in a drawer – we'd recommend
For more advice about how to take care of your knives, check this article.
If you use a knife all day every day then you want a light knife to reduce fatigue. Light knives are a joy to use and so nimble. If you are not a professional though, then knife weight really is not an issue, you simply won't be using them long enough to get fatigued in the first place. If in doubt pick the one you like the look of and that will do.
You will always find detailed knife specs like total weight, blade thickness etc. in a product's tab called Product Specifications.
This relates mostly to chef's and sushi knives. This topic is the one that probably gets the most discussion and the most disagreement. As a result, we can't really give you a definitive answer. At the end of the day, it comes down to personal preference. If you're in doubt for your first knife or just a good all-rounder, we recommend a middle ground of a 210mm or 240mm Chef's knife (a "Santoku" or a "Gyuto" typically) which will cover 90-95% of kitchen jobs. If in doubt follow this route. However, if you are a bit more adventurous we would say it is worth trying a longer knife especially if you hold it the right way using a pinch grip.
There are two main styles to choose from. The traditional Western style we typically know or the Japanese "wa" handle. Western is the style most of us will be familiar with, full tang (where the blade goes all the way through the handle), often riveted and pretty sturdy. The Japanese "wa" handle is light weight and as a result, feels like it is barely there. This is a centuries-old design and typically when combined with a half tang makes the knife feel significantly lighter and more nimble in your hand.