We've got the best eggplant parmigiana recipe for you. Eggplant parmigiana also known as aubergine parmigiana or in Italian melanzane alla parmigiana will become your next comfort food. Made with aubergine, tomato sauce, basil, parmesan and mozzarella cheese, there is nothing not to love about it!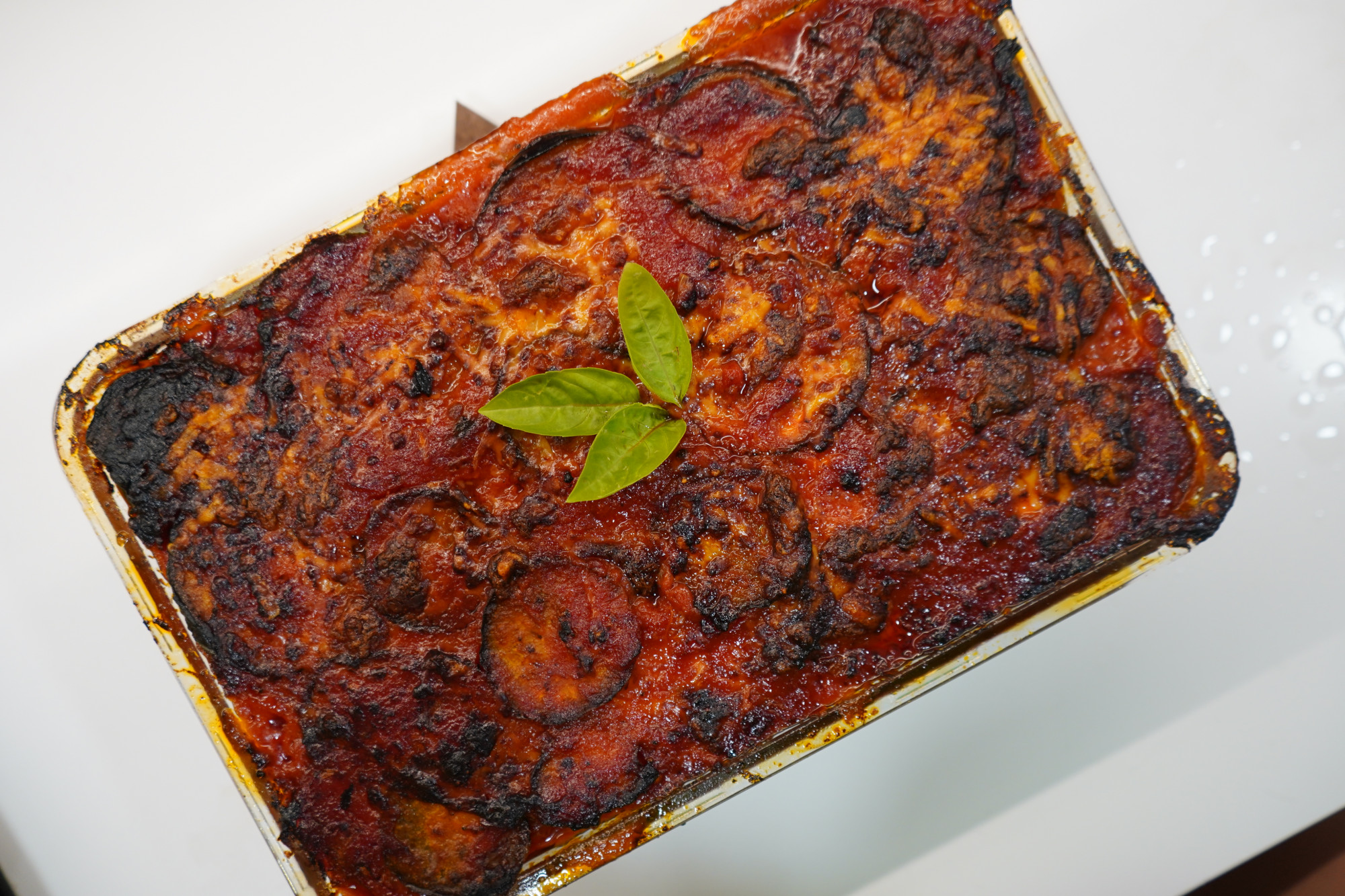 6 aubergines
Basil leaves (a handful)
100g Parmesan cheese
500g Mozzarella cheese
800g Tomato passata 
1 onion
Olive oil
Flour for dusting
Salt
Pepper
Wash the aubergines and with cut them into thins slices with a sharp knife. You can cut them in whichever direction you prefer. 
Place the aubergines in a bowl and salt them. Leave to rest for 1 hour. This draws out the moisture, preventing the aubergine from becoming soggy. 
In the meantime, chop your onion into small cubes. Sauté the onion in a frying pan with olive oil. until translucent.
Add the tomato passata to the frying pan and season with salt and pepper. Let it simmer at a low heat for 10-15 minutes. Set aside.
Rinse the cut aubergine under water and pat dry with a paper towel.
Place some flour on a plate and lightly dust the aubergine slices with flour, getting rid of any excess flour.
Fry the aubergine slices in olive oil on each side.
Preheat the oven at 180°C.
Grab your baking dish and use a wooden spoon to spread out a layer of your tomato sauce mix on the dish. 
Next, add. a layer of aubergine slices followed by some parmesan cheese and mozzarella cubes and tomato passata. 
Repeat until the baking dish is full. We suggest finishing with a layer of cheese. 
 Cover with parchment paper and bake for 20 minutes. Remove parchment paper and bake for another 20 minutes, until golden and bubbling on top. 
Let rest for 5 minutes and enjoy!
Watch how to make eggplant parmigiana: