Magnetic knife holders (also called magnetic knife racks or magnetic knife strips) are a great way to keep your knives at the ready and safely out of reach for your little ones. However, they're also useful for keeping other household items organised and easy to grab. (That is, provided they're a good amount of metal in them, such as drill bits, scissors or paperclips.) Below, we list other ideas for putting a magnetic knife rack to use in your bathroom, office, workshop, and obviously, kitchen.
8 life hacks for your kitchen and home
Office supplies: Hang your scissors and gather spare paperclips and binder clips.
Paintbrushes: Especially useful for the artistic souls out there – it works great if you have freshly washed brushes that you need to dry.
Toolkit: Keep your drill bits, pliers, saw, and more in an easy-to-see display.
Under cabinet or counter storage e.g. for corralling things like keys and spice jars with metallic lids.
Makeup brushes: Easy to grab which one you need. Also useful for drying your brushes in the shape they should be in (make sure to hang with brush end pointing down). Of course, this only works if your brushes have enough metal on them (most do), although, if really needed, you could always glue on a small magnet or attach something metallic to the handle.
Bathroom: Keep your counters clear of bobby pins, hair clips, nail clippers and more.
Large kitchen utensils: Ladles and other serving utensils no longer have to awkwardly take up room in a drawer.
Store pot lids and food processor blades: You can mount magnetic racks inside your drawers. Your cabinets will be neater and you won't have to search to find the right lid or risk cutting yourself on a stray food processor blade.
Magnetic knife holders, apart from looking really beautiful (especially those built with solid hardwood), serve many purposes.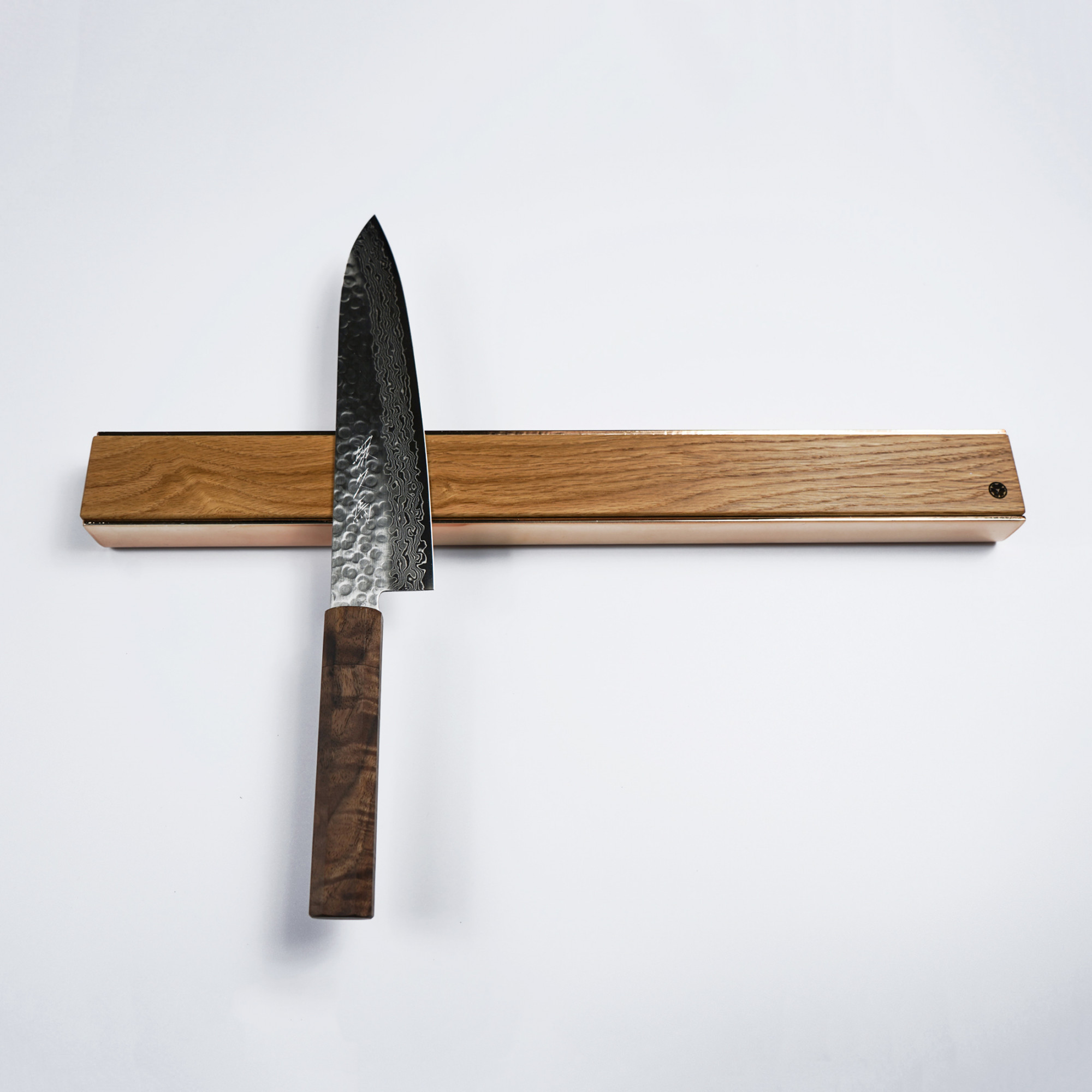 They keep your sharp objects safe and out of the children's reach and make a great addition to your interiors. Have you put a magnetic knife holder to good use in your home?