Are you looking for some ideas to make your kitchen more organised? Look no further. We've prepared for you 15 clever hacks to do just that. Here come our tips for the most organised kitchen ever!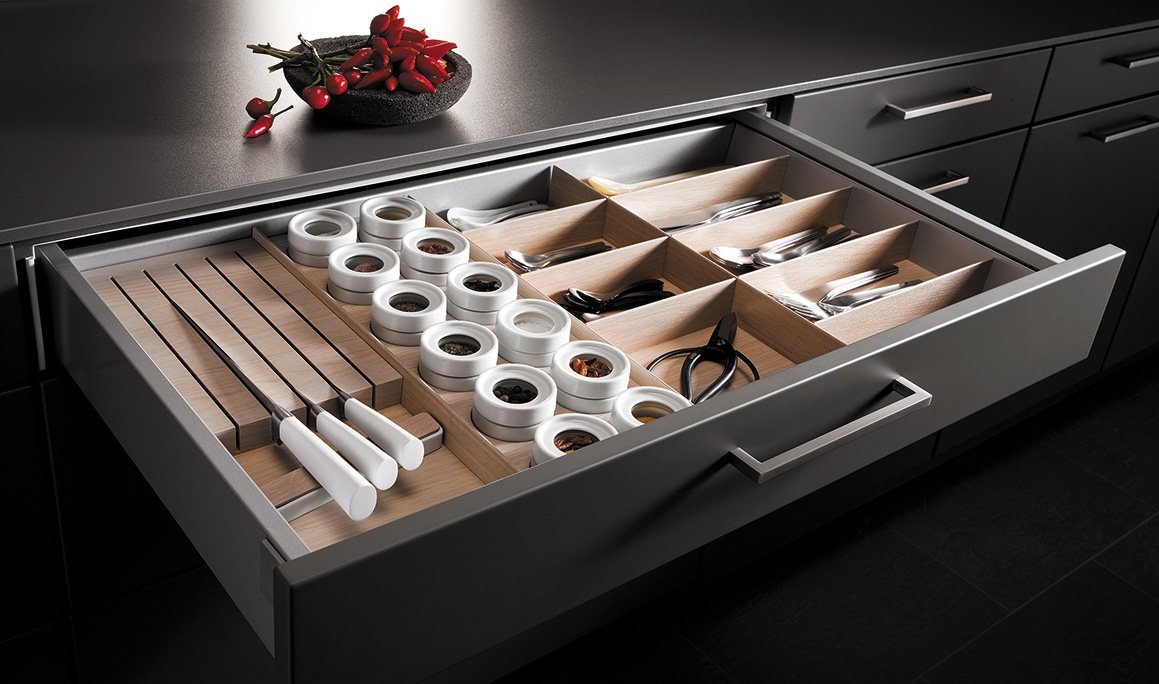 source: Kitchen Solutions
One of the problems with keeping a kitchen drawer organised is the ineffective use of space. You may be putting an effort to keep your utensils organised but your household members may not. Too many times people just throw all the kitchen utensils and tools in haphazardly and constant opening and closing the drawer makes the tools shuffle. Use drawer inserts to make it easy to sort utensils, cooking tools and more, allowing each to be more accessible. Remember, do not put cooking knives in the drawers as the knives blades can chip easily when grind each other. Use other storage methods such as magnetic racks or stands instead.
2. Over The Sink Cutting Board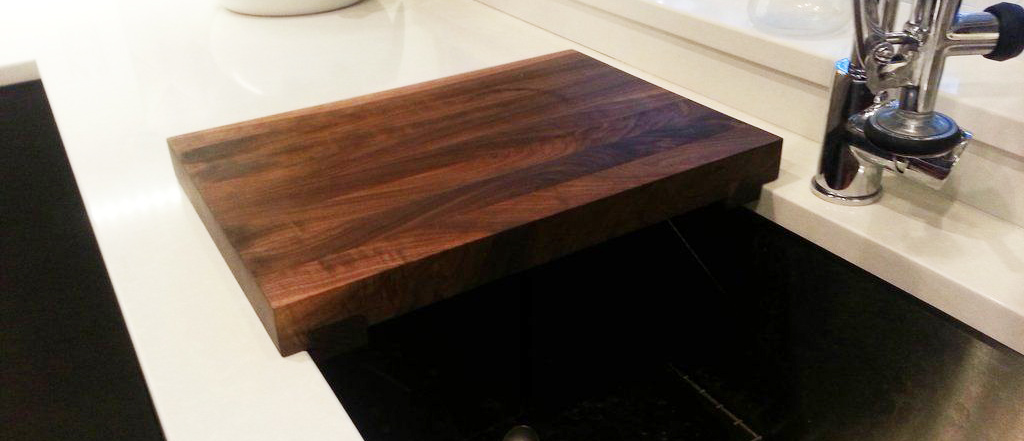 Small worktop? No problem. Preserve precious counter space with an over the sink cutting board which are just really just long cutting boards that are custom built to fit over your sink. Not only do you save on either counter or cabinet space, but with these boards you can prevent vegetable and fruit peels or juices that you're slicing, chopping and dicing from making a mess on your kitchen counter or floor. Such simple tool can save you a lot of clean up with food prep. As an added bonus you can also use it to hide dirty dishes when an unexpected guest comes over. Talk about an organisational hack!
3. Hang Pots And Pans From The Ceiling

Save yourself more cabinet space by hanging pots, pans, and even cooking utensils from the ceiling (maybe don't do that with the knives…). As a bonus, get yourself an attractive overhead metallic rack and if you have a decent set of cookware (brass, copper coats look just awesome!) – you'll end up with a stylish decoration for the kitchen that your guests will be jealous of.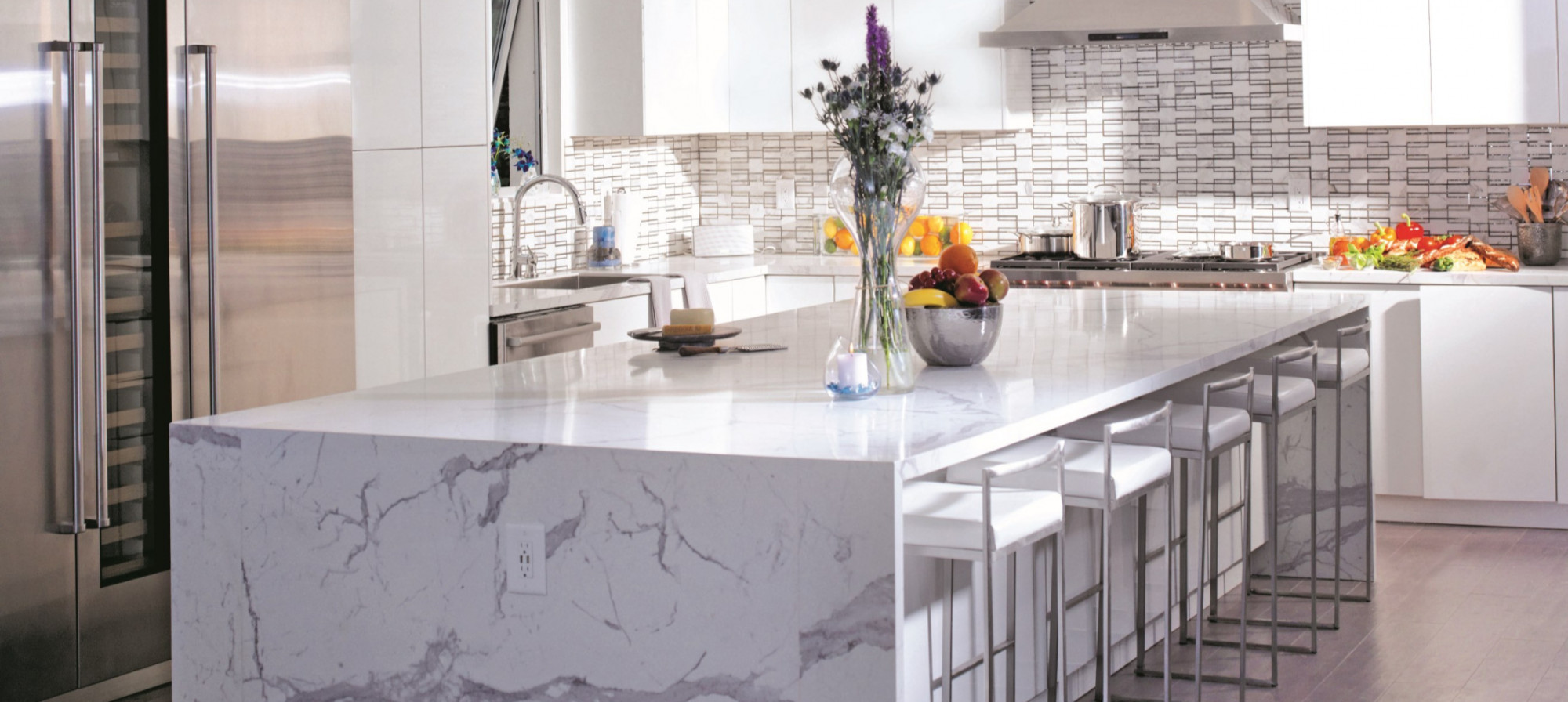 A kitchen island not only looks great and compliments any kitchen style, but it can bring some added functionality and organisation to your kitchen as it can serve as both a place to eat as well as an extra storage space.
5. Float knives on the wall
Large, beautiful wooden knife blocks are nice to look at, but they cost you prime real estate on your kitchen counter. What if there was a beautifully easy way to safely store your knives without giving up any horizontal space? Have a look at magnetic knife racks. A magnetic knife holder is not only easy to mount (you need 2 standards screws and voila!) but it also helps you show off that impressive knife collection you gathered over the years. Aim for the wooden racks as metallic ones may destroy knife's edge and chip it off.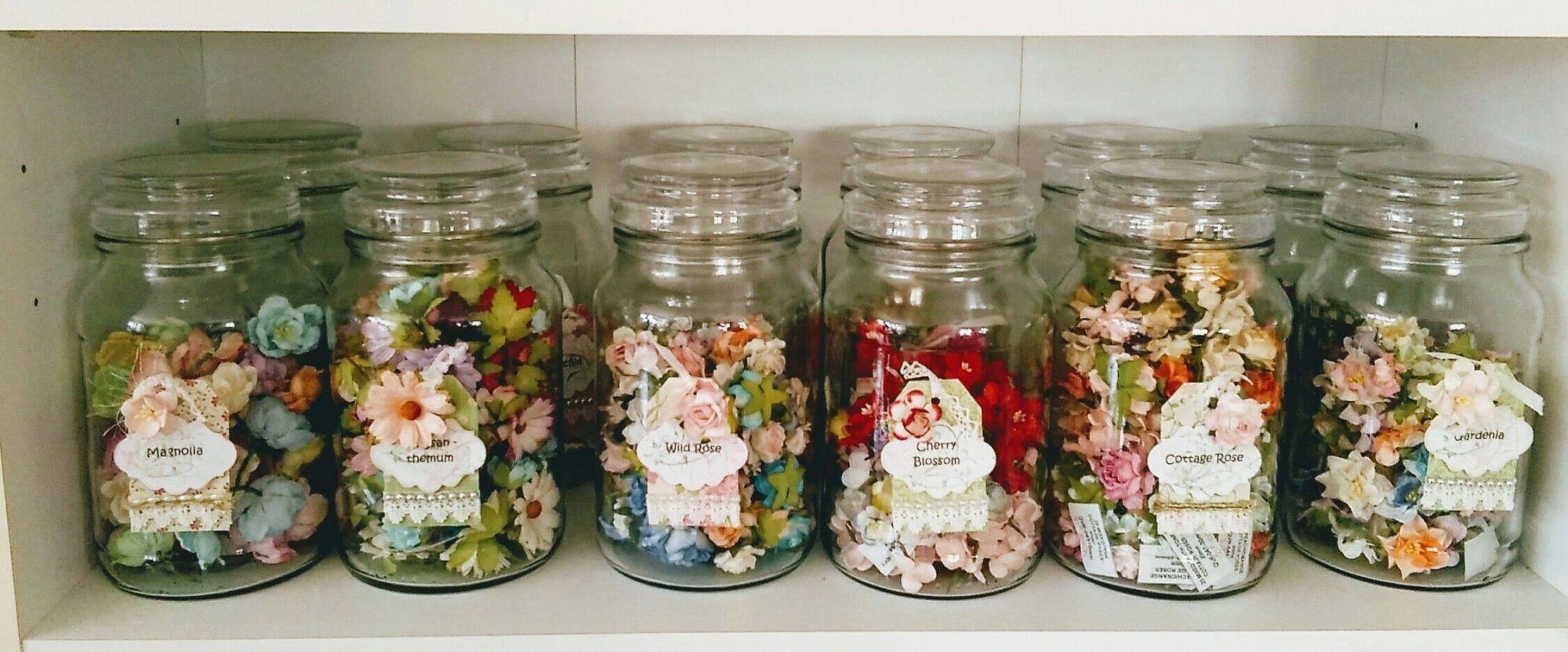 You won't be called a freak if you label your spices and dry food. It's just a common sense. Labels are a great way to help you organise your kitchen. You can even put the labels on the tops of jars so that when you store them in a drawer you can take the guesswork out of which container you want.
7. Use A Tension Rod To Hang Cleaning Products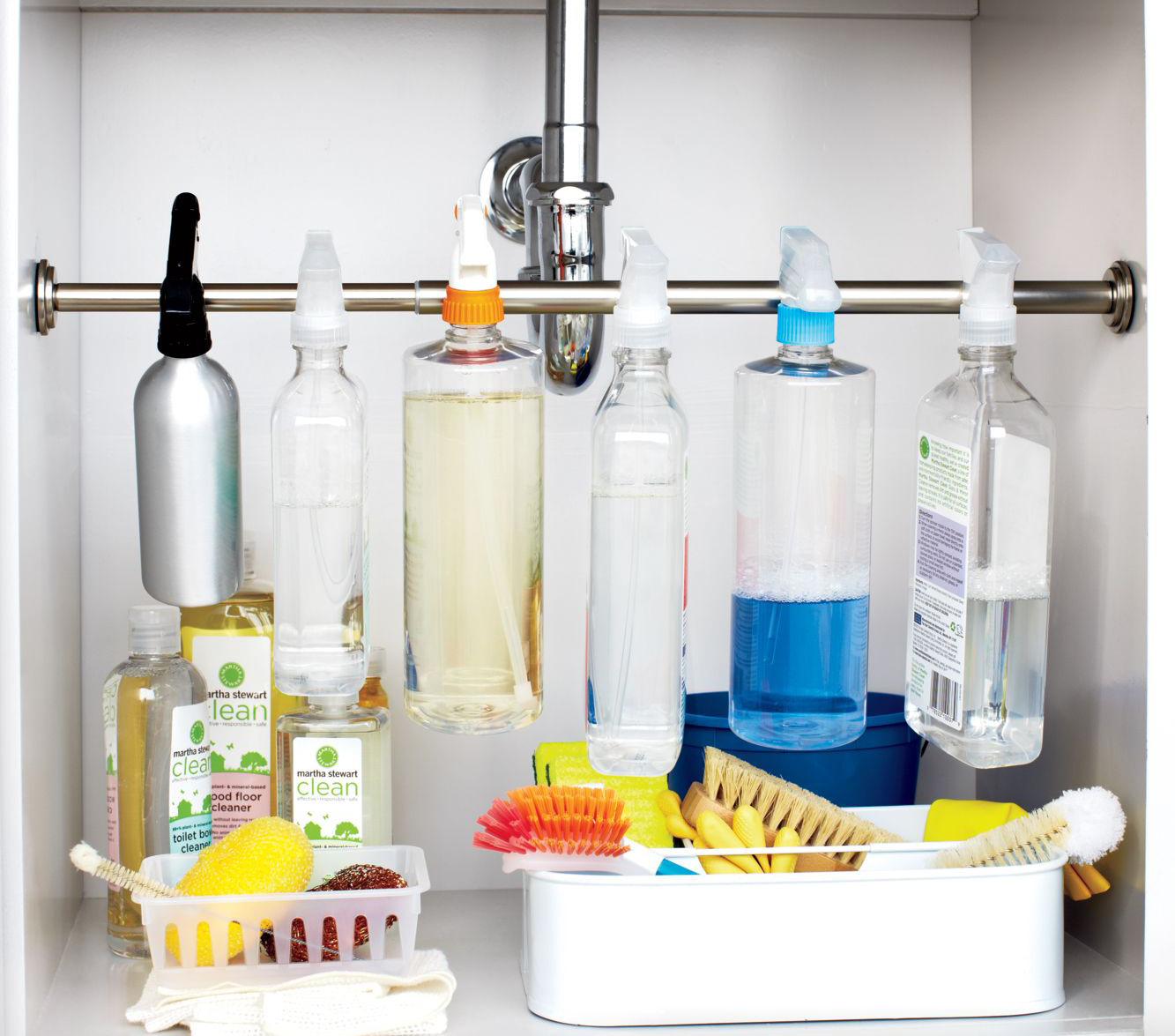 A tension rod is a great way for storing and organising all the cleaning products in form of spray bottles. You will quickly gan an additional space in an otherwise cramped under-sink cabinet.
8. Use A Wine Rack For Storing Bottles

Love wine? Say no more. Get yourself a wine rack to save some of that kitchen space. There are so many beautifully crafted, eye catching designed wooden wine racks that they are art of their own. If you run out of your wines faster than you keep buying them, get yourself one of the foldable wine racks which you can hide anytime you have nothing to display.
9. Clean your blender quickly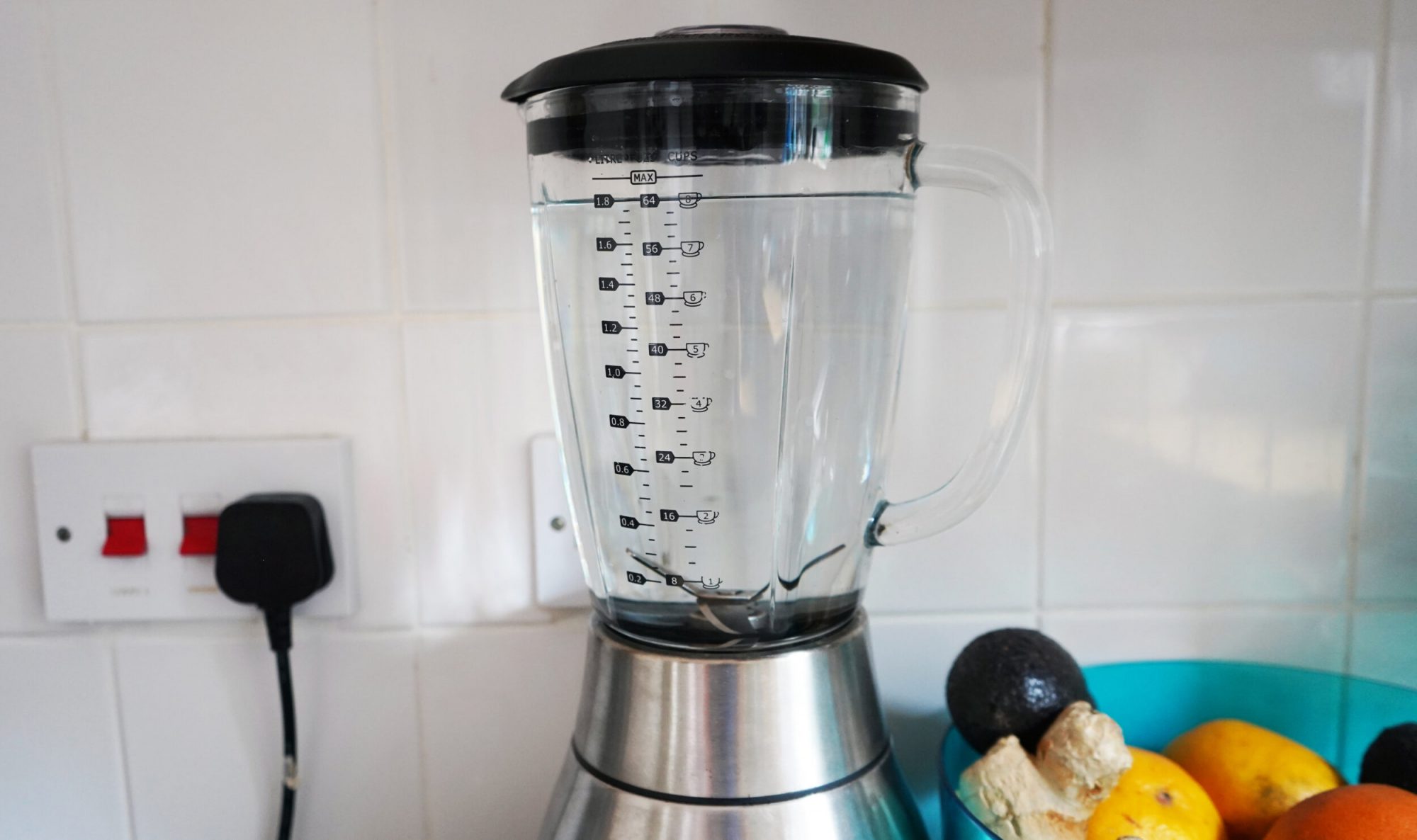 If you're fan of daily smoothies like us, you know that cleaning a blender can be a pain. After making a smoothie or using your blender to chop up the garlic, you can quickly clean it by pouring in warm water and a tiny bit of dish soap. Top the blender with the lid and turn it on and now it's all clean! Just make sure to give it a quick rinse after to get rid of the soap residue. It doesn't taste well in a smoothie. We tried (but didn't meant to).
10. Clean Your Stainless Steel Appliances With Glass Cleaner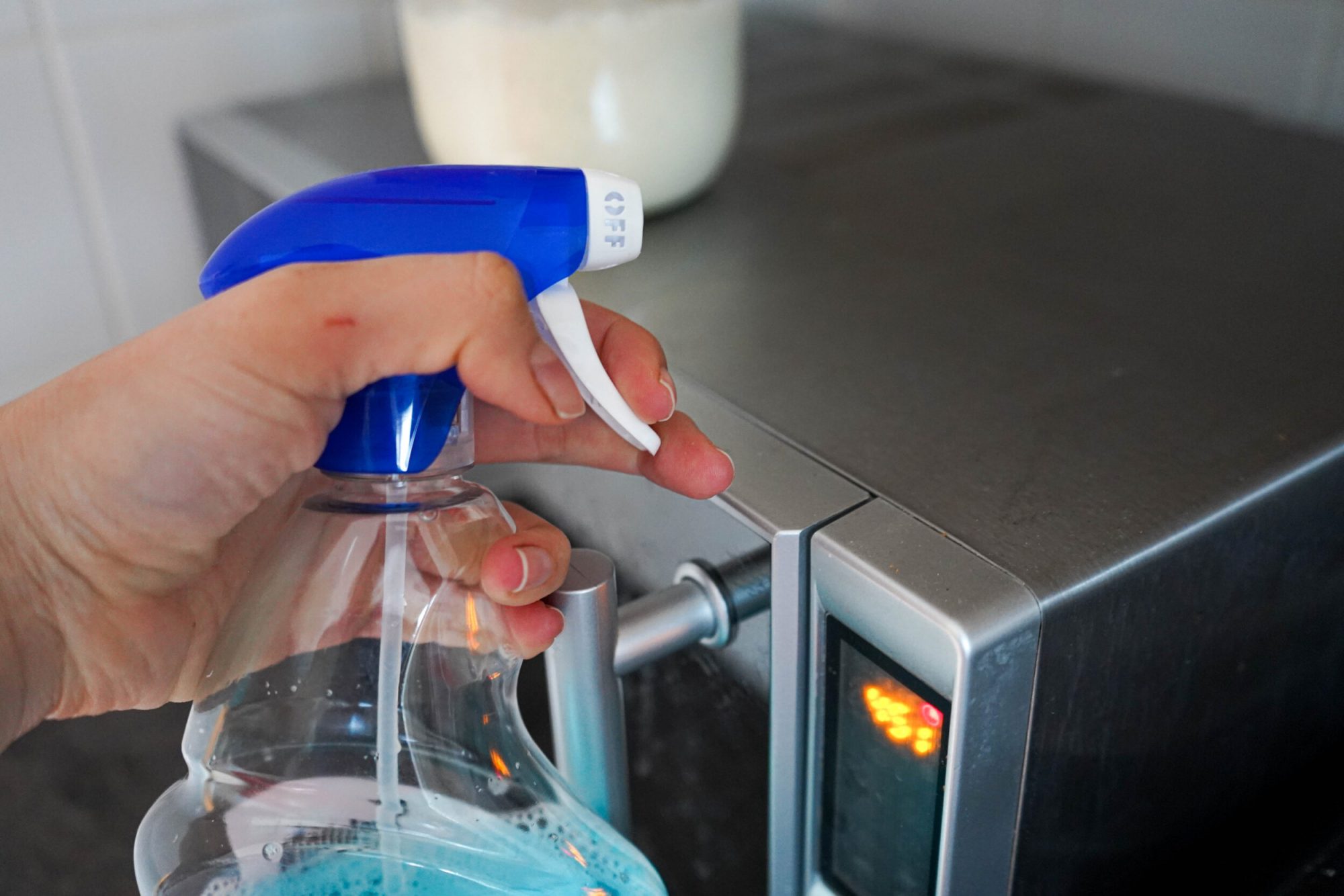 Glass cleaner will give your stainless steel sink and appliances the same streak-free shine that it does for glass and mirrors. Using a glass cleaner will also help to remove any fingerprints. Just spray a few times on a microfibre cloth and make like the karate kid by 'waxing on, waxing off'. Rinse thoroughly and dry your towel. Run out of glass cleaner? Don't worry. You can use a white vinegar which will give you a very similar effect.
11. Clean Your Oven With Baking Soda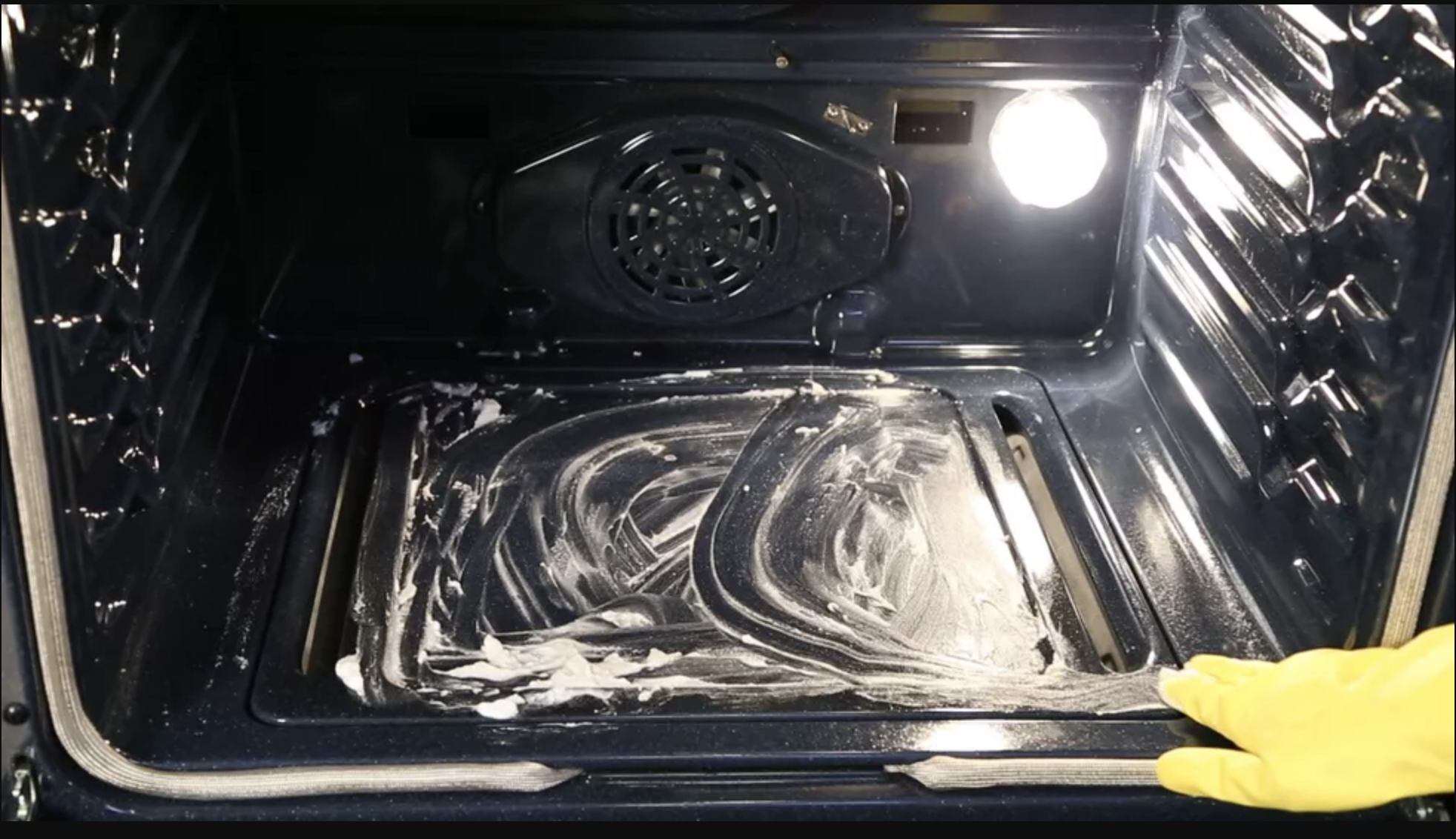 We love baking soda. There are so many amazing applications for it! With some baking soda, water and a touch of elbow grease, you can easily clean your oven.
12. Clean Your Wooden Cutting Boards With Lemon And Salt

You may think your wooden cutting board is clean but even if you wipe it down after use or give it a quick rinse, it can still get grimy on the surface. To freshen up your cutting board, sprinkle some coarse salt and then use half a lemon (cut side down) to scrub the board. Make sure to squeeze some lemon juice as you go and then let it sit for 5 minutes. Scrape the dirty liquid off and then rinse with some water.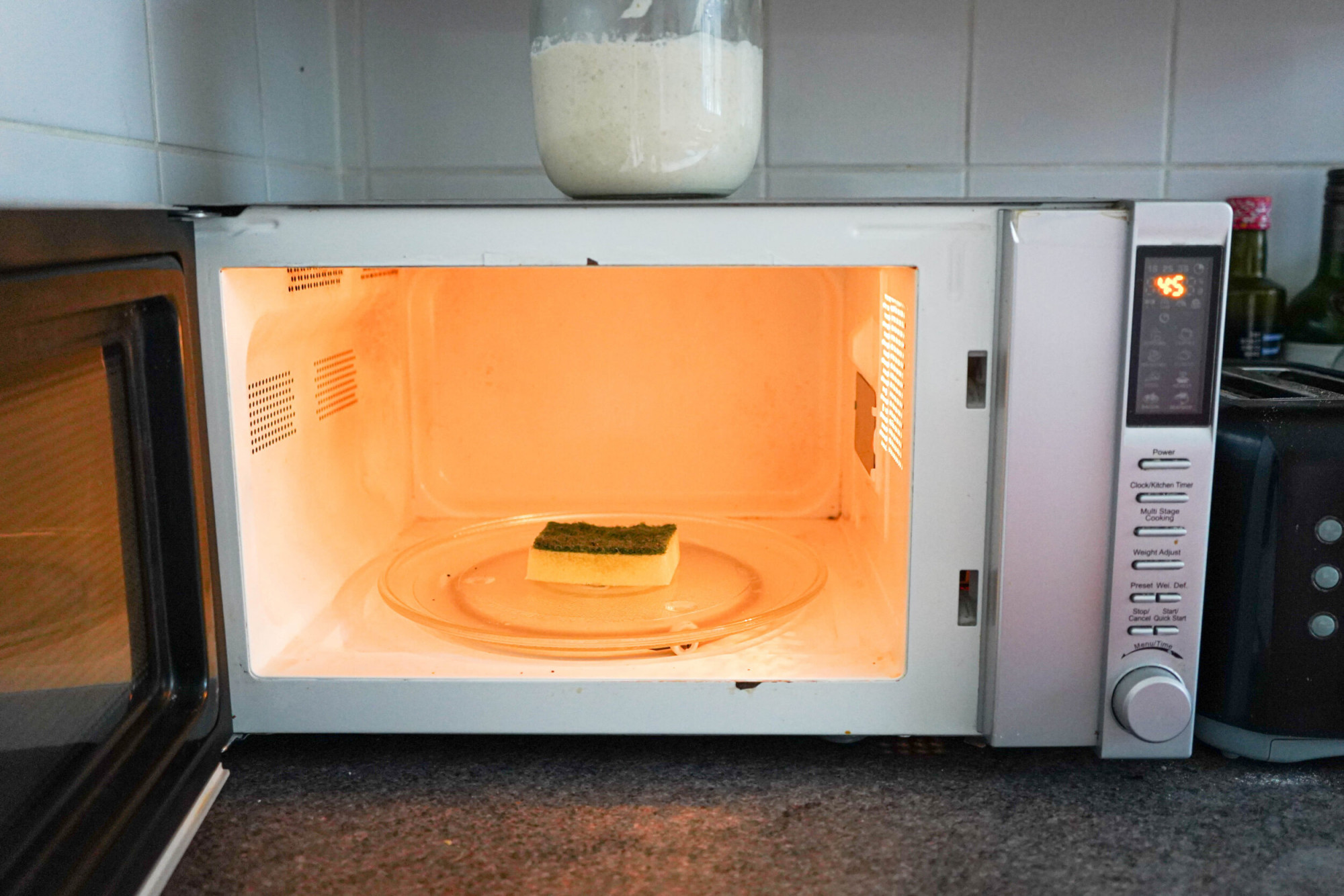 It seems way too easy to get microwaved food to explode (Tomato horror stories, anyone?) which leads to mess that eventually need to be cleaned. There is an easy way to get rid of it. Make it easy by putting a wet sponge inside your microwave and then spraying the inside with a mixture of water and essential oils. Microwave the sponge for two minutes, let it cool, and then use it to wipe up the leftover mess.
14. Carve Out A Spice Niche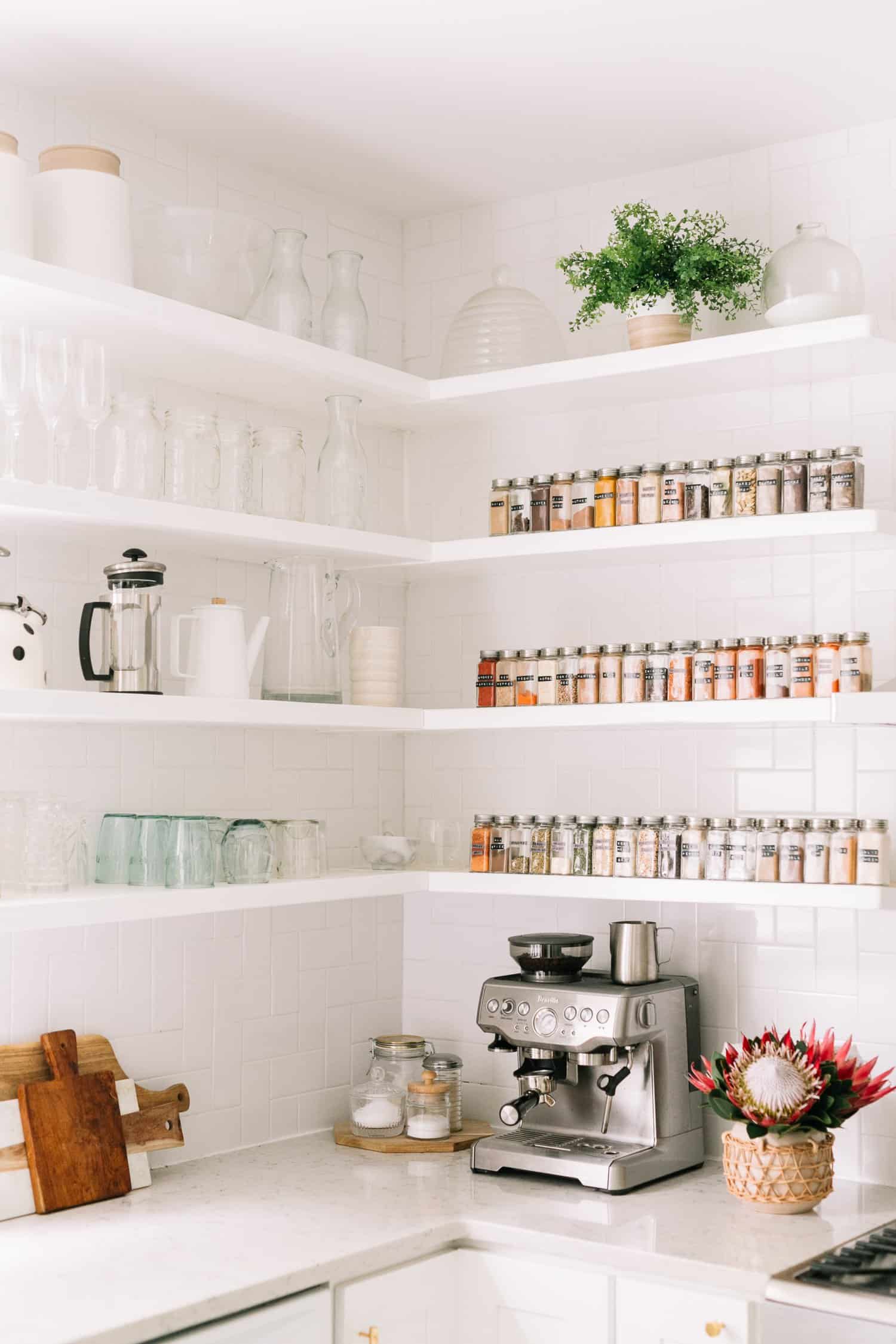 Are you a spices and herbs collector like us? We love the variety! If they play a big role for many you when it comes to cooking, they are most likely occupying a lot of your storage space… unless you organise them smartly! Utilising a spice rack that's mounted onto the inside of a cabinet door allows you to keep your spices organised and make use of an unused space, leaving you the option to utilise your cabinets for store something else, like your pots and pans.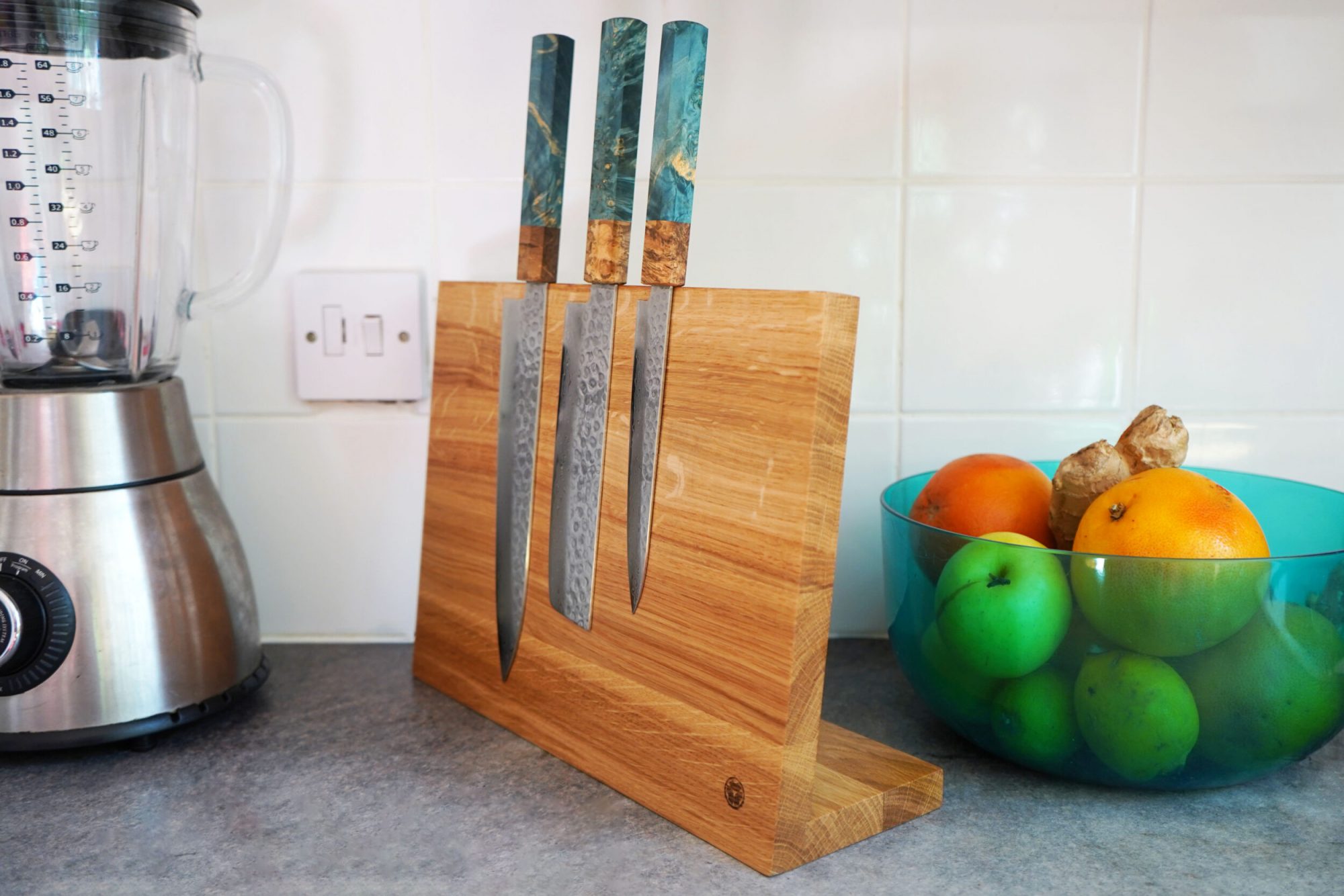 Don't have space on the wall / can't drill on the wall to hand magnetic rack? Get the worktop version which still saves you a ton of space – a magnetic knife stand. A must-have kitchen accessory to safely store your kitchen knives when not in use. Aim for one with a solid base is both stable and non-slip so the stand will stay securely in place on your kitchen surface.