No matter how big or small your kitchen is, one thing we all struggle with is storage space. This is why every inch of it matters. After researching numerous kitchen and interior design blogs we have selected 10 tips that will help you save precious space in your kitchen. So in no particular order, here is what we found:
1) Magnetic knife racks
We all agree that knife blocks can add a professional look to a kitchen. However, they take up way too much needed countertop space. This is why we suggest you switch to a magnetic knife rack. Not only do they look professional and allow you to display your beautiful knives and kitchen utensils. They also save up space as they are simply mounted on your kitchen wall. For ideas of where to hang them check out our blog and if you are in search of a beautiful magnetic knife rack of your own check out Oishya's.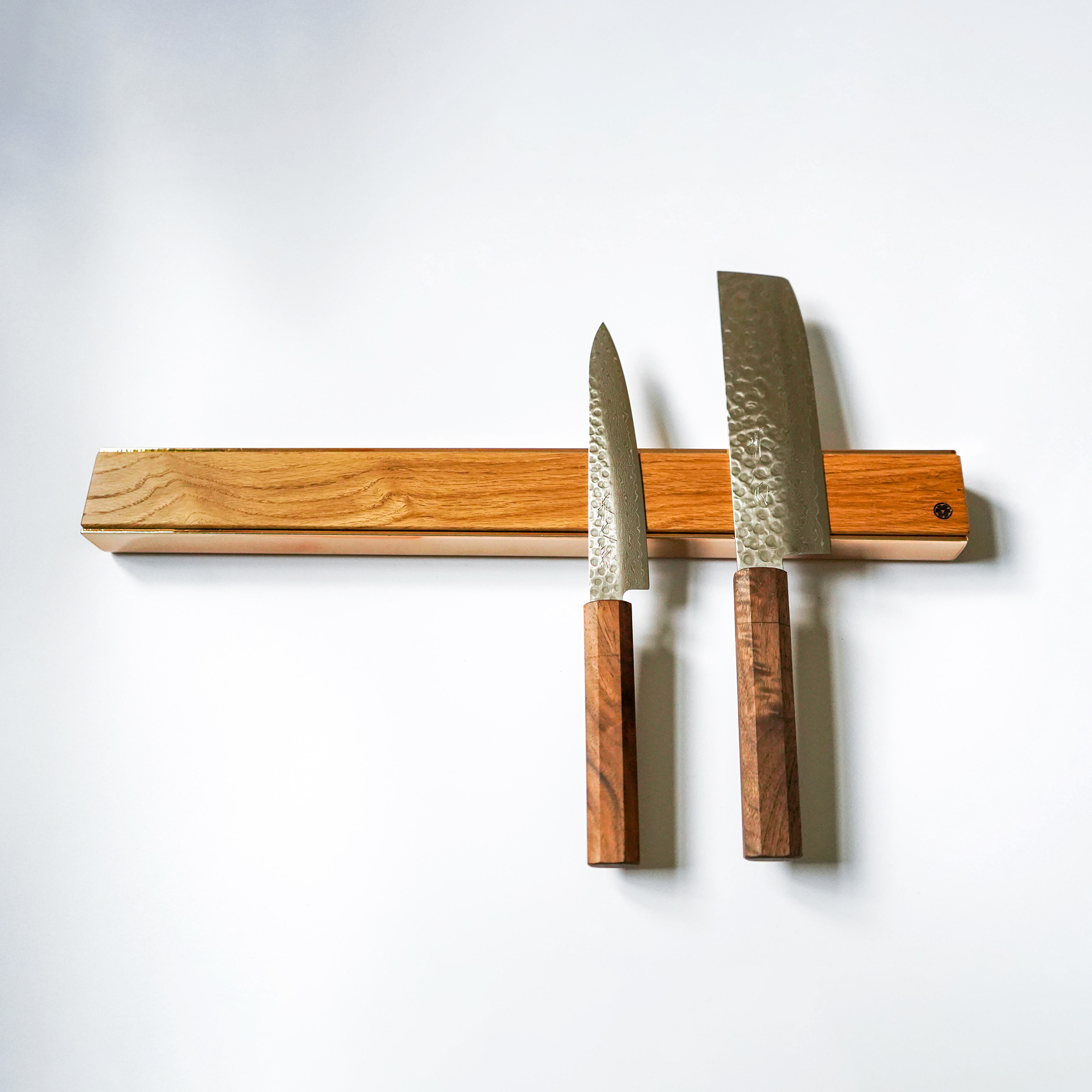 2) Use the top of your cabinets
Now this is a prime example of outside the box thinking. Who says that you should only store things inside your cabinets? The top of the cabinets are a great place for storage. They are ideal spots to keep special occasions serving platters or kitchen utensils you don't use everyday. If you are worried about having to reach things stored so high, we recommend using easy-to-grab bins. These bins can also make it more appealing to the eye, as they look like a kitchen accessory rather than a storage solution. 
3) Use the side, bottom and inside of your cabinets
The top of your cabinets are not the only place to consider. If your cabinets aren't built against a wall you should consider their sides, bottoms and doors. Look at their sides for opportunities to hang a pot rail or add shelves. Hang hooks to the bottoms of cabinets/ shelves to display mugs and small kitchen utensils (bonus: these will be at easy reach!). Another option we loved is using magnetic strips to make a floating spice rack (just make sure to get magnetic spice rack containers)! Use the inside of your cabinet doors to hang stuff such as pan lids or measuring cups.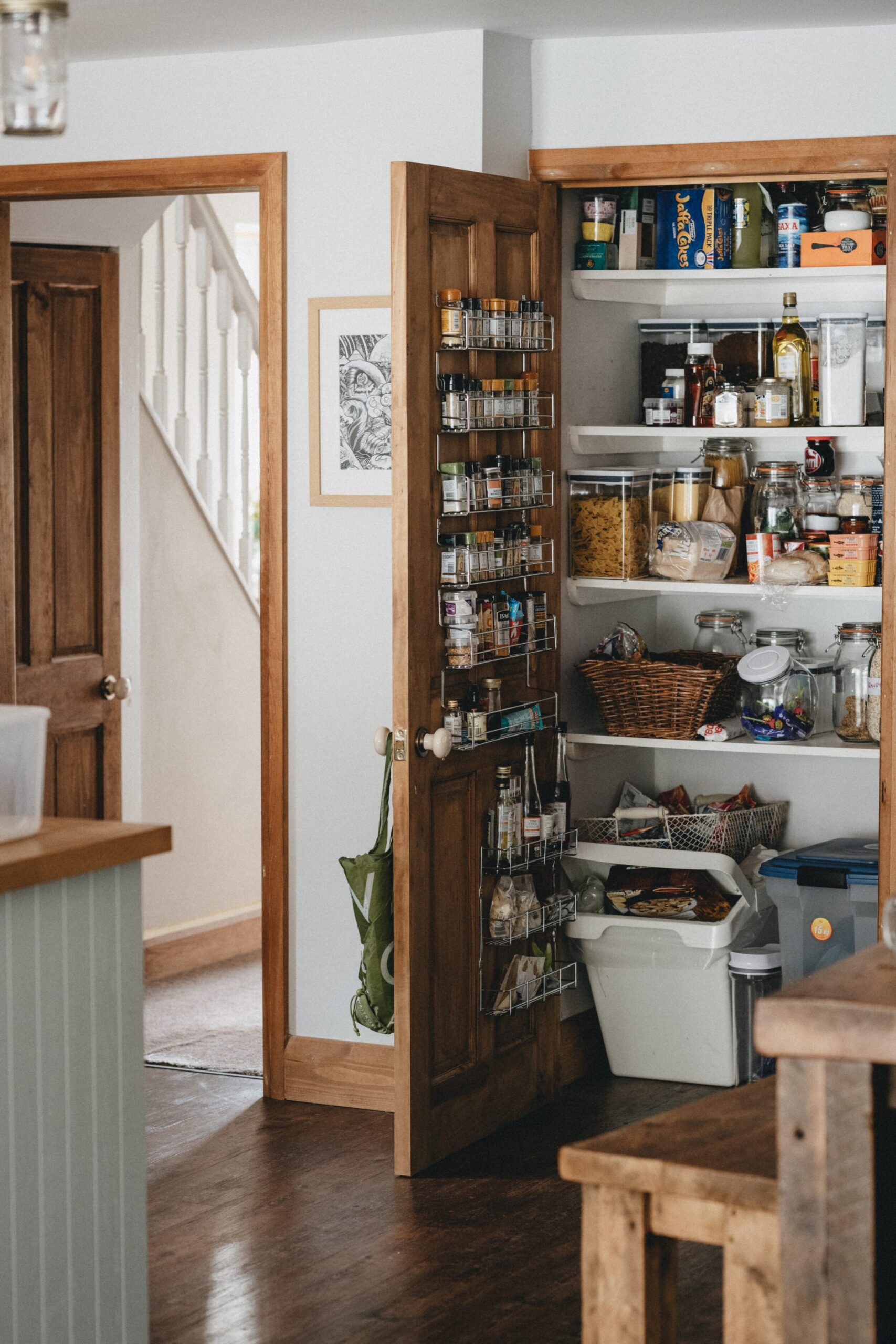 4) If you have a kitchen island opt for one with built-in drawers 
Kitchen islands have become a new must in modern kitchens. If you are one of those lucky individuals who has a kitchen island (or are thinking of getting one) we suggest you choose one with built-in drawers. You can choose to have drawers on both sides of the island for extra storage. Another option is open shelves, this way you can store and show off your kitchen utensils, cookbooks, or ornaments. Or go for both like in the picture.

5) Turn cabinet and pantry shelves into drawers
Everyone loves shelves, but when these are placed inside a cabinet or a pantry, it can be a nightmare to see what is sitting deep in the back. Therefore, we recommend using drawers instead. Don't worry if you can't renovate your kitchen cabinets, simply add baskets to these shelves so that you can pull them out to see and easily reach what's buried in the back.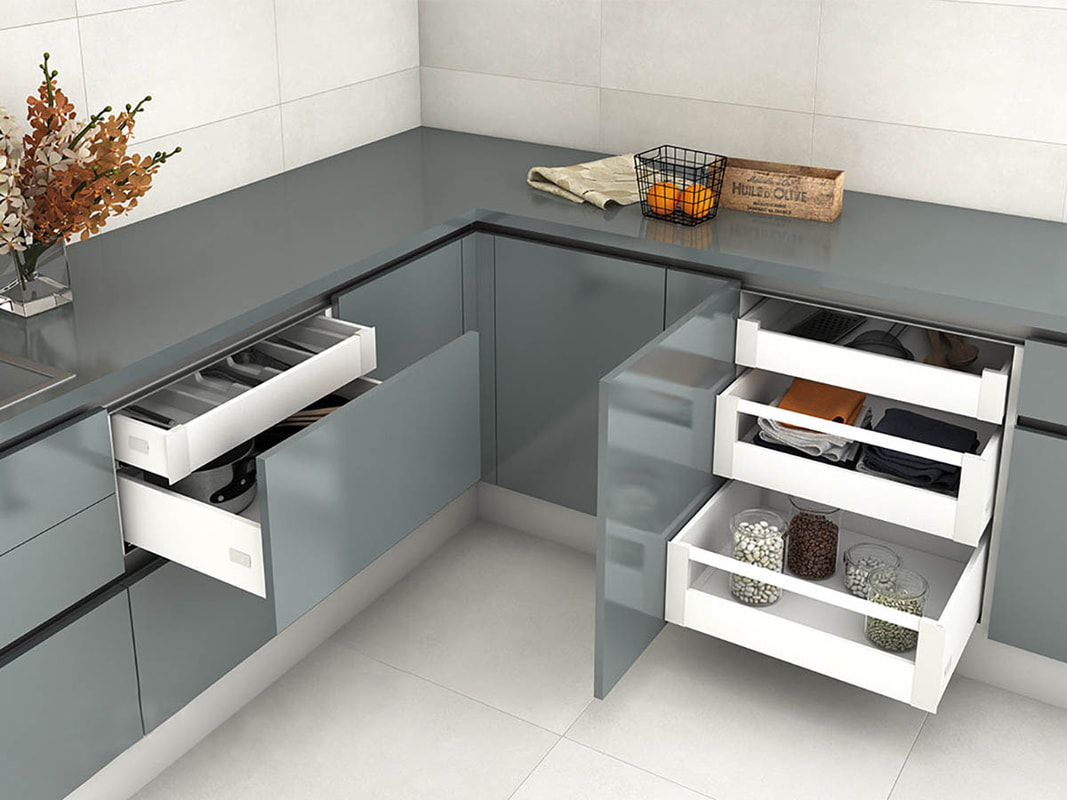 6) Turn your stove top or kitchen sink into extra counter space 
If you love cooking as much as we do then we are certain that, like us, you never have enough counter space for your dinner prep. If so, you've noticed that during this time your stove top is just wasted space. We recommend you build burner covers out of cutting boards to place over your stove top to gain extra counter space. Do the same with your sink! If you cover just half of the sink then you can still rinse anything if need be.

7) Hang pots and pans from ceiling
If you haven't spotted it by now the trick to gaining kitchen space is hanging things. Spoons, mugs, pots… anything that has the potential to be hung should be hung! This means that you gain counter and cabinet space for other stuff. 

8) Use the skinny place between your fridge and the wall
Have a gap between your fridge and the wall? This is a prime space for a small pull out cabinet. We suggest you store your canned goods or spices here!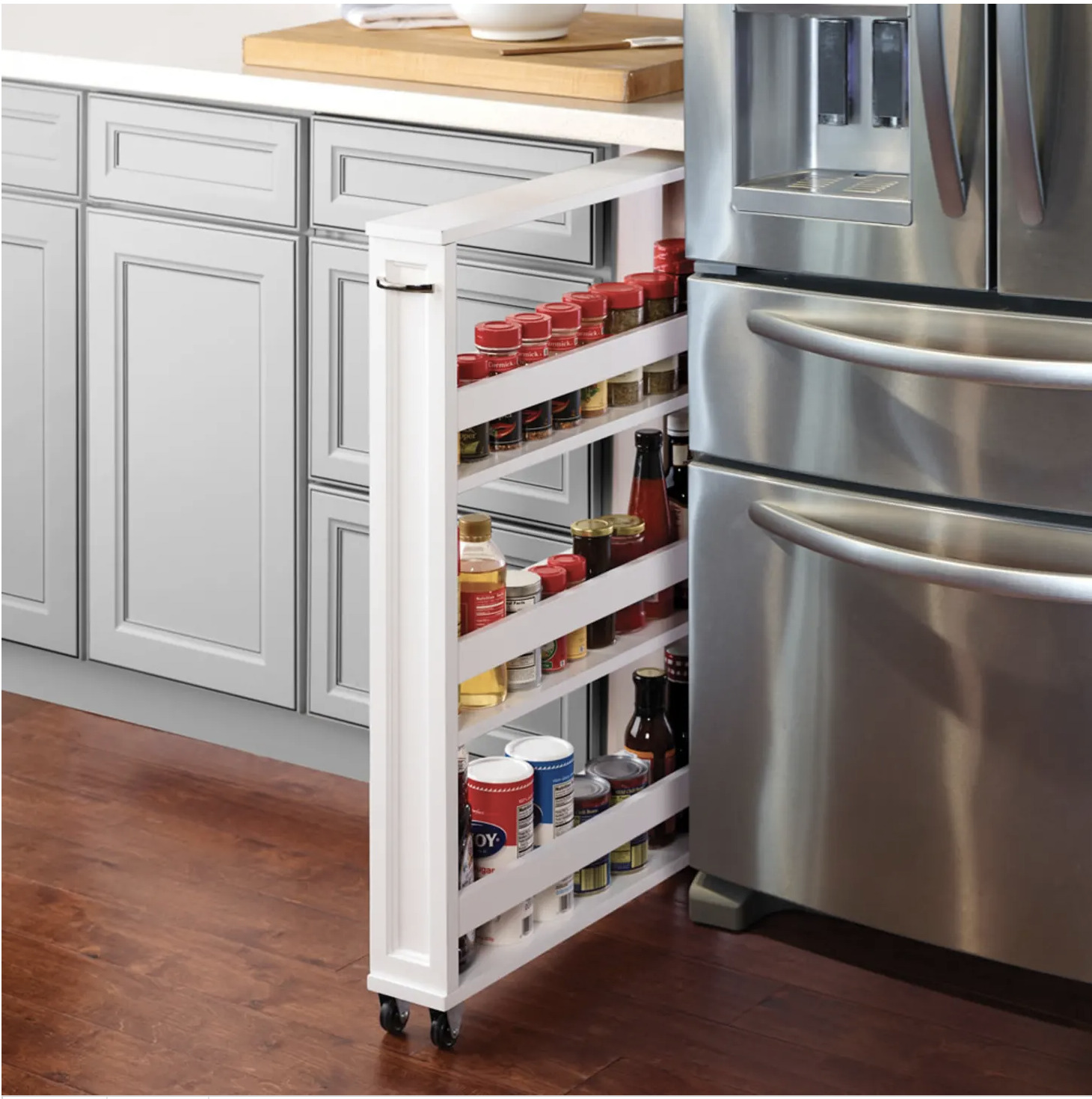 Source: Hammacher Schlemmer
9) Store pans sideways
Keeping pots and pans organised is a never ending struggle, no matter how much you try reaching for the right pan always ends up in a noisy mess. We recommend you stack pans, cutting boards and lids horizontal. Not only will they be easier to spot, they will also save up space! 
10) Hang a pegboard 
A custom pegboard can help you save space. Adding this to your wall means you can arrange the pegs in whichever way you want, making shelves to display/ store anything. 
11) Bonus tip: Alternate the direction you stand your wine glasses 
We just thought we should treat you with an extra tip. By far the easiest way to gain some storage space is to alternate the direction you stand your wine glasses (one up, one down) to fit more of them on your shelf.