Seen our high-end handcrafted Japanese knives and wondered why they are so expensive? Fear not, these prices are nothing comparing to the knives below. You most certainly haven't seen it all until you have seen this top!
Having an extremely sharp knife in your kitchen nowadays is not part of the trend anymore. People created a demand for knives using most expensive materials such as diamonds or premium woods (that's why our sandalwood Moritaka's are more expensive – however, we only promote truly modest Japanese knives).
Imagine the tragedy of a little diamond falling off while you were chopping something!
Now, in all seriousness, the knives we are going to show you are not used for your daily needs but rather created as something pleasant for the human eye, a piece of art, a luxury object that should belong in someone's collection and probably not their kitchen.  Whether we're talking about simple pocket knives, kitchen knives or even knives from a different century, these are high-end pieces that deserve a place as one of the Most Expensive Knives In The World!
But before that, if you're looking for beautiful knives you can actually use and buy, check out a sample from our collection:
10. Yoshihiro Mizuyaki Honyaki – Price: $5,300

Here is the one thing you need to know about this knife: it is a one-of-a-kind and beautiful piece of art.
"The hamon (pattern of waves on the blade) was specially designed as the Japanese Fuji Mountain with a full moon. "
As a slicing sujihiki knife made out of premium Honyaki steel, you can only imagine how incredibly sharp this is, having a thin blade good for cutting boneless fish into sashimi with only one long uninterrupted stroke. The dream of any chef!
Made in Japan by one the Yoshihiro's knife masters in Sakai the sheath is decorated with the image of a phoenix using the Fuki Urushi method, a traditional lacquering technique.
9. Lancet Ouroboros Knife – Price: $5,500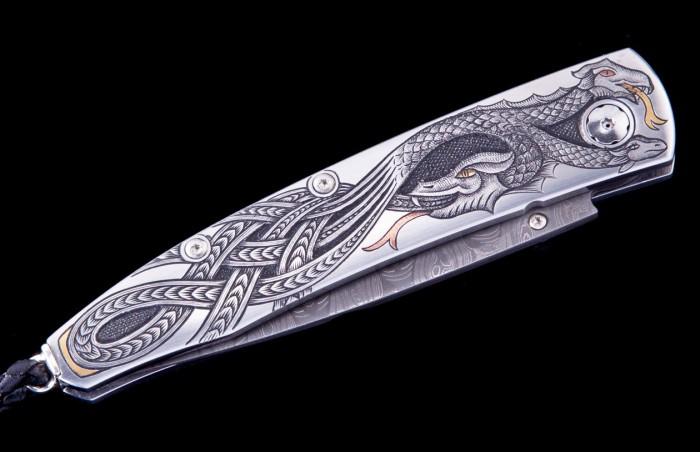 Yet another stunning knife from William Henry made with beautiful details and featuring a lovely hand-engraved handle with 24 karats gold and copper inlays.
The blade is forged by hand and has a one-hand button system.
As soon as you hold it you will notice the comfortable vibe it gives out and elegant gravure depicting the detailed image of a three-headed dragon.
The pocket knife is simply a piece of art in every way – from the beautifully hand-forged metals which are William Henry's hallmark to the stunningly decorated blade also featuring the initials of the company.
As all the other products from William Henry, the Lancet Ouroboros comes with a leather carrying case and a beautiful wooden presentation box.
8. Nenohi Honyaki Dentokougeishi Sakimaru Takobiki with Corian Handle – Price: $6,980

This is one of our favourites: one of those traditional Japanese knives made by Master blacksmith Yoshikazu Ikeda that has been forging honyaki blades for decades now.
The blade is crafted from white steel Shirogami #1 and it's a single edge blade which is held by a Corian handle. It comes with an exceptionally hand-painted sheath which was decorated using the ancient Wajima Lacquer method.
The cover of the knife is also decorated with images of cherry blossoms. The Wajima method is used to strengthen the material and make it last longer. This is a perfectly sharp knife that should be in every kitchen worldwide.
7. Black Panther Knife – Price: $7,700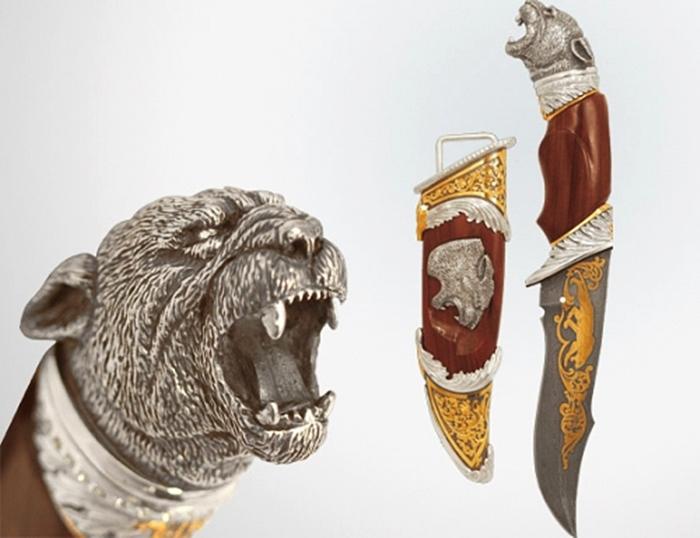 This is a decorative hunter's knife originally priced at $8150 and can be found in luxury gift shops online. The blade is crafted from Damascus steel and decorated with the image of a panther's head. The handle is made from walnut and has on the top of it a sterling silver panther head adorned with gemstones.
The sheath in which the blade is put is hand-made from walnut and sterling silver and it is also gold plated.
Portions of the blade are also gold plated and the silver details are needle engraved with an original ornament. This is an exceptional hunting knife which could easily serve as a sumptuous gift for a special male friend.
6.  Gentak Makara Knife – Price: $12,500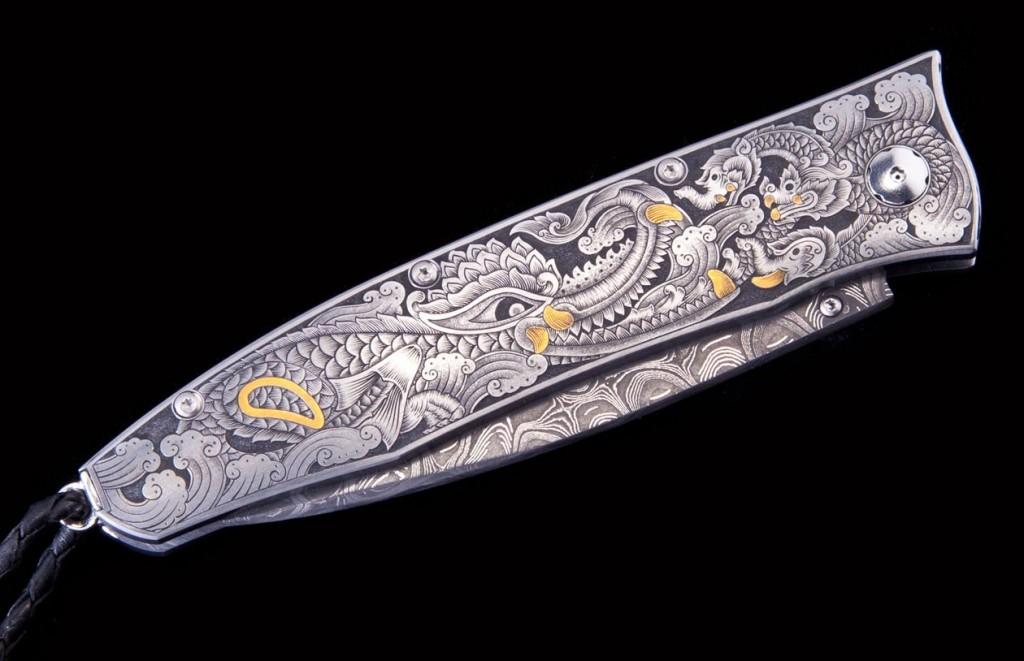 Another stunning piece made by William Henry – The Gentak Makara features a stunning hand-engraved handle with 24 karat gold inlays. The blade is hand-forged 'Hornets Nest' Damascus and has a one-hand button lock system along with a thumb stud that is set with Spinels. This is the kind of knife that you would proudly keep in your collection and once the time comes it should be passed down to further generations. The Makara is a unique and beautifully crafted knife and represents the perfect balance between elegance, function, artistry and exotic materials.
The knife is beautifully packaged too – it comes with a leather carrying case and inside an elegant wooden box.
5. Monarch Steampunk Dragon Knife – Price: $18,500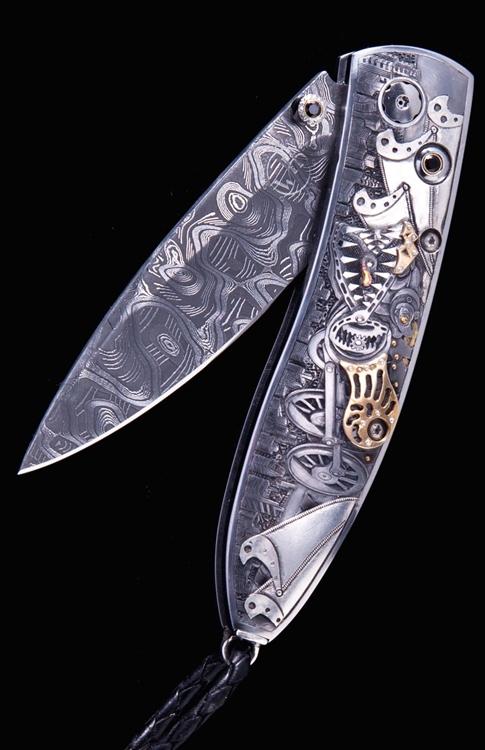 This pocket knife is the stunning result from the collaboration of William Henry (why are they so damn good at those knives? :), Mark Hoescht and Mike Norris. The beautiful handle was carefully hand-engraved with 24K gold, silver and copper inlays, the blade is Damascus steel.
The Monarch Steampunk Dragon Knife is an example of fine hand-engraving with an elegant handle and it is composed of exotic materials. This luxury object the pocket knife comes with a leather carrying case and an elegant wood presentation box.
As the company says on their website –
"This stunning 'one-of-a-kind' features a rich and intricate balance between elegance function, and superlative artistry."
(For us it's too of a flaunt, but hey – we are into 侘寂 and pure Japanese style.)
4. Spearpoint Lace Knife – Price: $25,000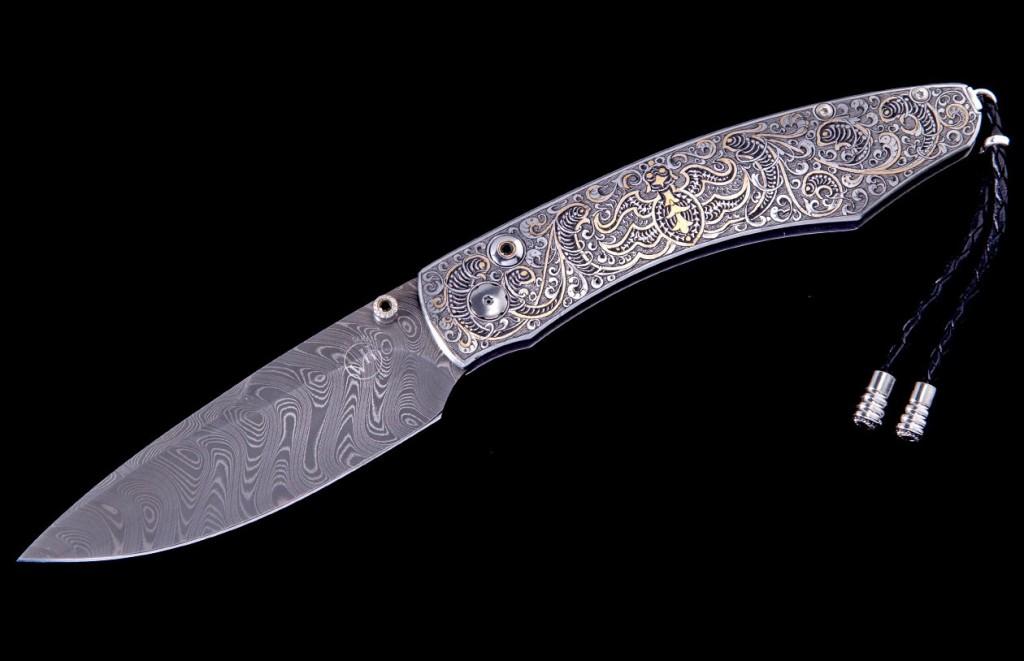 This is a (Another one!) luxury pocket knife made by William Henry selling at a spicy price of $25,000 The handle of the high-end item is hand-engraved with inlaid 24 karat gold. The beautifully decorated blade is hand-forged 'Boomerang' Damascus steel and can be easily released with the one-hand button lock. As for the lace design, it took the manufacturers 100's of hours of microscopic hand-engraving for it to be finished.
Without any doubt, the Spearpoint Lace has a remarkable design that gives the owner a full-size secure grip, and a versatile blade.
3. Nesmuk Diamond Studded Knife – Price: $39,600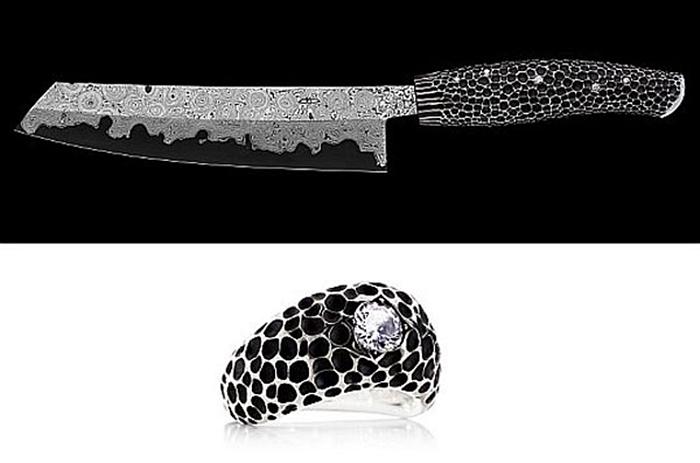 Bling bling! We, women, love it. The Nesmuk Diamond Knife is the creation of jewellery designers Quintin Nel and Hoffman Pieper and costs about $39,600.
The basic form of the Nesmuk knife is a type of knife that existed over 3,500 years ago and it's inspired by the aesthetic appeal and efficiency of much older knives. In order to extend the life of every Nesmuk, the blade is coated either in titanium or Teflon.
Apart from the fact that the knife is immensely sharp and would certainly come of some use to a chef somewhere in a kitchen, the blade of the knife is made from carbon steel and the handle is made from sterling silver on which 8 diamonds are placed.
Included in the price you also receive the precious knife in a box along with a coordinating diamond ring. (Take the knife and give this beauty to your woman :).
2. Nesmuk Jahrhundert Messer – Price: $98,934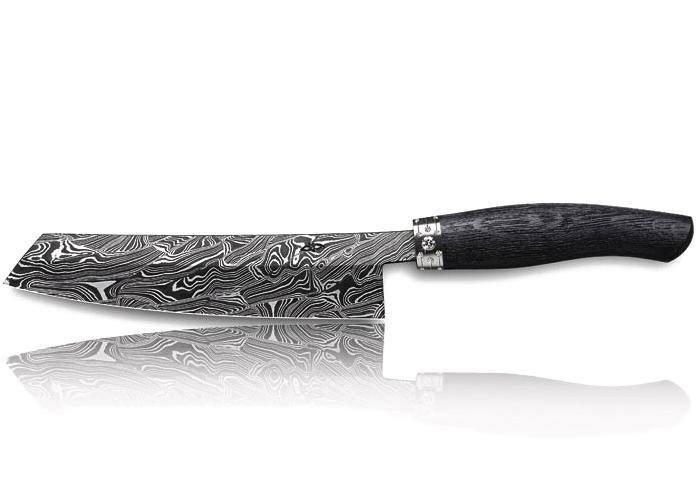 Close but still not the most expensive.
Made by German cutlery-makers Nesmuk, the Jahrhundert Messer is claimed to be the most expensive kitchen knife in the world we found something even more ridiculously expensive. (see below!).
Forged by Lars Scheidler, the blade is made from 640 layers of Damascus steel with a cutting edge made from the finest carbon steel. What makes this luxury kitchen knife so pricey might be the fact that the handle is made out of the wood of a 5,000-year-old bog oak or maybe the fact that it is decorated with a platinum collar set which is adorned with 25 brilliant-cut diamonds.
If you desire to purchase the high-end piece you will receive it along with an elegant piano lacquer box.
1. The Gem Of The Orient – Price: $2.1 million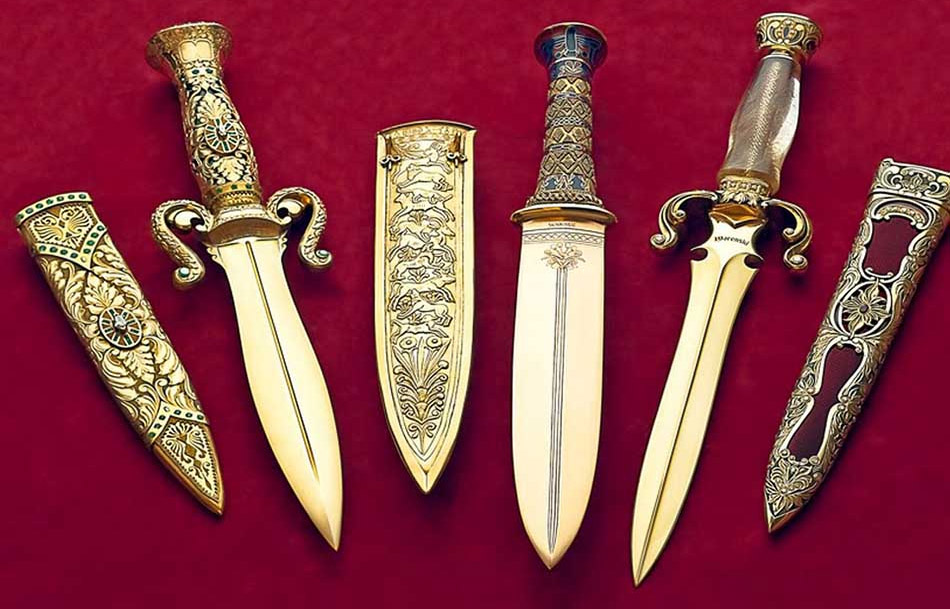 Ladies and Gentlemen… at $2.1m price tag you can't expect anything less than one-in-a-2.1-million 🙂
Although The Gem Of The Orient might seem like something that belonged to a king or someone important a long, long time ago it most certainly has not.
This pricey knife was made by Buster Warenski who was an American custom knife-maker from Kimberley Nevada. Unfortunately, the maker of this jewel passed away on July 31, 2005. Made by one of the best knife-makers of our times The Gem Of The Orient embodies 153 emeralds totalling 10 karats and 9 diamonds that weigh a total of 5 karats. A superb filigree sits over the jade handle.
Don't think that such a beauty was ready in a few months – Oh, no! It took Warenski 10 full years to finish The Gem Of The Orient and it sold for $2.1 million making it the most expensive knife set to ever be sold in the world!
Imagine cutting a loaf of bread with it 🙂
As not all of us have $2.1million to spare, we tested and selected other, equally great Japanese handmade knives which are available in our shop. Browse our Japanese kitchen knives here.