It's little over a month till Christmas and it's a high time to look for the gifts for your loved ones. Today we've prepared you the ultimate present guide to Japanese and Japan-inspired products for every pocket.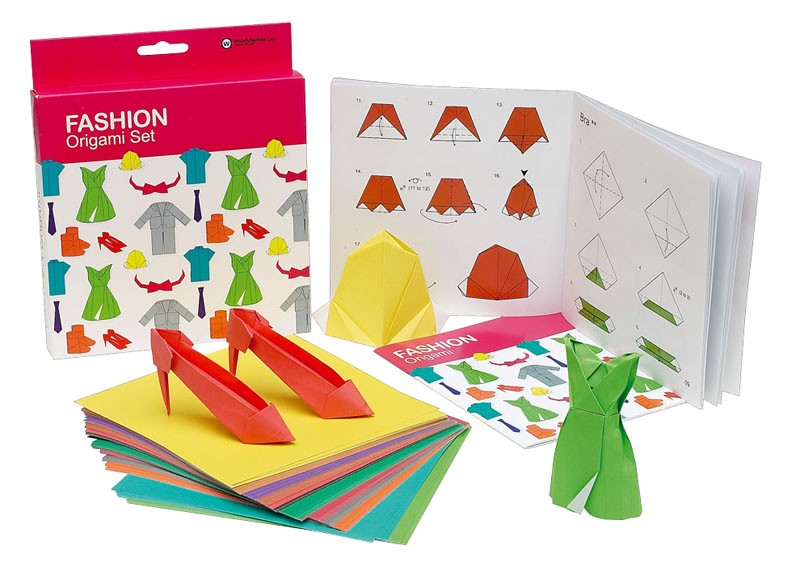 Origami set, like this Origami Fashion Set, contains 100 sheets of brightly coloured origami paper, which makes origami art simple and fun to make. Book will guide you through the detailed folding. You can create beautifully detailed garments with folded paper. Attached full-colour book shows detailed diagrams on how to properly fold each origami.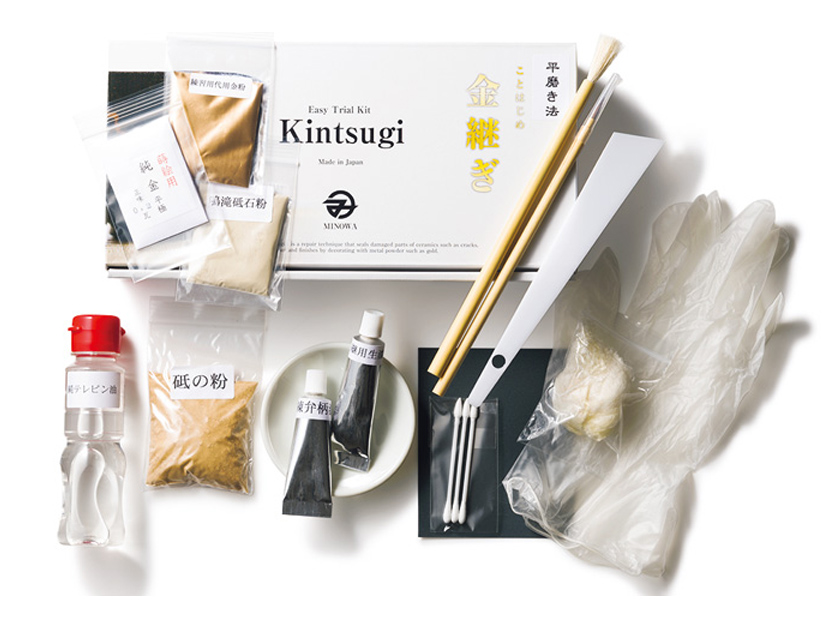 In Japanese, the word Kintsugi means "golden rejoining," a 15th-century oriental master craft dedicated to the restoration of fine ceramic pottery. The essence of Kintsugi about the power of transforming broken ceramic pottery into beautifully resurrected masterpieces. With Kintsugi kit, you will repair pottery a traditional method using real Urushi lacquers without any artificial materials. The resulting repaired pottery will be both visually appealing and durable as well. With a single kit, you can repair dozens of broken potteries (or break them on purpose just to decorate them 😉) You can get the kit here.
3. Kintsugi Inspired Tableware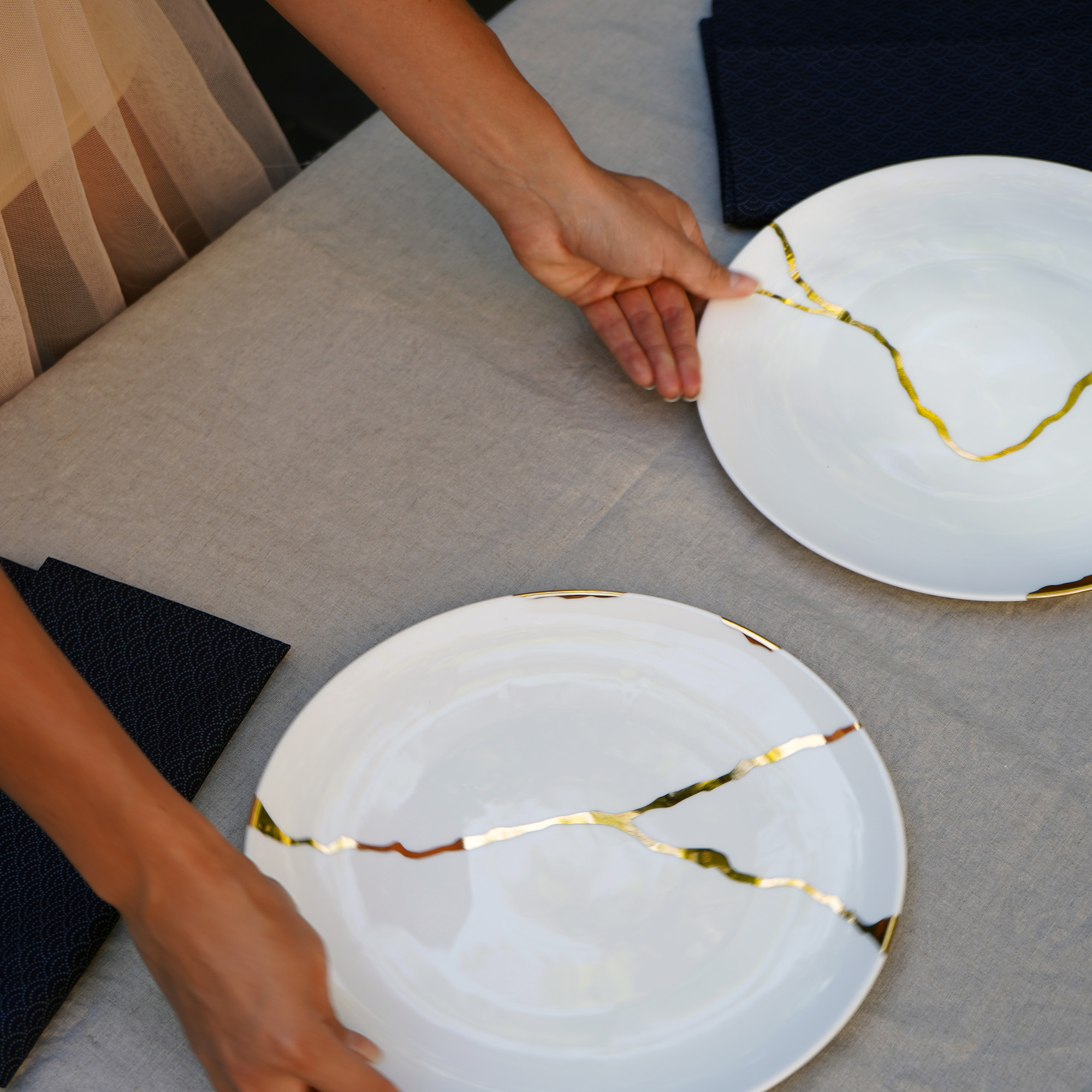 We're proud of bringing this tableware to life, so we can't omit to mention it here. Kintsugi tableware premium bone porcelain collection was created to bring a beautiful minimalist feel to your home. We collaborated with a porcelain manufacturer whose history dates to 1860 to bring you a product which is the result of years of experience and an extreme sense of beauty. Hand-applied 24-carat gold Kintsugi pattern adds a delicate contrast to this all-white collection of plates. Finely crafted from FBC porcelain, the dinner plates feature a wide border of elevated broken lines, designed as a contemporary interpretation of ancient Japan. This set includes pattern version one (一) and two (二). The set forms a pattern reflecting broken porcelain. Ideal for a Christmas gift (and any other gift, really). Comes beautifully packaged and wrapped in a premium black paper with Oishya's signature stamp. You can get your set here.
4. Japanese Kimono Vintage Cushions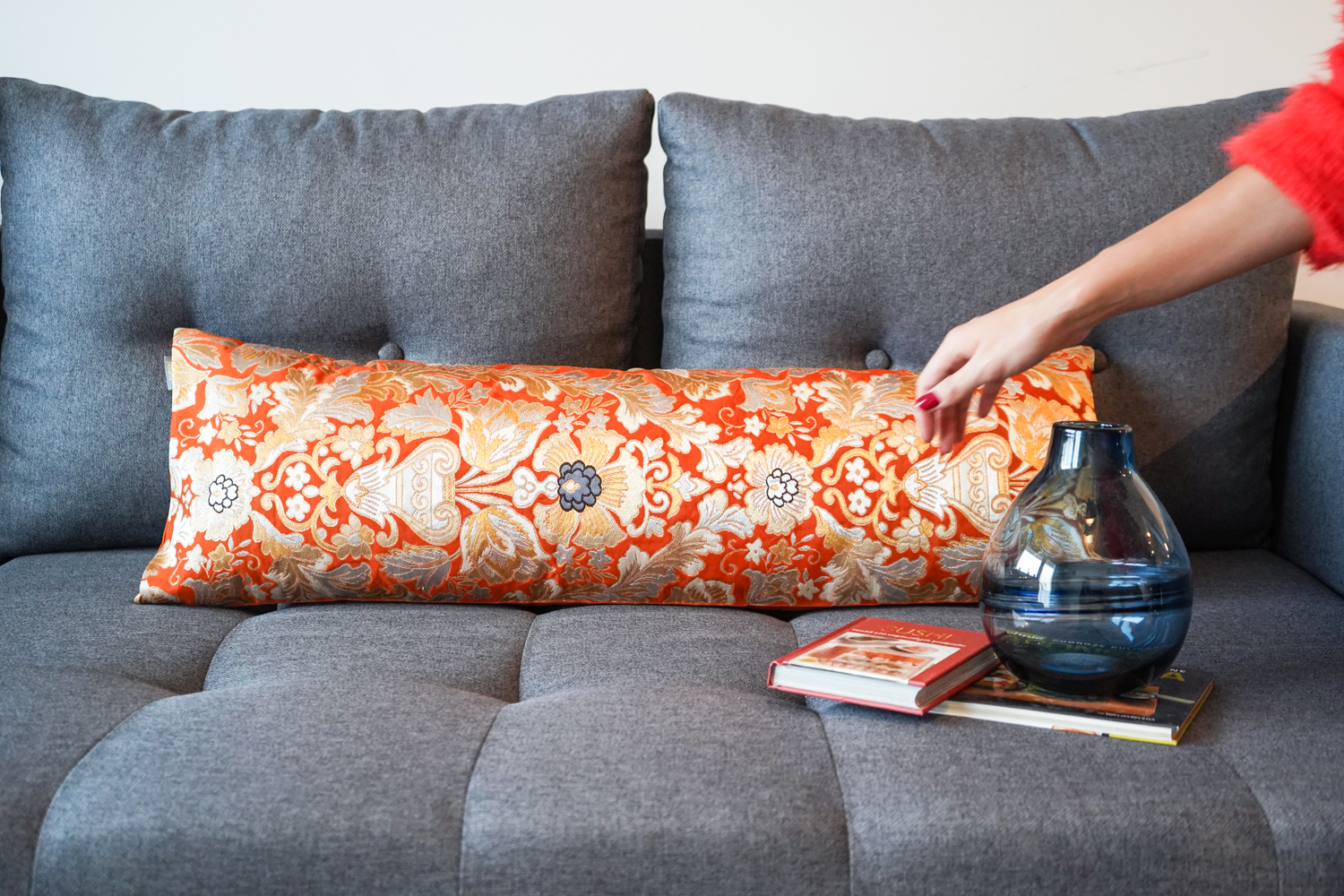 Beautiful, rare throw decorative cushion are made of vintage, precious silk kimono obis (used in Japan as kimono belts). This amazing vintage textile is up-cycled from a vintage Japanese wedding Kimono obi dating from the mid-Showa period (over 40 years old) and usually they are in excellent condition (at least ours are :).  The shiny silk really will catch attention of your visitors immediately. They are high quality made, with inside lining to protect the precious silk threads and piping to hide the seams and give stability. The cushions are made of precious, up-cycled vintage Japanese obi silk.
Kimono obi (帯, おび?, literally "sash") is a sash for traditional Japanese dress, keikogi (uniforms for Japanese martial arts), and part of kimono outfits. They can also be seen as decorative wall hangings or have their fine material used to make varying accessories. There are many types of kimono obi, most worn by women. Obi range from 10cm to 30cm in width but can reach lengths of over 4m. A formal kimono obi can cost more than the entire outfit. All embroidery is made by hand and the more brocading the more formal the usage.

This comes as a really original gift and can serve multi purposes! Called komodaru or kazaridaru are a a straw-wrapped sake barrels donated by Sake makers to Shinto shrines to make a decorative display for festivals and ceremonies. They can be used as a storage or simply a nice Japanese touch to your home decoration.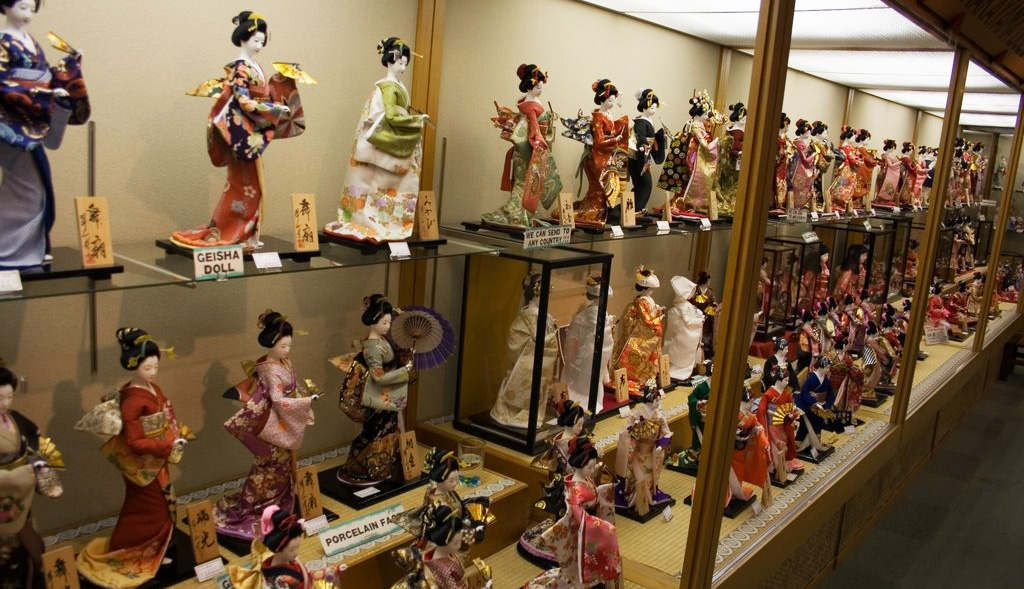 Something for the little ones! Kyoto Geisha dolls (aka Kyoto dolls) are quite famous. The unique dolls are traditionally made with silk, wood and cloth that is layered in paper mache style. Only the dolls in Kyoto are dressed in Nishijin kimono silk. These dolls are a wonderful, colourful Japanese Geisha statues, with the classic "shimada" hairstyle, exotic hairpins, and comb. Originally, Geisha statues were carved from wood, fish bone, or ivory, some elaborately painted and inscribed. These reproduction solid resin designs capture much of the same refined, elegant detail, a striking decorative accent for home or office. Remarkably affordable, they're stunning displayed in pairs; and consider another for the discerning lady on your gift list. You can get these original dolls from Kyoto on eBay for around $280-$300, straight from Japan. Remember that you may need to pay customs on top of that.
7. Japanese Kitchen Knives - The Ultimate Set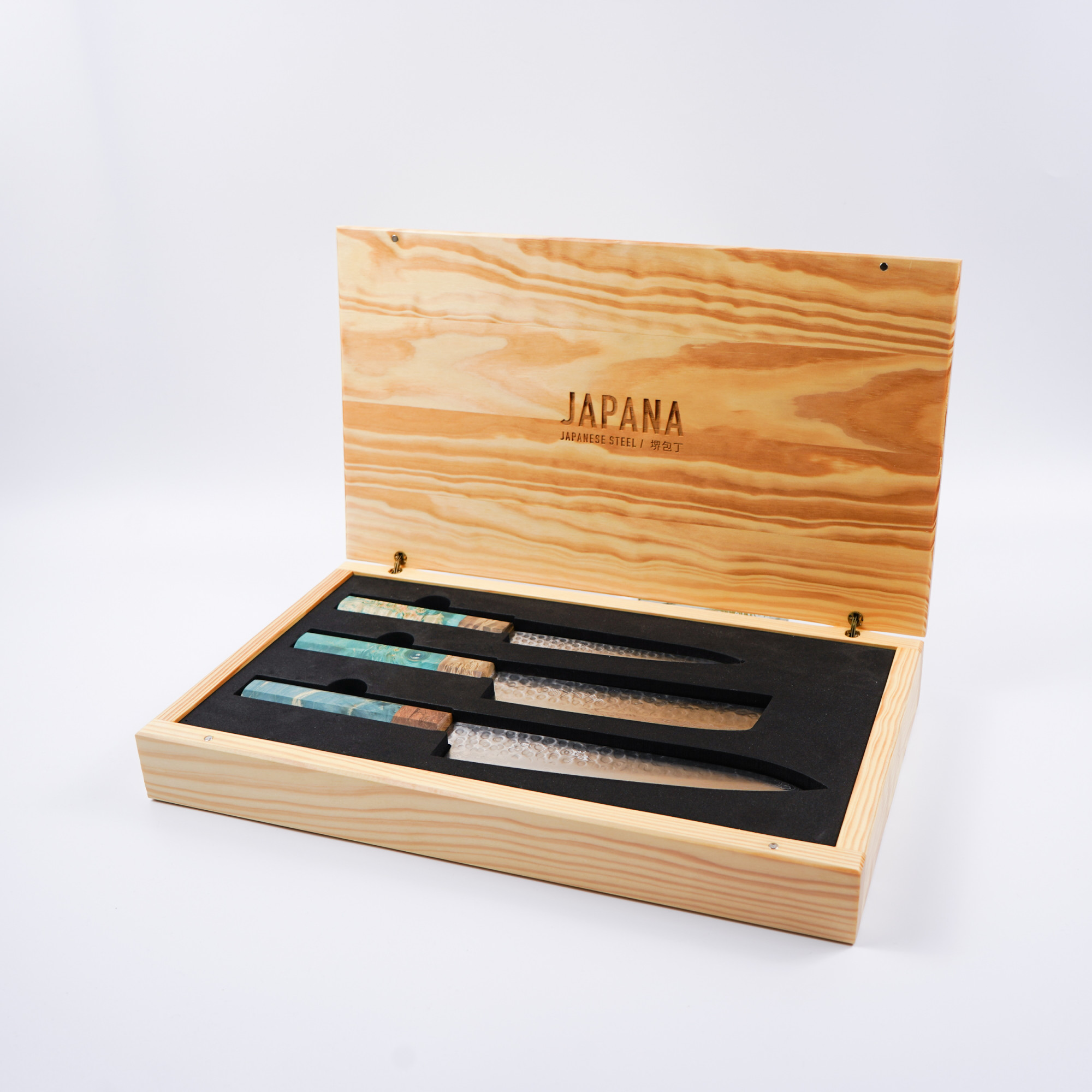 Japan is the land of long traditions, where hundreds of years of accumulated knowledge and experience are passed down from master to apprentice, from teacher to pupil. From ikebana flower arrangements to martial arts and kabuki theatre, each tradition has its own set of rules, procedures and schools of styles. Japanese chef knives are fashioned by techniques that were originally developed for making katana (samurai swords) over 1200 years ago. They are valued for their extreme sharpness, edge retention and beauty of simplicity.
At Oishya we've collaborated with one of the most respected and talented blacksmith – Sakai Kyuba of Sakai, Osaka, to present you our own, perfected in every detail, Japanese kitchen knife set handmade with VG10 stainless Damascus steel. Over a thousand years of craftsmanship have inspired the final form of the Sakai Kyuba Japanese Knife Set. Meticulously handcrafted, each blade features high-quality steel from Sakai 堺市, Japan – a steel with high corrosion resistance and durability. Our signature Japanese Knife Set is rigorously quality tested to ensure that it meets the distinction and caliber of Sakai Kyuba.
The Sakai Kyuba Kitchen Knife Set includes one vegetable knife, one slicing knife, and one utility knife to tackle the smaller, more intricate chores in the kitchen. Each knife is precision balanced and weighted for optimal form and long-lasting performance.

Japanese cuisine is much more than sushi, chicken katsu or teriyaki. Teaching that there is more to Japanese cuisine than just sushi, Japanese Soul Cooking was originally aimed at Americans but is now a much-loved cookbook all around the world. Ono and Salat share the incredible story of how meaty comfort food first came to Japan, as well as the origins of their favorite gyoza, curry and tonkatsu recipes. A step-by-step photo story accompanies each of the 100 recipes, helping to make lesser known dishes such as chahan fried rice and wafu pasta quickly become as much a staple in the Western kitchen as chicken ramen already is.
9. Japanese Snacks Subscription Boxes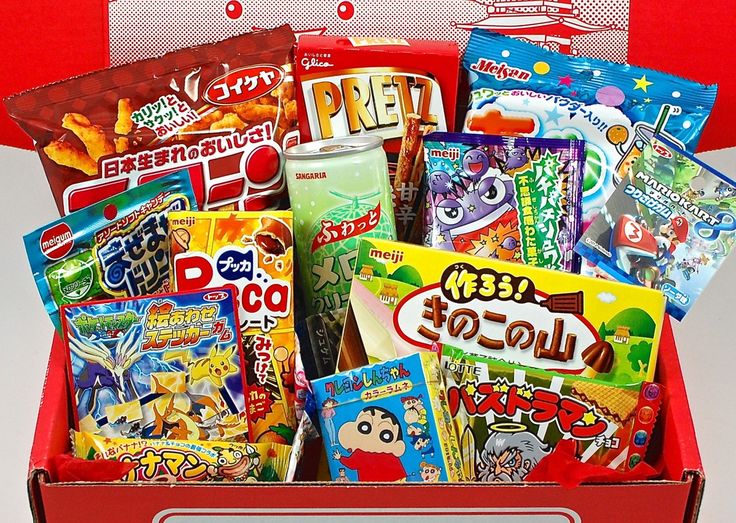 Actually, there are few companies offering Japanese treats subscription boxes. Snakku, Bokksu, Japanese Candy Box are just a few to mention. They don't cost a fortune and the Japanophile on your gift list gets a carefully curated box of authentic Japanese sweets. Each month has its own seasonal theme. A single-month plans starts at £20 and there are some one-off options too.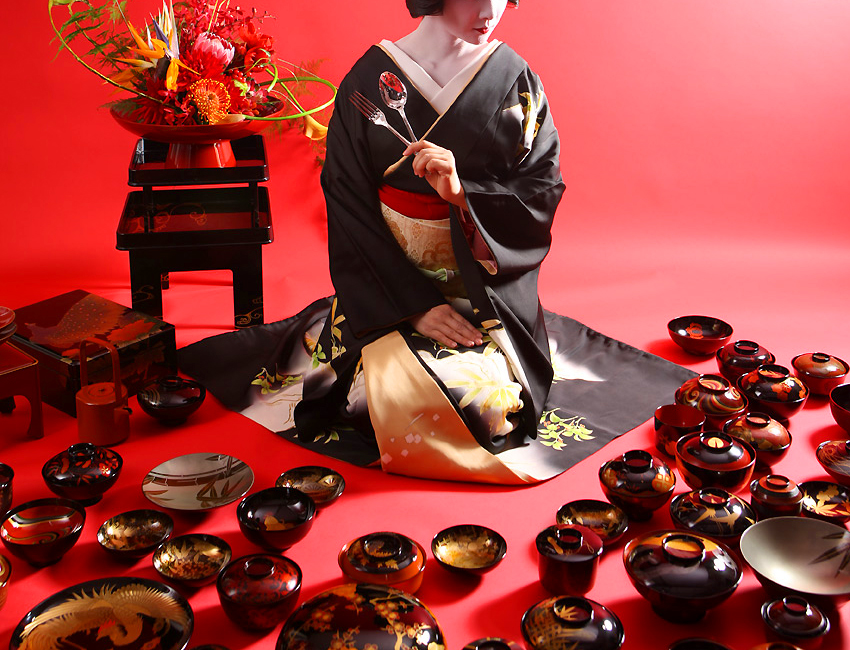 Source: Yamada Heiando promotional materials漆器 Shiki is a Japanese craft with a wide range of fine and decorative arts, as lacquer has been used in urushi-e (also found in kintsugi art), prints, and on a wide variety of objects from Buddha statues to bento boxes for food. From tableware to stationery, Japanese lacquerware adds a touch of class to any home. Although not cheap, it will definitely make a great ever-lasting impression on the receiver of the gift. Some of the best Japanese lacquerware brands are Yamada Heiando or Wakayama.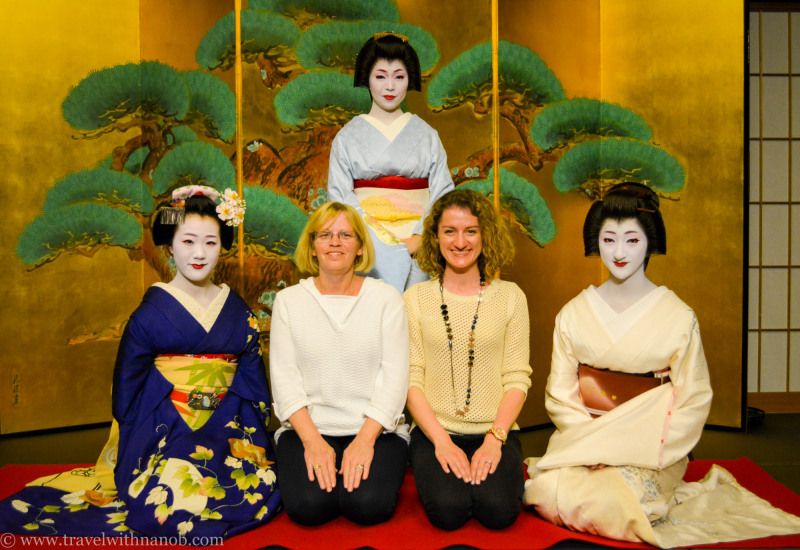 Going to Tokyo or Kyoto anytime soon? Splurge on a kaiseki dinner with a trained geisha. These skilled entertainers will serve your drinks at Private Tea, a meal with practised composure and treat you to a traditional geisha dance with music. This is a once-in-a-lifetime experience for many, and a must for lovers of Japanese culture. Dinner and performance with an English-speaking geisha start at little above $300 USD.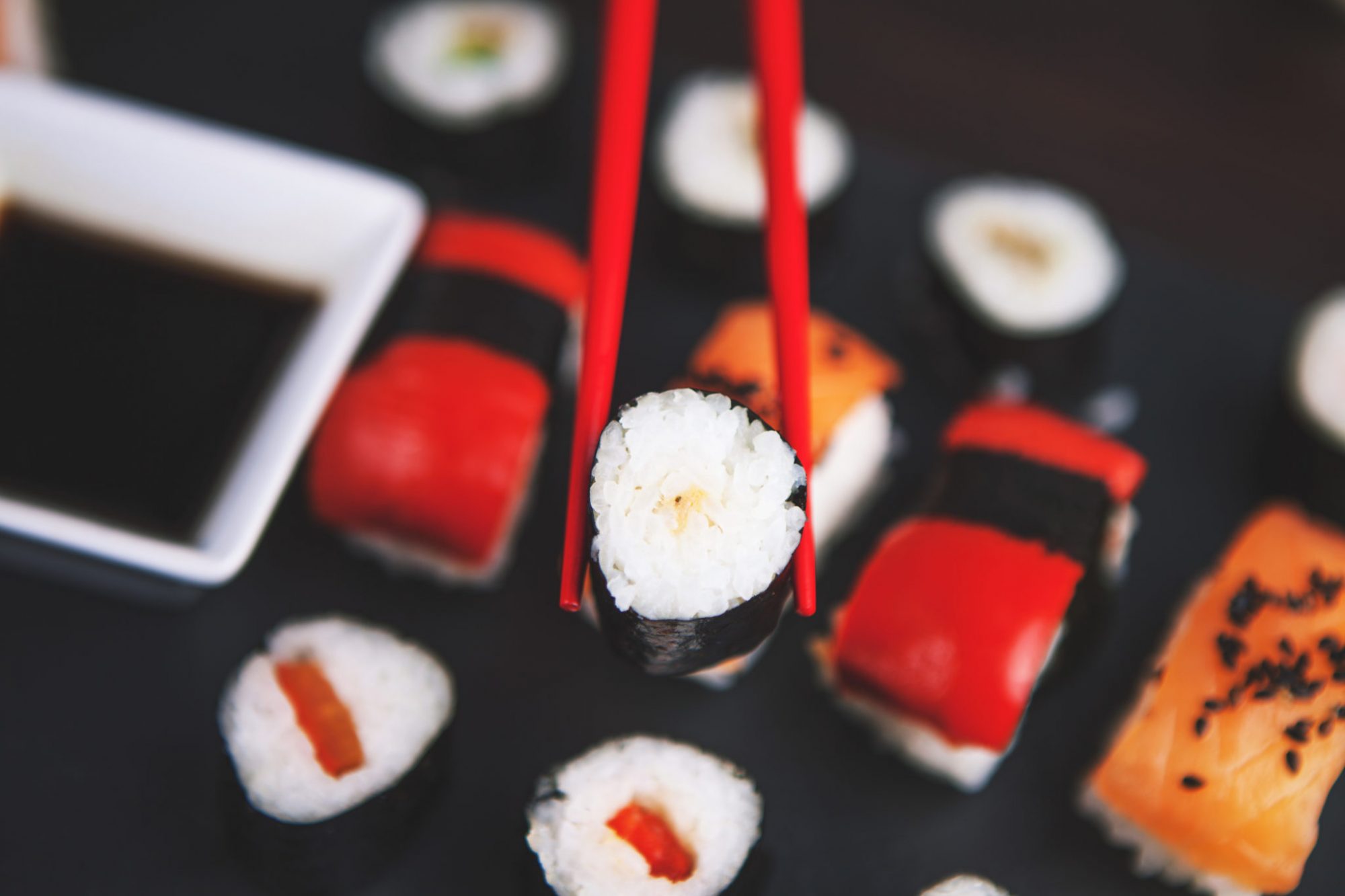 Simple but such a useful and a pretty gift! Bring the wonders of an authentic Asian dining experience home with chopsticks. You can get the chopsticks in various shapes and sizes in Kyoto and Osaka markets. In case you're not planning a trip to Japan anytime soon – there is always online shopping :). You can browse our selected of chopsticks here.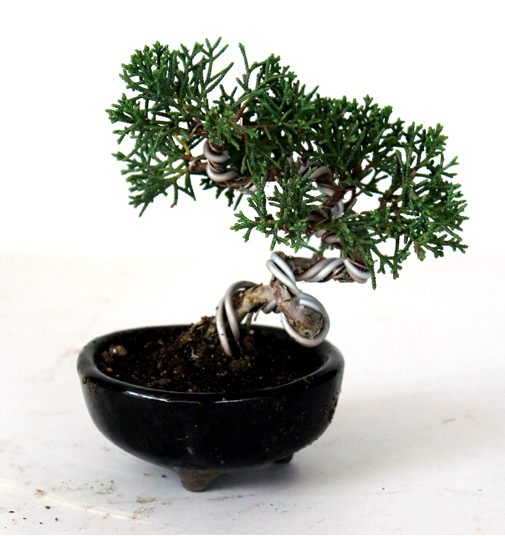 Bonsai –盆栽 – actually is not a name of the tree type but a Japanese art form using trees grown in containers. Similar practices exist in other cultures, including the Chinese tradition of penzai or penjing from which the art originated, and the miniature living landscapes of Vietnamese hòn non bộ. The Japanese tradition dates back over a thousand years. You can get any kind of bonsai from Amazon.
14. Make your own Japanese Kitchen Knife

We've done it last year and we absolutely loved it. Nowadays knife villages and factories open themselves to visitors and let them watch and experience blacksmithing process on their own. For a mare $300 you can create your own santoku or gyuto (chef's) knife. You don't need to know anything about blacksmithing prior to taking the workshop, other than that it's you can hurt yourself if you're not being careful. Workshops are available in Takefu Knife Village like also in a few Sakai factories.

Sake, also spelled saké, also referred to as a Japanese rice wine, is made by fermenting rice that has been polished to remove the bran. There are as many different types of sake as there are sake fans, you can drink it cold or warm. You can get a good sake at about £15-20 and if you like to splash the cash, the sky is the limit. Kanpai!
Do you have any other ideas on great Japanese gifts we should include here?