Previously we've discussed how to best store your sharp knives and other metal objects. We looked at knife drawers, knife blocks and magnetic knife racks. Our verdict was inevitably 100% for the racks. Today, we will discuss on where to hang these amazingly useful kitchen accessories – and there are quite a few ways to utilise them. Finding the right space for your knives and other metal tools is more than just a question of kitchen organisation. The right knife storage can help your knives stay sharper longer—and help your kitchen look fancier, too. Dig into our article, and it may surprise you to know that there are plenty of ways and places to hang a knife rack around the kitchen.
OK, there are definitely more than 10 places to hang a knife rack, but these ideas are a great starting place.
If you decide to go for this space, you must be sure that your magnets are really strong and the wood or other material which your rack is made of is protected from humidity. Tucked up and behind the sink, it's safe and inaccessible to children, but easy to reach when you are putting your knives away after washing and drying.
This makes good use of that oft-unused slice of wall right behind the stove.

This is probably the most common way to hang a magnetic knife strip, particularly if you keep a chopping board or butcher block on your countertop (guilty!). Adds an edgy feel to the other minimalistic design we like. It keeps everything you need for your food prep in one place.

4. On a small, otherwise unused wall area.
Maybe you were that lucky or unlucky with your developer and you ended up with some small area – you couldn't put any drawers nor other piece of furniture (didn't fit) so you just left it unused. Time to hang a knife rack in there.
5. Inside the cabinet door.
Another hidden storage trick! The knife rack in this case is mounted on the inside of a kitchen cabinet door. Although we'd imagine you'd have to be careful not to open or close the door too quickly, lest the knives fall off! We don't recommend that if you have virtuous teenagers.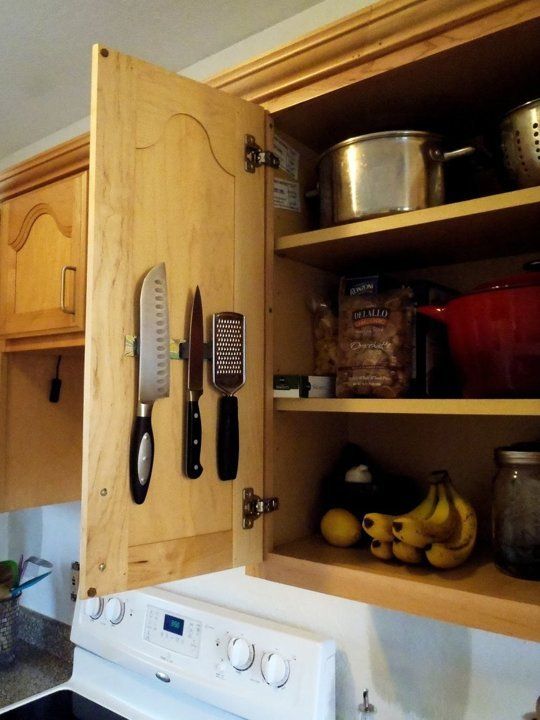 On the opposite spectrum, if you don't have any wall space to spare, you can mount a knife strip directly on your window frame.

7. On the side of the cabinets.
Cabinet sides are another underused space, and they work well if you want to hang your knife rack in a higher, safer location which your small kids or a pet can't reach.

8. To the side of the stove.
If you prepare food near your stovetop, this orientation keeps your knives within easy reach, although honestly speaking, we don't find it really practical (and it's an extra strain on the magnetic strength).
9. Underneath the cabinets.
This is the option for those who want to brag with their impressive knife collection (any Japanese knife fans here?)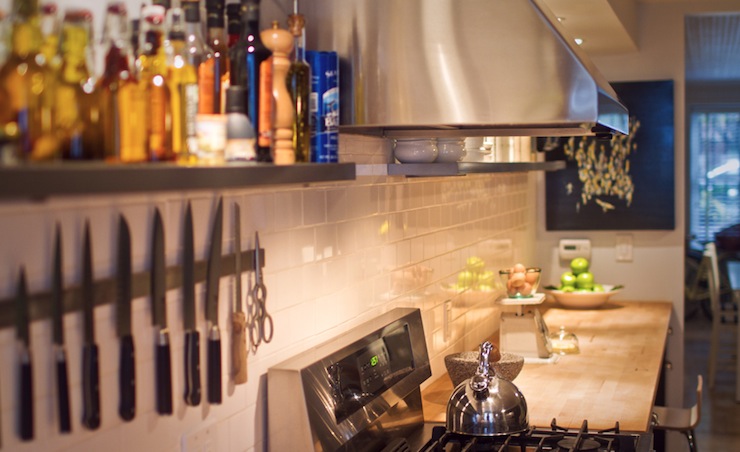 10. On the wall as part of a larger grouping.
If you have open shelving in your kitchen, group a knife strip in with other items hanging on the wall for a clean, organised look. If you have a lot of clean, white or grayish elements in your design, you may want to break it a little with a
nice wooden and steel
touch.