Our mission is to bring beautiful, premium quality and unique handcrafted products that last. In a time of fast-paced technology and disposable fashion, we are proud to support groups of small artisans who pride themselves on vigilance and respect for the craft that no machine can replicate. All Oishya products are handcrafted using the finest materials and created in small batches to check for quality and ensure they are made to last. We do not use ready-made materials and we do not mass-produce. We believe that truly great products take precision, time and passion.
Where are Japanese products are made
Japanese knives are handcrafted using the same methods that were used to make samurai swords over 1,000 years ago. Over the years, the Japanese have perfected their blade making techniques, which have resulted in knives with a strong reputation and unmatchable quality.
At Oishya, we collaborated with one of the most respected and talented blacksmiths from Osaka under the name Sakai Kyuba. Our blades are handcrafted in Sakai, the birthplace of traditional Japanese knives with a 600 year old blacksmithing tradition. Each blade is meticulously forged using techniques perfected by our blacksmith's family over centuries.
As true high quality Japanese knives, our Sakai Kyuba blades are forged on a small scale and are made by hand. It takes more than 3 months and around 220 steps to craft one Sakai Kyuba knife. They are not just knives, they are unique pieces of artwork.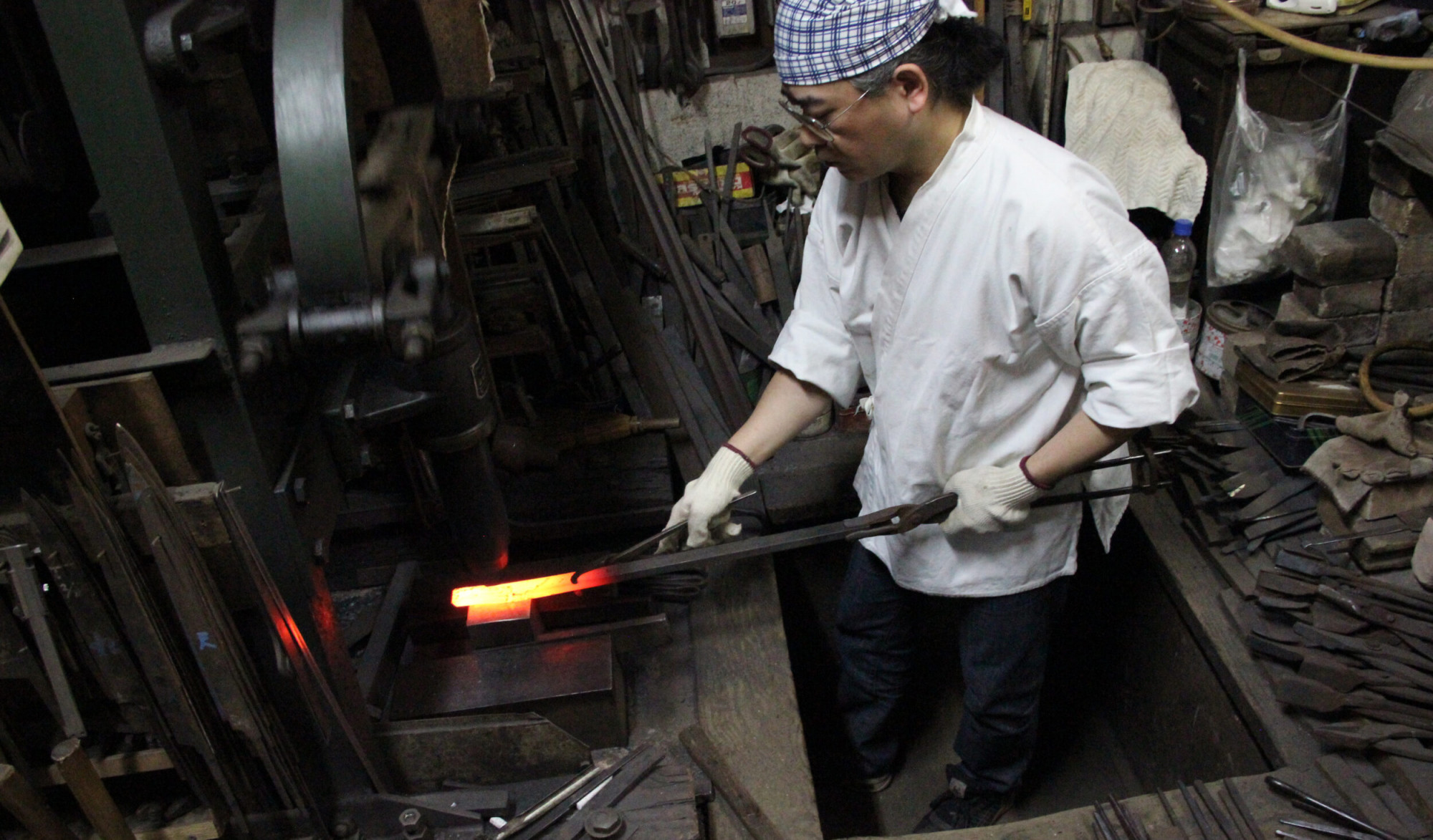 Where are European products are made
Our knife handles are made in Europe by talented artisans. As true handmade products, no two handle patterns or pieces are ever the same.
Sakai Kyuba handles are made of limited European maple burl. Like all burls, they have to be stabilised. This is a process in which the burl is impregnated with resin at very high pressures, to fill the wood throughout. This results in a very dense, tough and solid wood handle that is waterproof.
This whole process takes time. The burl has to be dried for two years before it undergoes the process of stabilisation. During this process, the craftsmen add dye in the resin used to change the wood's colour. This is how our Sakai Kyuba handles are made Olive Green (dyed), Mediterranean Blue (dyed) and Natural Brown (not dyed).
Once the wood is completely dried, it undergoes the process of handle forming and blade mounting. It takes around a week to dye, shape and attach one handle to our Sakai Kyuba blades.
Fine Bone China: Kintsugi Collection
To create our Kintsugi inspired tableware, we collaborated with a porcelain manufacturer whose history dates back to 1860 to bring you a product which is a result of years of experience. All the products in our Kintsugi collection are hand decorated and the porcelain is checked for quality. A 24-carat gold Kintsugi pattern is applied by hand to the finely crafted New Fine Bone China (FBC) porcelain, for a contemporary interpretation of ancient Japan.
The production process of the New FBC porcelain is harder than that of traditional, "white" porcelain. For instance, to gather its signature ivory colour, the porcelain has to be processed at 1222ºC. With more than 160 years of experience, our craftsmen (and craftswomen), know exactly how to produce New FBC porcelain of the highest quality.
Our Wooden Utensils are handcrafted by a local European craftsman. Wood carving is one the oldest artforms of mankind. The handmade method of wood carving takes years to perfect, and like in the case of our craftsmen, it is a skill passed down from one generation to the next. In a world where this process is mostly machine-run and automated, we are proud to support those artisans who remain active today, keeping the art of wood carving alive.
Our craftsmen undergo an astonishing number of steps that make the process of making a single spoon last almost an entire day. These steps include carefully hollowing, fine-tuning, drying, sanding and oiling each spoon. With craftsmen having to repeat many steps to achieve a perfect shape and smooth finish. Their dedication, time and precision behind each of these wooden utensils makes these truly one of a kind.​
Each of our linen products are hand crafted, one piece at a time, with exquisite precision, care and craftsmanship. Every Oishya table linen piece is created with love and is a celebration of craftsmanship.
Instead of opting for mass production in this technology-driven world, we work with a talented team of craftswomen in Europe who take pride in their superior workmanship and attention to detail.