When it comes to Japanese cutlery, the Kiritsuke knife stands out as a true testament to craftsmanship and culinary excellence. With its unique design and exceptional performance, the Kiritsuke knife has become a must-have tool for professional chefs and cooking enthusiasts alike. In this article, we will delve into the rich history, distinct features, and practical applications of the Kiritsuke knife.
Originating from Japan, the Kiritsuke knife is a hybrid blade that combines the functions of a traditional Yanagi (sashimi knife) and Usuba (vegetable knife). Traditionally, the Kiritsuke was exclusively used by master chefs in Japanese temples and noble households. Its shape and design reflected the prestigious status of those who wielded it, as it was considered a symbol of skill and authority in the kitchen.
Some (especially women who usually have smaller hands) consider Kiritsuke or Santoku to be more agile than Gyutos as they fit more comfortably in their hand due to their size. One of the distinguishing features of the Kiritsuke knife is its long, flat profile with a single-edged blade. The length typically ranges from 8 to 10 inches (20 to 25 cm), providing ample room for precise cuts and effortless slicing. This helps combat hand fatigue and compensates for the fact that you have to actually chop and not rock.
This Japanese Seki Kyuba Kiritsuke knife is comfortable, light, and fast. Its double bevel makes it perfect for both left and right-handed use. A knife as unique and everlasting as the memories you will create using it.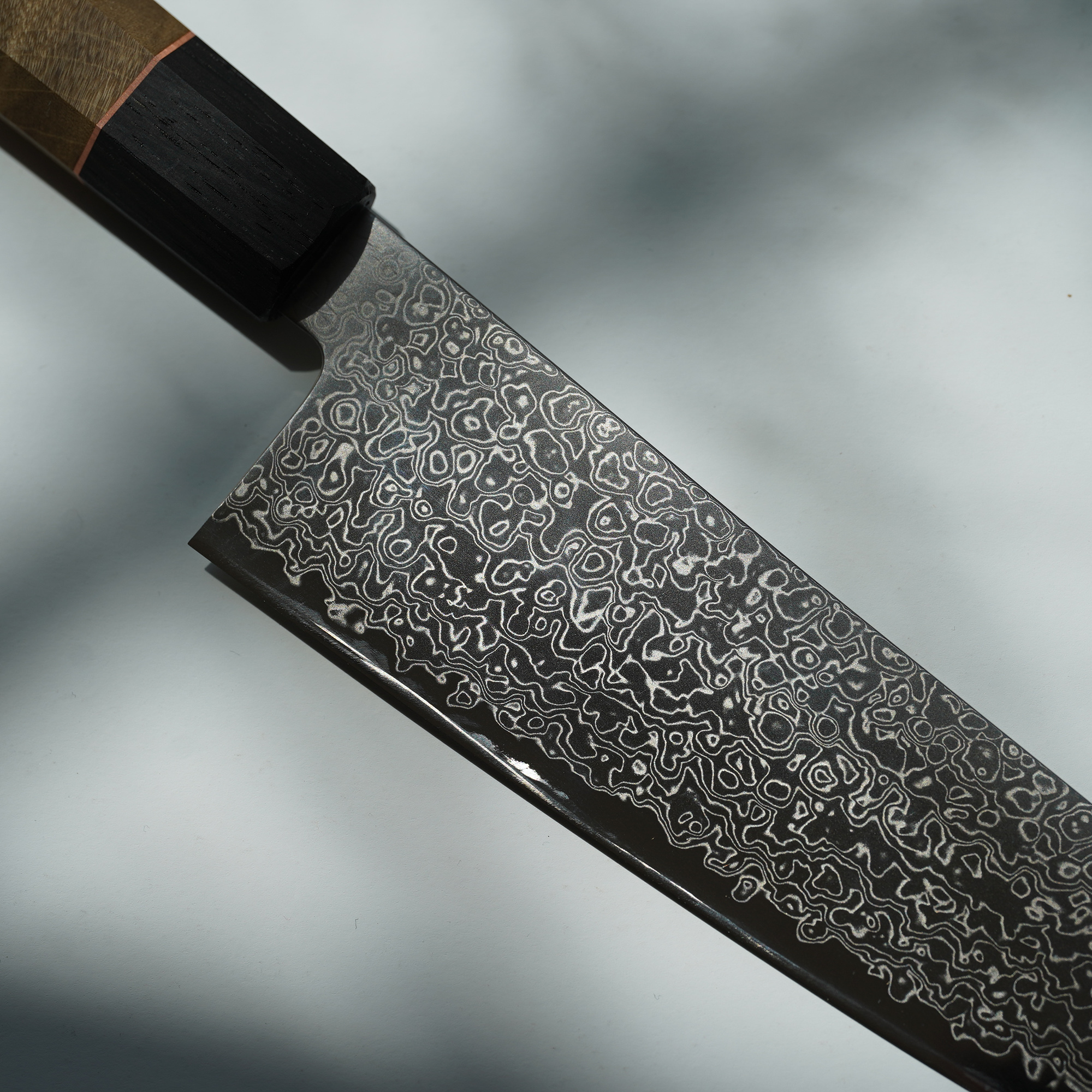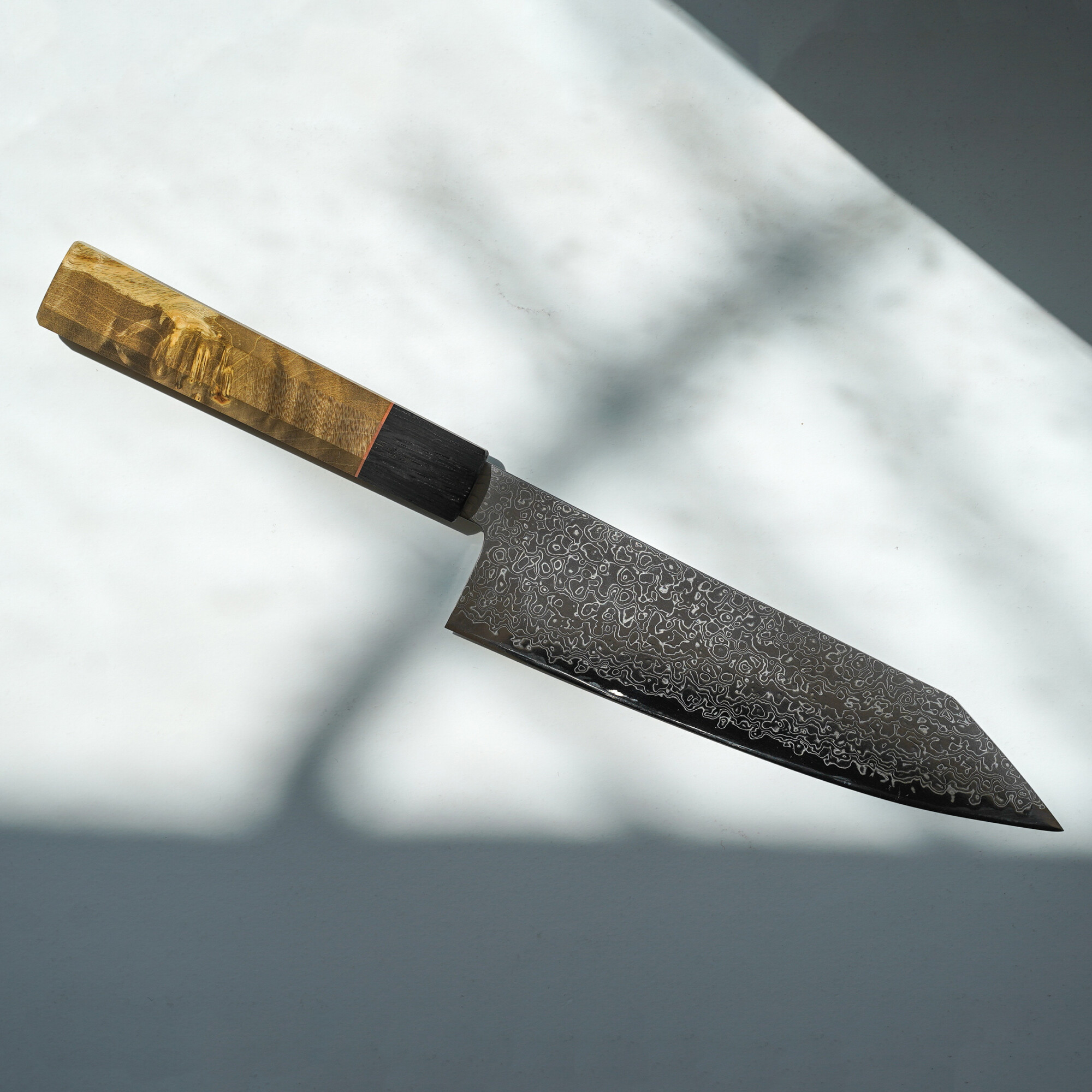 The blade in is designed to make cooking more enjoyable as cutting through produce will become an effortless task.
The blade is handcrafted by skilled Japanese blacksmith in Seki, Gifu village in Japan with high end Japanese SG2/R2 high carbon stainless powder steel, with 31-layers Damascus. SG2, also known as Super Gold 2, is a high end, high carbon stainless steel is known for being a tough steel with excellent edge retention and easy maintenance. The sharp blade is set in a premium-cut, waterproof stabilised maple burl wood in Natural Brown. The knife comes in a handcrafted, minimalist wooden box wrapped in a unique illustration strip. 
SG2/R2 steel offers an excellent balance between toughness, durability, and a razor sharpness.
The blade has an impressive Rockwell Hardness rating (HRC) of 64 which means the edge stays noticeably sharper for a longer time. This means you won't have to worry about sharpening them often. The blade allows foods to be easily and promptly cut with precision.
The beautiful handle is made with extremely limited European maple burl dyed in an Natural Brown colour and feature a subtle copper ring under the oak bog wood kakumaki (collar of the handle). The wood has to be dried for two years before it undergoes the process of stabilisation. This ensures the wood is completely waterproof to avoid bacteria growth and is able to last generations.
The blade's kakumaki (collar) is made with oak bog wood. A wood ranging from 2,500 to 5,000 years in age. Its age and living conditions give it a unique character and rich natural colour variation determined by its age. Giving you a knife with a rich history.

The stabilised premium-cut maple burl is shaped into an octagonal shaped ambidextrous handle to give you a firm grip on the knife. Not only are the handles aesthetically pleasing, they are also perfectly balanced, light and comfortable. This allows for maximum precision and more controlled movements during use.

No two handle colours or patterns are ever the same as the natural properties of each wood block are unique and will absorb the colour dye differently. This will give each knife a beautiful unique look and it can serve as an unforgettable gift.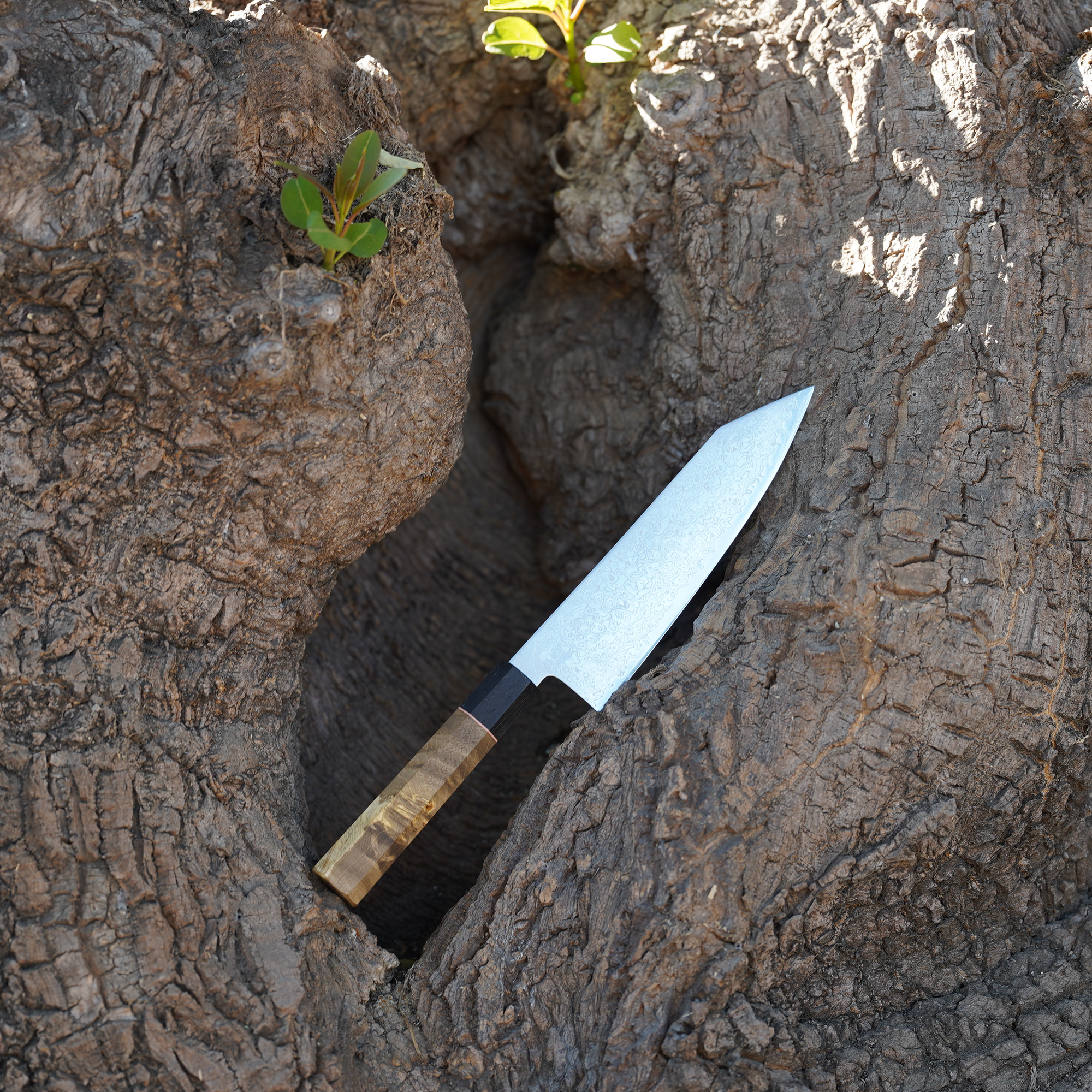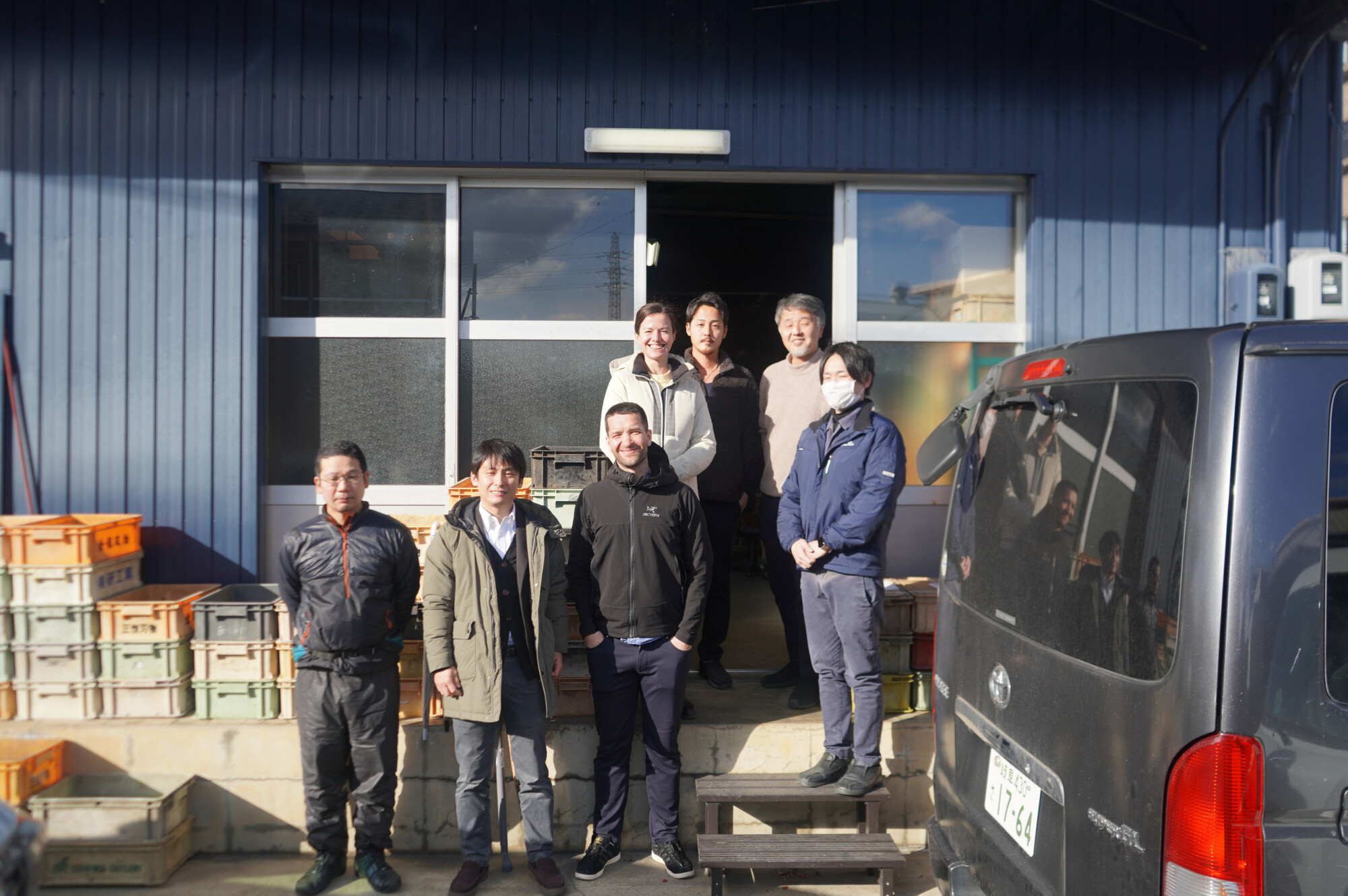 The spirit of Samurai "Bushido" has never faded away from the history of Japan. The art of greatest sword smiths has been inherited through 780 years till now and it's present in Japan's Samurai Knife City, Seki in Gifu Prefecture, where Seki Kyuba knives are made.
High quality katana and kitchen blades are made with Japan's traditional swordsmith technique and the latest technology, and are famed throughout the world today, especially high end kitchen knives.
Our partnership with one of the most talented and prominent blacksmiths of Japan resulted in Seki Kyuba kitchen knives, that are perfect for those that demand the highest quality. Being part of the Japanese knife community and owning a knife like this is a great honour and pleasure. We welcome you to Kyuba knives world.