Product Description
About the yanagiba
The Moritaka AS Yanagiba knife slicer can carve and fabricate large roasts and other meats and fish, and can be used for thinly slicing other ingredients such as cucumbers or smoked salmon. Yanagiba's long blade allows the meat or fish to be cut in one single drawing motion, from heel to tip. The narrow blade and relatively acute edge angle of the yanagiba are features which greatly reduce the effort required to cut through ingredients. For this reason, it is best to use a blade which is as long your budget and workspace will allow. The combination of cutting technique, acute blade angle, and sharp edge result in very little cellular damage in the cut surface. This is particularly important for dishes where the fish is eaten raw, because it helps to preserve the original flavour and texture of the fish.
The edge of this knife is more durable than its single bevel counterparts and can be used in more applications than simply breaking down a whole fish. This is also a tremendous knife for left-handed users who are looking to explore the pattern but don't want to pay large sums of money to have a custom left-handed knife produced by a blacksmith. Fit and finish is excellent on these knives, and given the amount of metal that is used to produce those Yanagibas, this is one of the best values to be found in handcrafted Aogami Super steel.
Timeless
Aogami Super Steel along with Aogami #2 are selected because of their extra durability and longer edge retention. The super durable handle is made out of seasoned Cherrywood. The Cherrywood will outlast lighter magnolia wood usually used on Japanese knives.
The important thing about Moritaka knives (and this Moritaka AS yanagiba knife) is the fact that the carbon blade is forged to a stainless tang, which means that any moisture will not result in premature pitting or damage to the handle. So, no rusting from the inside causing the handle to come loose (a problem with traditional Japanese knives). This new design and patented solution ensure both longevity and hygiene of the knives.
Aogami Super Steel is the highest YSS (Yasugi Speciality Steel) that contains high percentages of carbon, chrome and tungsten to increase hardness, improving edge retention and corrosion resistance. Aogami Super Steel is prized for its ability to take a very steep, sharp edge.
Craftsmanship
Moritaka Hamono is a traditional knife making company that has a history of over 700 years. During years of handcrafting knives, they have developed unique skills and knowledge, which have been passed from generation to generation. Moritaka's unique bladesmithing techniques allow producing knives that will keep fine edges longer than any other knife on the market. Both the performance and character of these blades can be felt upon first use of this knife.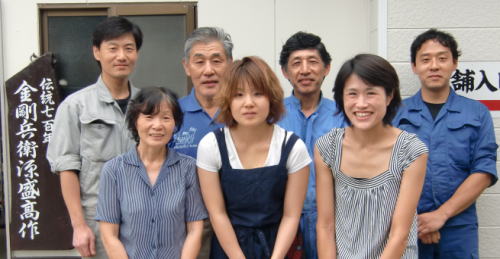 Today, your knives are being forged by the 26th, 27th, and 28th swordsmith.
Takuzo Moritaka (the master and 26th swordsmith) is still there but about to retire, while his two sons:
Tsunehiro Moritaka (27th swordsmith) and
his younger brother Teruhiro Moritaka (28th swordsmith) continue on the family tradition.
There is no assembly line at this factory – just artists at work.  And we have imported these knives directly from the Moritaka family. Please note, that each knife has slightly different appearance and size because the blade is hand-crafted and the handle is natural wood.
Maintenance
The edges on Moritaka AS Yanagiba knife this knife are extremely steep and can be taken through high levels of refinement on the stones. Given the intended purpose, it may be worth keeping the maker's bevel angle in place to avoid chipping when working through poultry joints. The finish is kurouchi (black) with a lacquer coating — this helps protect the steel and should not be polished off. The edge, unlike traditional single-bevel Japanese knives, is a 50-50 double-edge making it much easier to keep sharp using some commonly available sharpening systems.
Like most equipment, this Moritaka AS Yanagiba knife needs a little love and care. You need to sharpen them regularly and depending on the type of steel, dry them immediately after use. These are 3 general rules you should follow:
Don't put your knife in a dishwasher.
Store your knives either on the magnetic knife strip,  knife stand, or sheathed in the utensil drawer.
Don't slide your knife, blade down, across the cutting board to clear away what you just chopped.
Also, check our full guide on how to properly maintain the knife and sharpen it.